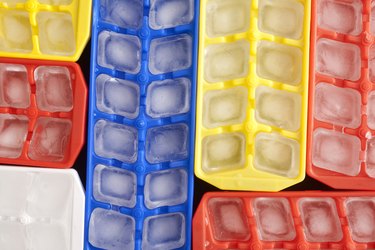 Ice cube trays may seem a bit old-fashioned for a lot of us. Many fridges have built-in ice makers now, after all, and countertop ice makers are increasingly affordable. That doesn't mean the ice cube tray is going away any time soon, though. Dedicated ice makers often break down, and usually provide relatively small, fast-melting cubes. Any ordinary ice cube tray—or fancy ice molds, if you like to entertain—can give you better quality ice. The best ice cube trays even do it with a bit of style. We've picked out six outstanding examples to meet all of your ice-making needs.
What to Consider When Buying Ice Cube Trays
‌Material:‌ The standard-issue ice cube trays you have in your fridge right now are probably made of plastic. It's the most common material, and it works pretty well. Upgraded and specialty trays are often made of silicone. Silicone makes for easy release, with ice cubes as with baked goods, but it has its downside as well. The most important limitation is that silicone ice cube trays are floppy, so they're hard to carry when full of water (and your cubes can be deformed if your freezer is cluttered. A few deliberately retro trays channel the stainless steel ice cube trays of your grandmother's day, but there's a reason we stopped using those (they're a pain to get the ice out of). A few trays combine silicone with plastic or metal. Which one you favor is largely a matter of personal preference.
‌Size and Shape:‌ Ordinary trays make ice cubes with a flat top and a rounded bottom, and an oblong shape. If you're into entertaining, you might prefer to cool your cocktails or punch bowls with oversized cubes or other shapes, which take longer to melt. On the other hand, you might want smaller ice to fit through the necks of bottles, or for specific drinks that don't work as well with big ice. Then there are seasonal and novelty ice molds (Christmas elves, anyone? Halloween pumpkins?). We won't cover novelty molds in this review, but we will touch on larger and smaller ice.
‌Convenience Features:‌ A basic ice cube tray is just that: Pretty basic. It's a small slab of plastic with cups in it to hold water. The best ice cube trays find ways to bring something a little extra to the party, whether it's easy release, larger-than-usual handles or a lid to keep "fridge smell" (and spills) to a minimum.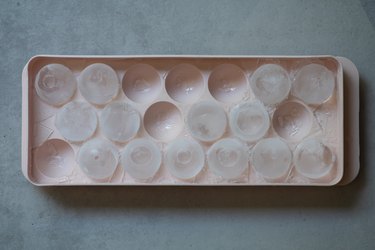 The Best Overall Ice Cube Tray
If you're looking to elevate your ice game even a little, you can't go wrong with this well thought out offering from W&P. Made of naturally BPA-free silicone over a steel frame—so it doesn't flop when you fill it—this compact rectangular tray won't take up much space in your freezer, but makes very good ice. It turns out true cubes, an inch and a quarter in size, and the tray makes a dozen of them. You can release multiple cubes by pushing the tray down on your countertop, or pop them out one at a time by pushing from below with a thumb of finger.
The tray itself won't give your ice any "off" flavors, and it comes with a lid to prevent any stray flavors getting into your ice from your freezer. The lid also makes these trays stackable, if you buy more than one, and they're dishwasher safe. The only downsides are a relatively high price point for its capacity (as ice cube trays go) and the lid, which doesn't actually snap into place. Think of it more as a protective cover, and you'll be on the right track.
The Best Value Ice Cube Tray
Are these trays made of easy-release silicone? No. Do they make Instagram-perfect cubes of ice? Also, no. Do they give you a better experience than other plastic ice cube trays? Yes, very much so. Let's start with the whole issue of spilling water on the way to your freezer after filling the tray, which is a problem with most brands. Not so with the OXO, because its tight-fitting silicone lid stops leaks before they happen. It also means you can stack the trays as soon as they're filled, instead of waiting for the first one to freeze, and you'll never give yourself a frigid shower by opening the freezer door when there's a newly-filled tray in it.
The OXO has a unique trick for easy release, as well. The cups for the ice cubes have an unusually rounded shape, so you can extract an ice cube by simply pushing down on one side like a switch. The other side will pop up, so you can easily lift it out. As you'd expect from OXO, there's also a big, comfortable grip to hang onto.
Its silicone cups are larger and resist absorbing stains and flavors, and—unlike most silicone trays—you can twist it to pop out a whole tray of cubes at once, rather than removing them individually.
The Best Silicone Ice Cube Tray
Our top pick is a silicone ice tray, so you might think a second pick is redundant, but this one was also a strong competitor for best overall. Like the W&P tray, it makes true cubes that are 1 1/4 inches per side, large enough to look elegant in a cocktail but not too big for general-purpose use. The Tovolo trays are larger, at 18 cubes per tray rather than 15, come in a range of vivid colors, and you get two of them for this price rather than one. That means your investment gets you more than double the quantity of ice (or frozen baby food, or bone broth, or leftover wine, or whatever else you need to freeze). The catch? Unlike our top pick, the Tovolo trays don't include a lid to keep out freezer smells. If you use your ice quickly enough for that not to be a problem, these may be your best bet.
If you frequently freeze baby food, coffee or things other than ice, we can also recommend the Good Cook Prep & Freeze tray. Its silicone cups are slightly larger and hold a measured 2 fluid ounces (1/4 cup) which is ideal for those uses. Like our top pick, it has a lid to keep out freezer smell and you can simply slide back the lid to remove a cube or two at a time. Unlike most silicone ice cube trays it also has a flexible plastic spine, so you have the option of twisting it like a plastic ice cube tray to pop out all of the cubes at once.
The Best Oversize Ice Cube Tray
There are times you just want a larger piece of ice. They're impressive, you can freeze berries or blossoms in them for decorative purposes, and—most importantly—they're slower to melt, so they won't dilute your drinks. Unsurprisingly, the same brand that makes our top pick overall is also responsible for our favorite large ice cube tray. These compact trays make cubes that are a full inch larger, at 2.25 inches, at four per tray. The trays are available in multiple colors including stylish speckled pastels, which are a little more fun than you'll have with other brands.
Like the company's Everyday Ice Tray it also comes with a protective cover to keep out freezer odors. That's important with oversized ice, which isn't something you'll necessarily use on a daily basis. As with the smaller cubes Tovolo makes a similar tray with higher capacity—six cubes to this tray's four—but again, it lacks a lid, which is why we give our nod to the W&P.
The Best Small-Size Ice Cube Tray
There will also be times when you want small ice cubes: They're easier for your blender in smoothies, they'll fit through the necks of water bottles—even store-bought soda bottles—and nothing cools a drink faster than small, quick-melting ice (it's an alternative to crushed ice, in many cases). In those scenarios, these American-made trays from Arrow Home Products are just the thing. Constructed of BPA-free plastic, you'll get three trays holding 60 mini-cubes each, for a total of 180. The trays are designed to stack even when newly-filled (they don't rely on the tray underneath being frozen), so you can build up your supply of mini-ice in a hurry.
Of course, you can use the trays for things other than ice: They're ideal to freeze coffee for your iced coffee drinks (get the chill without diluting your caffeine buzz), or for freezing small quantities of fresh herbs. If your primary use of small ice is for your water bottles, you might also want to look at the ice stick makers from Lily's Home. Made from food-grade silicone, they make cylindrical rods of ice that will still fit through your water bottle's neck but will take a bit longer to completely melt than the small cubes from the Arrow trays.
The Best Specialty Ice Mold
If you want your cocktail game to reach its absolute summit, large cubes won't cut it. Instead you'll want an ice ball, and for the highest degree of difficulty—worthy of Instagramming—you'll need it to be of absolutely, perfectly crystal clear ice. Flexible silicone molds, like Tovolo sphere ice molds or the competing product from W&P, will give you an acceptable ice ball but it won't be clear. For that you need a specialty ice mold like Wintersmith's Ice Baller.
This compact upright mold takes time (it needs 24 hours or more at 0° Fahrenheit) but it will give you two spheres of perfectly clear ice, each one about 2 1/3 inches in diameter. Just pour warm water in the top of the inner mold, place it back into the casing, and put it in your freezer. The ice in the ball portion of the molds will freeze first, forcing impurities in the water into the bottom portion of the mold and leaving the spheres perfectly clear. This is the costliest ice cube mold in our roundup (by a lot!) but it's Wintersmith's niche, and they do it better than anyone.