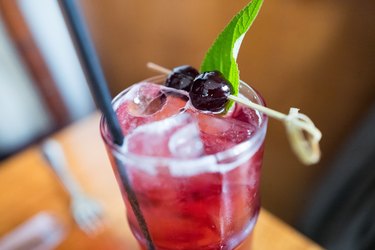 Bright, colorful cocktails can make even the dullest of occasions feel festive, and many hosts pride themselves on their mixology skills. It's a good time to take an interest in them: Craft cocktails have been enjoying a pop-culture "moment" for the past several years. Artisanal ingredients have never been more widely available, and a lot of us turned to cocktails (among other hobbies) during the pandemic, so there are plenty of helpful videos to watch. But what if you don't want to drink alcohol? Well, as it turns out, there are plenty of recipes out there for mocktails that are just as sophisticated as cocktails, and mocktail kits to help you find your way in the hobby as a newcomer. We've picked out some of the best mocktail kits and ingredients to help you get started on your journey to booze-free entertaining and relaxation.
What to Consider When Purchasing Mocktail Kits and Supplies
‌Your Goal:‌ Like the cocktail kits they mimic, mocktail kits come in a lot of variations. Some provide everything you need to recreate one specific cocktail—a margarita, an old-fashioned, perhaps a mojito—while others consist of ingredients that can be taken in any direction you choose, like a selection of bitters. If you have just one favorite cocktail you'd like to replicate, a prefab kit is your best bet (or a canned mocktail, on nights when you're feeling lazy). If you're fascinated by the art and science of mixology itself, buying kits of quality ingredients and devising your own mocktails is a more engrossing experience.
‌Flavors You Already Like:‌ Let's face it, if you don't like a real Negroni you probably won't like a faux Negroni either (unless you're a dad-joke addict, and can't resist calling it a "Faux-ni"). On the other hand, if Cosmopolitans are your thing, you might want to look into mocktails that revolve around cranberry juice. Experimentation is fun, but it helps if you anchor your experiments around flavors you actually enjoy.
‌Cocktail Kits Can Also Work‌: What's the difference between a cocktail kit and a mocktail kit? Unless the cocktail kit includes your alcohol, the answer is ... nothing much. Converting between them is just a question of substituting the usual rum, gin, whiskey or another spirit for a non-alcoholic equivalent. You'll find a growing number of booze-free spirits out there, some of which mimic the classics while others strike out in bold, new directions of their own. Ultimately, "mocking" your favorite cocktail kit or cocktail recipe can be as simple as using an alcohol-free spirit. Be careful, though: Some bitters and other ingredients may have a fairly high alcohol content of their own.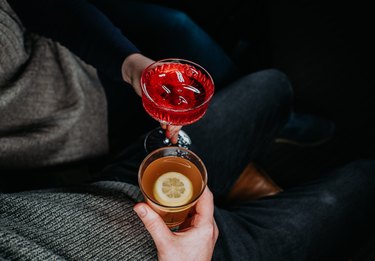 1. ADTZYLD Cocktail Shaker Set Bartender Kit
If you already have all the usual cocktail accessories in your home bar, and you're just branching out from regular cocktails to mocktails, this one isn't for you. If you're entirely new to the hobby, though, and need all of the necessary equipment, a kit like this one is a great starting point for your new adventure. The space-efficient round bamboo stand houses a dozen essential accessories, from your shaker and strainer to a muddler and pourers, all in durable stainless steel. In a nice touch, there's even a booklet of mocktail recipes to help get you started.
2. Purely Pop Set (Three Bottle Mixer)
Shrubs—concentrated, tart-and-flavorful syrups—are one of the trendiest tools in a craft mixologist's arsenal, and this set of three from beverage maker Purely is just the introduction you need. The set consists of three quart-sized bottles of shrubs in versatile flavors (grapefruit citrus, ginger lime, and pineapple Thai chili) that can serve as the base for a wide range of cocktails. They're made from natural and organic fruits, herbs and other botanicals, and they're caffeine-free, alcohol-free and low in sugar. Just choose a bottle, add your choice of mixers (a spritz of sparkling water is a good starting point), and you're on the express lane to mocktail creativity.
3. Seedlip Non-Alcoholic Spirits Trio Bundle
A lot of your mocktails will require some sort of non-alcoholic spirit, and this set of three from Seedlip—a notable player in this relatively new market niche—is a good starting point. These three aren't attempting to replicate the flavor profiles of existing spirits; instead, they combine a range of natural ingredients ("botanicals," in the product literature) to create interesting flavor combinations that stand on their own. The three included in this bundle are their Grove 42 (orange, ginger and lemongrass); Spice 94 (allspice, cardamom, grapefruit); and herbal Garden 108 (thyme, rosemary and vegetal notes). They're all sugar-free and have exactly zero calories. Seedlip suggests mixing them with ginger ale for a quick and refreshing cocktail, but you can take them in any direction inspiration may lead you.
4. Portland Bitters Whiskey Bitters Kit for Cocktails and Mocktails
Like zero-proof spirits, bitters play a key role in making alcohol-free cocktails taste like the real thing. They bring intense, concentrated aromatic flavors—sweet, tart, savory, and of course, varying levels of bitterness—to your mocktails, just as they do to many mainstream cocktails. The difference is that in a mocktail they're more important because you'll find that bitters help supply some of the mouthfeel that's ordinarily provided by alcohol. This variety pack from Portland Bitters provides three flavor profiles ("Aromatic," "Pitch Dark Cacao" and "Super Spice") that are targeted to work well with real or faux whiskey, but you can certainly use them in other cocktails or mocktails. They're totally worth adding to your bar cart and make a unique gift for anyone who loves to entertain. Oh, and there's another sampler just like this one that packs gin-friendly flavors. What's not to like?
5. 3/4 oz. Tonic Maison Amber Liquor Kit
This kit from Montreal-based Tonic Maison is another affordable selection that makes a great gift for yourself or any other aspiring drink mixer. It consists of three versatile syrups and one smaller bottle of bitters, giving you the latitude to make a range of non-alcoholic cocktails (traditional or otherwise). Vermillon fills the role of an aperitif wine, like vermouth or Amaro; Coco Cafe mingles coconut, coffee and peppers and pairs nicely with rum or tequila; and the Bitter Orange is perfect in a faux Old Fashioned. The smaller fourth bottle contains the company's Aromatic Bitters, with a complex flavor that has whiffs of gingerbread and orange. Put them all together and you're ready to tackle "Dry January" (or any other occasion) in style.
If you're really, really partial to one specific cocktail, one immediate goal of your non-alcohol journey will be to find a suitable mocktail to replace it. The California-based Dry Goods Beverage Company has you covered for several of those favorites, with curated kits like this one for a faux Mai Tai. It includes a zero-alcohol rum alternative, another of orgeat (a sweet syrup made from almonds), and a smaller bottle of orange bitters. Put them all together with some fresh lime juice, and light up that tiki torch! You'll find similar kits for other classic cocktails on the company's site, and they ship nationally.
7. Kin Euphorics High Rhode
Any well-made mocktail will please your taste buds, but there's a place in the non-alcoholic universe for a drink that makes you feel ... something. Not necessarily the buzz you'd get from a traditional cocktail, but a little boost of some sort nonetheless. That's where "nootropic" beverages like this one from Kin Euphorics come in. High Rhode is a non-alcoholic aperitif, but it's also a self-described "functional beverage" filled with herbals and gentle stimulants including caffeine and l-theanine, the latter being a stimulant that's found in tea. It won't make you giddy or intoxicated, but it will elevate your mood and put the "happy" in happy hour. If you're on the opposite track and looking for a nightcap to help you relax, Kin's Dream Light—containing melatonin and reishi mushroom, among other things—will gently mellow your mood and help you wind down. Either way, they'll definitely elevate your mocktails.
8. "Mocktail Cookbook: 365 Days of Colorful and Refreshing Drink Recipes to Try at Home" by Anais Khan
Whether you buy your ingredients as a kit or assemble your own on a DIY basis, you're going to need some recipes to try (and the handful of recipe cards that come with some products aren't going to take you very far). This book by Anais Khan contains a whopping 365 mocktails to try—one for every day of the year—and should provide all the guidance you need to explore the mocktail hobby. By the time you've worked your way through even a fraction of the book, you'll begin to have a feel for what you like and what you don't and you can begin modifying the recipes (or constructing your own!) to suit your tastes.