Whether you want a beverage dispenser to keep your family hydrated on a daily basis or as an efficient and fancy way to serve drinks at a party, there are several types of drink dispensers to consider. Drink dispensers are great for all occasions, including ones where you serve plain ol' water with ice, water infused with fruit or herbs, lemonade, iced tea, coffee, a full bottle of wine or something stronger. Simply mix up the ingredients and add it to the dispenser, then pull the tap to deliver the beverage.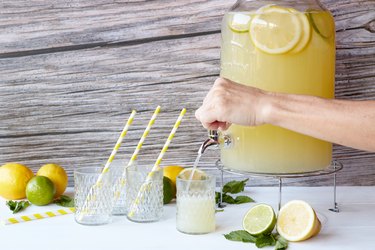 Drink dispensers come in different sizes, typically from one to three gallons, with some dispensers offering two or three dispensers built into one so you and your guests can have options without taking up too space space.
What to Consider When Purchasing a Beverage Dispenser
​Capacity:​ The capacity of drink dispensers varies, so consider what type of beverage you plan on serving before your purchase. Are you planning on serving water infused with fruit for a large party? A large dispenser that can hold several gallons might be best. Want to serve a bottle of wine or a homemade cocktail? You might not need something so big. If you plan on serving more than one type of beverage, you might want to go with a double dispenser or triple dispenser.
​Material:​ Most beverage dispensers are made of glass, plastic, wood or metal like stainless steel or copper. The material you choose will sometimes depend on the beverage you're serving. For example, hot coffee is best served in a stainless steel dispenser, and whiskey works best in a wooden dispenser.
​Style:​ A beverage dispenser can add a lot to decor by simply existing—and that's without whatever delicious beverage you choose to serve. So, it's important to choose one that matches your personal style and the decor of any party or gathering. Drink dispensers come in various styles, including glass drink dispensers, plastic drink dispensers, stainless steel dispensers, mason jar dispensers, ones with chalkboard labels, dispensers for hot drinks and ones for cold drinks. Some can be placed directly on the countertop while others sit on a stand.
Take a look at the best beverage dispensers of 2022 for all occasions below.
The Best Overall Beverage Dispenser
FineDine Glass Beverage Dispenser
Perfect for a summer play date, a casual birthday party or even a farmhouse-style wedding, this gallon beverage dispenser will add some charm to any event. Made of glass with a fully leak-free spigot, the mason jar-style dispenser has a wide mouth top for easy filling and an internal ice cylinder to keep beverages cold for outdoor parties without diluting the liquid. It's extra cute (but not required, of course) if you serve the beverage in matching mason jars.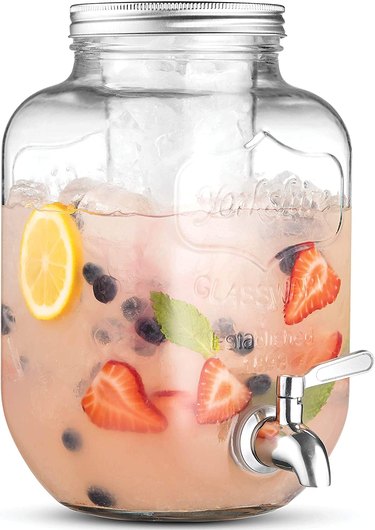 The Best Budget Beverage Dispenser
Better Home & Gardens Glass Beverage Dispenser
If you want to add a drink dispenser to your gathering but aren't committed to spending a lot of money, this glass dispenser is an excellent choice at under $13. A glass clamp lid helps keep the beverage fresh, and a plastic spigot keeps the liquid contained until it's time to pour. A sturdy handle made of steel and wood makes the dispenser portable and easy to carry from room to room for refills. While the dispenser is hand wash only, if you fill the jar with soapy water with a quick scrub down, it should be good to go. The mason jar design brings the southern charm to any kitchen, dining room, porch or outdoor party space.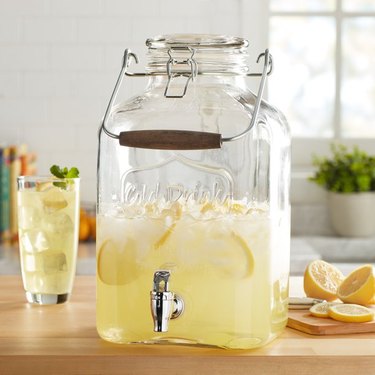 The Best Double Dispenser
Gracie Oaks Alexei Double Beverage Dispenser
A double dispenser is ideal for any party where you'll be serving more than one beverage. The Alexei Double Beverage Dispensers are made of durable glass and come with a stand, which allows for ample space to place a cup underneath the tap. Each drink dispenser can hold a little under 1 gallon, and they are dishwasher safe. They come with a lid that sits on top instead of screwing on for easy filling. The jars include chalkboard labels so you can avoid all the "What's in this one?" questions. So, whether you want to serve lemonade and punch for kids or sangria and a fun cocktail for grown-ups, there are endless possibilities with these dispensers.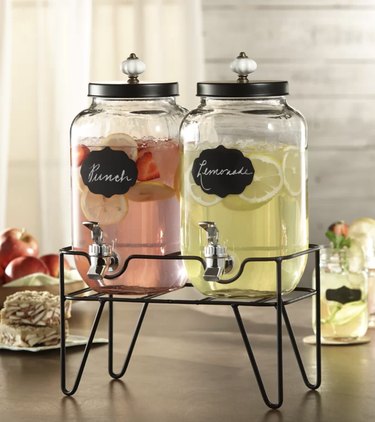 The Best Triple-Dispenser
Mind Reader 3-Tier Beverage Dispenser
This space-saving beverage dispenser includes a convenient ice holder bottom and three stacked compartments for beverages. Each compartment has its own spigot so three different batches of drinks can be served simultaneously. Made of acrylic, this dispenser isn't fancy, but it gets the job done and saves lots of space on your countertop. The dispenser easily comes apart for washing, but it isn't dishwasher-safe.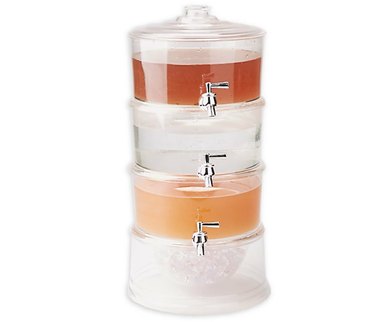 Style Setter Patchwork Beverage Dispenser
You won't have to constantly refill this drink dispenser, as it holds a whopping 2.4 gallons of whatever you're serving. This crystalline clear glass container comes with a removable ice cone that can also be used as an infuser. Place some cucumbers, strawberries, citrus or your favorite herbs inside to flavor your water. It's an easy way to turn regular water into fancy water. The jar sits on a galvanized metal stand with a leak-proof plastic spigot for easy dispensing. It's hand wash only, which works out anyway since it's likely too large for any household dishwasher. The company offers 17 dispensers in various designs.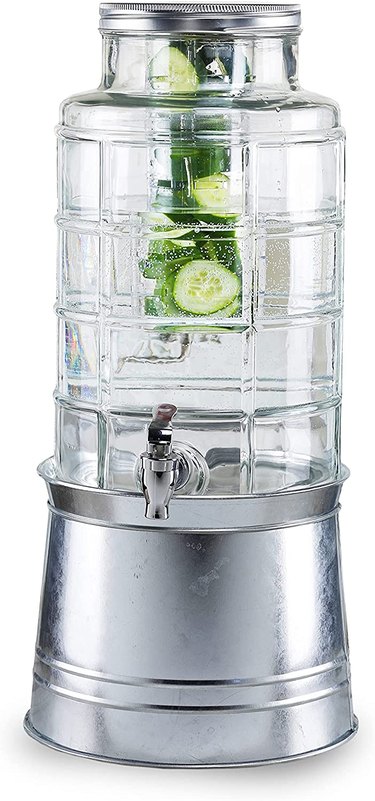 The Best Plastic Beverage Dispenser
CreativeWare Bark Beverage Dispenser
A plastic drink dispenser may not be as eco-friendly as its glass alternative, but it's a lot less expensive and looks great while getting the job done. This durable plastic dispenser is a great option for picnics, as it's lightweight, making it easy to transport. The faucet is completely leak-proof, so your beverage can sit around all day and night without the worry of drops leaking all over the table or countertop.
​Capacity:​ 1.5 ​/​ 2.5 gallons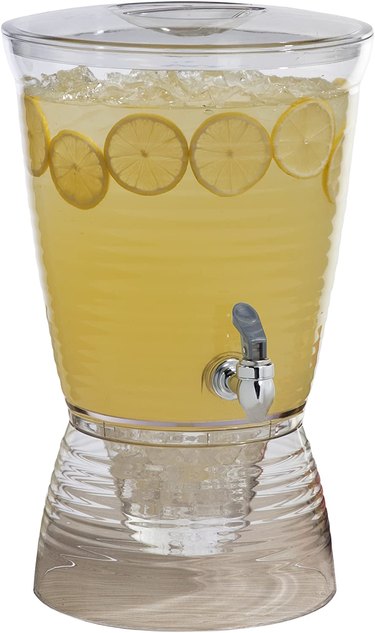 Chefq Stainless Steel Hot Chafer Urn
If you're throwing a gathering like a baby shower, brunch or business meeting, it's always a good idea to serve coffee. This high-quality stainless steel hot beverage dispenser with chrome accents can hold either 3 or 5 gallons. It's also ideal for hot water for anyone who prefers tea or hot chocolate. The elegant urn is durable and looks like a professional catering piece (and a rocket ship).
​Capacity:​ 3 gallons / 5 gallons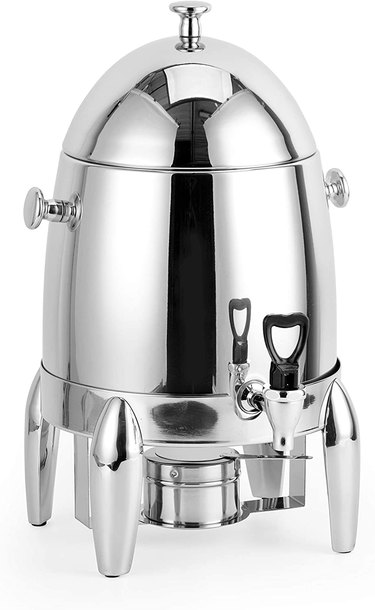 Sofia's Findings Personalized Whiskey Barrel
Whiskey enthusiasts know that whiskey tastes better from an aging barrel. This handcrafted American premium white oak barrel can hold over 5 gallons of whiskey (or beer, wine or any type of alcohol you prefer). Not only is this barrel effective at aging whiskey and adding great flavor, but it's also a cool display item in a den, living room or anywhere that needs some spicing up. The barrel comes in several size options—from 1 liter all the way to over 5 gallons. As a bonus, you can add an optional engraving to personalize the barrel for a gift.
​Capacity:​ 1 liter / 2 liters / 3 liters / 5 liters / 20 liters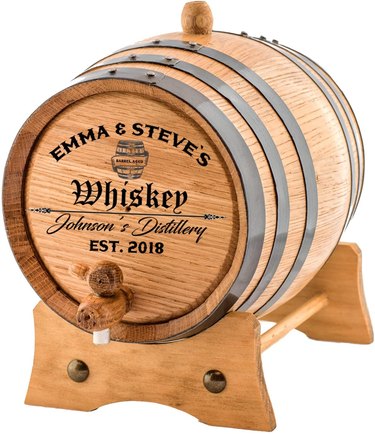 Whether you're drinking a bottle of wine, boxed wine, sangria or a different beverage that doesn't involve wine at all, this wine dispenser is a fun way to fill up glasses. You can load up your boxed wine by placing the entire bag inside the dispenser, and the push spout will help you get every last drop. It has a carry handle on top for easy portability and comes in five color options: black, pink, red, turquoise and white. The wine dispenser comes with a chalkboard label and a piece of white chalk so you can let your guests know the type of wine you are serving. It's the perfect addition to a party and even makes a great gift.