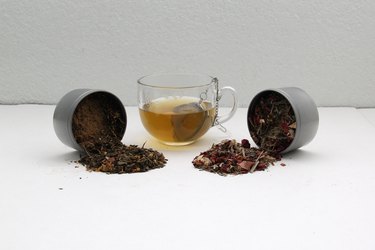 Whether you favor black tea, green tea, herbal tea, rooibos, oolong or other types of tea, serious tea drinkers know that brewing a cup with loose leaves produces a fresher, more flavorful and robust cup than bagged varieties. While bags may seem easier and more convenient, the best tea infusers make the process of steeping loose-leaf tea just as simple.
There are lots of tea infusers available today, and they come in a variety of styles, shapes and sizes. They may be relatively basic kitchen gadgets but there are a number of things to think about to ensure you pick the right one for you. After all, the wrong steeper can lead to weak drinks or beverages unpleasantly full of floating tea leaves.
What to Consider When Purchasing a Tea Infuser
‌Size:‌ This is probably the most important factor when choosing a tea infuser. The more room the leaves have to unfurl and move around while steeping, the more flavor they'll impart in the hot water. Generally, the size of the steeping tool is closely tied to the style.
‌Style:‌ Ball and basket infusers are the most common types. Both are usually made of stainless steel, with balls having small holes and baskets having fine mesh filters. Balls are littler than baskets, and are best suited to making one small single cup at a time. Baskets have much more space for the leaves, so they impart more flavor into a larger amount of water. Novelty-shaped steepers (e.g., mermaids and manatees), often made of silicone, usually don't work particularly well. Then there are teapots with infusers that are great for making larger quantities of tea, and products like cups, travel mugs and tumblers with infusers that are convenient—especially for taking tea on the go. Think about the amount of tea you want to make at once.
‌Hole Size:‌ Look at the size of the holes on an infuser. Larger holes flavor water more efficiently, but they can let smaller bits of leaves through. It's better to err on the smaller side, but also consider the type of tea you usually brew. For example, black and green teas tend to have larger leaves, so bigger holes may be fine; red and herbal teas, on the other hand, often have smaller pieces. In this regard, stainless steel mesh baskets are an ideal solution for any type of tea.
‌Ease of Use:‌ Since you're taking on a slightly more involved process than just using tea bags, find a tea infuser that's very user-friendly. Check out how a product opens, fills, closes and seals, as well as any other aspects of its operation. There are plenty of dishwasher-safe tea infusers available that make cleanup simpler. But, if you go with one that isn't, make sure it's easy to get to all areas of all components for thorough cleaning.
These factors—along with your budget considerations—will help you pick out the best tea infuser for your needs and preferences.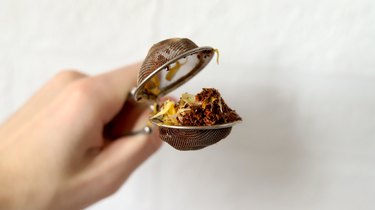 The Best Overall Tea Infuser
Finum Mesh Brewing Basket
For an affordable tea infuser that works great with any type of tea, choose this brewing basket. The stainless steel micro-mesh infuser basket holds back even the finest bits of leaves while imparting a strong flavor. In fact, the extra-fine mesh is even suitable for use to brew coffee. It's as easy to use as any tea infuser—simply add the leaves, place it in your mug, add hot water and let the tea steep for the recommended time. A BPA-free plastic lid keeps your beverage hot, and you can flip it over for use as a saucer to hold the basket after use. This model has a large capacity for proper steeping (plus it's available in a medium size), and it's dishwasher-safe for easy cleaning.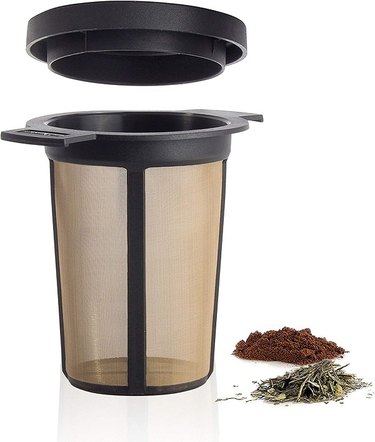 The Best Budget Tea Infuser
JEXCULL Snap Ball Tea Strainer, Pack of 3
If you're looking for a budget-friendly option, here's a set of three quality ball infusers that cost less than most individual ones. They're durable and made of stainless steel, with ultra-fine mesh that holds in small tea leaf particles. They have a sleek, lightweight design and long nonslip handle, and these products are dishwasher-safe. The ball snaps tightly shut and isn't prone to coming open and releasing the leaves like many lower-cost ball infusers on chains. And because you get three, you can make a few cups at the same time, or you can put two in your mug to make a stronger cup of tea—counterbalancing the fact that tea balls yield a weaker infusion than baskets and other types of steeping implements.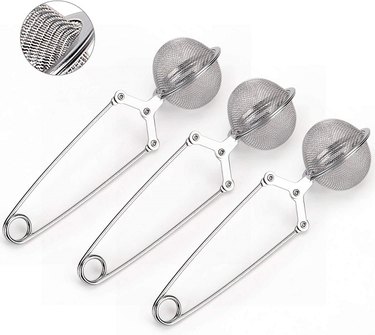 The Best High-End Tea Infuser
Breville Smart Tea Infuser
For those willing to splurge on a luxury product, this smart teapot infuser is a great addition to any tea lover's kitchen. Make up to four cups of tea at the same time with this elegant-looking, high-quality model. It boils your water, and the intuitive interface gives you control over the temperature and lets you set the steep time. It also has five handy pre-sets for preparing black, green, herbal, oolong and white teas. There's a timer to let you know when steeping is done, and the teapot automatically starts a keep-hot function after the steeping time elapses, which lasts for 30 minutes. The fine mesh stainless steel filter basket is dishwasher-safe, and you can remove it easily using the one-touch magnetic detachment system; hand-wash the glass carafe.
The Best Basket Tea Infuser
For another excellent basket steeper besides our pick for the best overall tea infuser, here's a simple and effective tea strainer at a similar price point. It's even sturdier and more heat resistant than the other product, with its all-stainless steel construction, including the helpful lid. The holes are small enough to contain even the tiniest pieces of leaves, and the basket has a large enough capacity to let flavors fully develop during steeping. This stainless steel tea infuser is exceptionally easy to use, with nicely sized handles for placing it into a cup or teapot and lifting it out, and you can put it right into the dishwasher when you're finished with it.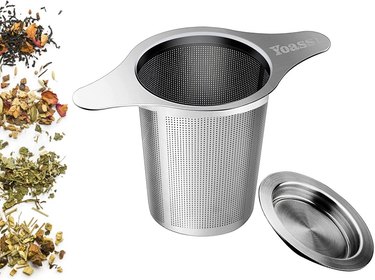 The Best Ball Tea Infuser
OXO BREW Twisting Tea Ball Infuser
If you just want a ball infuser for making small single servings of tea, this is a simple option that works well, sold at a budget-friendly price. Open and securely close the ball with an easy, smooth, unique twisting motion. The small holes in the stainless steel ball are highly effective at preventing bits of leaves from ending up in your drink. There's a relatively long handle, plus it has one of the soft, comfortable, nonslip grips that OXO kitchenware is known for. And it's a BPA-free, dishwasher-safe product.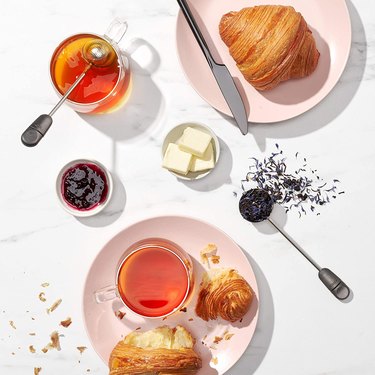 Tea Forte Kati Cup Tea Infuser
Here's a teacup with an integrated infuser that offers great performance, simplicity, durability and an attractive design at a good price point. The 12-ounce tumbler and lid are microwave-safe and dishwasher-safe, and the double-walled ceramic construction does an exceptional insulating job to keep your tea hot. There's an extra-fine stainless steel basket steeper that sits securely in the mug, contains the tea leaves and allows a strong flavor to develop that permeates the entire cup. Flip the lid over to use as a drip tray and hold the strainer basket after use. This model is available in an array of different designs, too, with this cherry blossom option being a classic choice that complements tea brewing so well.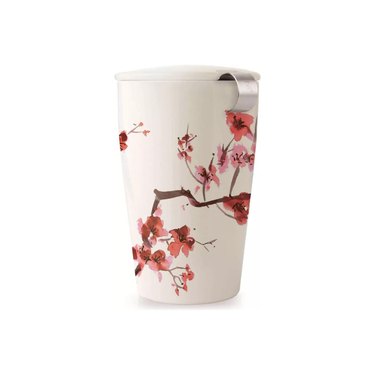 The Best Kettle Tea Infuser
Chefman Electric Glass Kettle
If you want a single item that boils your water and steeps your loose-leaf tea—and one that's more affordable than our pick for the best high-end tea infuser—this is for you. It's a fast-heating electric kettle that boils water faster than the stove or the microwave (which also makes it useful for hot chocolate, oatmeal, instant ramen and other preparations that use boiling water).
The kettle swivels 360 degrees on the power base for easy access whether you're a righty or a lefty, and it lifts off the base for pouring without being attached to the power cord. The removable ultra-fine stainless steel mesh basket is versatile enough for brewing any type of tea and coffee. LED indicator lights make it obvious when the kettle is on and let you know when your water is at the right temperature, and there are other safety features, like a stay-cool handle and automatic shutoff. The 1.8-liter capacity means you can make a little over seven 8-ounce servings at once.