Before drip coffee makers were a thing, percolators were the coffee brewing devices of choice. While they've largely been eclipsed by drip coffee machines, they're still sought out by some coffee lovers. Percolators are generally more compact and priced more affordably. But their main appeal is that they brew coffee that's bolder in flavor and higher in caffeine content than the more common drip alternatives.
That's because they use a different brewing process. Drip models release drops of hot water over coffee grounds, and it passes through a coffee filter (usually paper) into the pot or carafe below. Percolator coffee pots push hot water up through a tube, continually cycling the water and saturating the grounds, which sit in a filter. And they use hotter water than drip machines, too. The latter brewing method extracts more flavor and more caffeine from ground coffee beans.
And so, for people who like a strong cup of coffee, the percolator (as well as the French press) is a favored kitchen gadget to brew coffee with. Keep in mind, there are different styles and other considerations that are important for picking out the best coffee percolator for your needs and preferences.
What to Consider When Purchasing a Coffee Percolator
‌Style:‌ Coffee percolators come in two main types: stovetop and electric. Stovetop models heat on the stove like a tea kettle, and many can go over other heat sources like a campfire or grill. They tend to cost less than electric percolators and are usually dishwasher safe, but they also need to be monitored during use and generally make less coffee. They also allow greater control over the brewing temperature. Electric models plug in and often come with a higher price tag in exchange for more convenience and a larger brewing capacity. Most only have one temperature setting (but many have a keep-warm function) and aren't dishwasher safe.
‌Brewing Method:‌ Standard coffee percolators use the gravity brewing method. They have two chambers. Water boils in the lower one, rises up into the upper one and trickles down over the coffee grounds in the filter basket. Water and partially brewed coffee are recycled through the grounds. But there are also pressure percolators—known as Moka pots—which have three chambers. There's a carafe on top, a filter basket in the middle and a water basin at the bottom. As the water boils below, steam creates pressure that pushes the water up through the grounds and into the carafe, where it's held rather than recycled. Moka pots produce a more concentrated result that's closer to espresso than coffee, so they're good for making espresso beverages like lattes and cappuccinos.
‌Material:‌ Stainless steel is a common material for coffee percolators, and it's a good, heavy-duty option that holds in heat well to keep the coffee hot. Other metal percolators are made of aluminum, which is more lightweight and slightly less durable than stainless steel. It cools quicker, but it's also usually a little lower priced. Stovetop percolators are also sometimes made of glass, which is a fine, easy-to-clean option, but of course it's breakable, and it doesn't retain heat as well as stainless steel. Other stovetop models are made of ceramic, which is aesthetic, keeps the contents hot fairly well and is typically a little less costly than stainless steel. Though, it can crack, chip and break.
‌Capacity:‌ Most coffee percolators make from up to six to a dozen cups of coffee at once. Think about how many cups you usually drink and how many people you want to be able to serve with one batch. Keep in mind whether you have an electric model with a keep-warm function, too; otherwise, you'll probably need to reheat the coffee if you intend to drink multiple cups over an extended period.
These factors—along with your budgetary considerations—will help you find the best coffee percolator for your kitchen.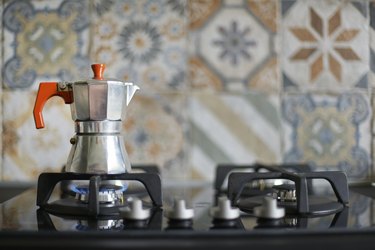 The Best Overall Coffee Percolator/Best Stovetop Coffee Percolator
This retro yet elegant-looking percolator easily earns the top pick. It's a heavy-duty stainless steel stovetop model from a trusted kitchenware brand. Large enough to brew up to 12 cups of bold, delicious coffee in once batch (but also available in an 8-cup size), it offers great heat retention to keep all that coffee warm for a while.
It has an integrated permanent filter, eliminating the need for disposable ones. The glass knob indicates when the perk has begun, while the cool-touch handle is comfortable to grip while smoothly pouring. It's fully immersible and dishwasher safe for easy cleanup, too. And it's worth noting that this product is sold at a good price for its high quality, reliable performance and durability.
The Best Budget Coffee Percolator
If you're looking to spend as little as possible on a coffee percolator that works well and holds up over time, look no further. This model is made from aluminum, which partly accounts for the unbeatable price, but it's a well-made product. And with a 9-cup capacity, you're not sacrificing size for the savings.
This stovetop gravity model works great over a campfire and on a grill as well as on a burner, and it's lightweight enough to easily tote it around. The clear knob on top lets you keep an eye on the brewing process, the plastic handle stays cool and the amply sized lipped pour spout is a nice feature for clean pouring.
The Best Electric Coffee Percolator
Cuisinart—a beloved name in kitchenware—makes the best overall electric percolator around. It's a large-capacity stainless steel model that makes from 4 to 12 cups at a time. The piece has a modern, updated look while still sticking pretty closely to a classic coffee percolator design. A glass display dome lets you see what's going on inside. The ergonomic handle stays cool to the touch, as does the base, making it safe to place on any countertop or table surface during use.
It pours cleanly thanks to the elongated and tapered no-drip spout. There's a helpful indicator light that lets you know when it's time to start pouring, and the detachable power cord lets you serve unencumbered. Count on it to keep your coffee hot for several hours, too. This percolator costs a bit more than much of the competition, but the exceptional coffee it produces, user-friendliness, smart design and durability make it worth the investment.
The Best Moka Pot Espresso Percolator
Here's a great pick if you want a three-chambered pressure-brewing Moka pot percolator to use as a stovetop espresso maker. It's the original product in this category—invented in 1933 by Alfonso Bialetti—and it remains an overwhelming favorite to this day. We've highlighted the largest size, which has a generous 12-cup capacity, but it's also available in various smaller sizes.
It has a cool-looking, ergonomic and comfortable handle as well as a cleanly pouring spout and a patented safety valve to prevent mishaps due to excessive pressure buildup. Use it on any type of stove—including an induction stovetop with the use of a Bialetti induction adapter plate (sold separately)—or on a grill or over a campfire. It's not dishwasher safe, but it's easy to rinse out with clean water, which is the recommended care.
The Best Coffee Percolator for a Crowd
If you often provide coffee for a group, this electric percolator is perfect for delivering rich, bold cups to multiple people. It makes up to 12 cups at a time, but it also does so notably quickly, brewing at a rate of 1 cup per minute. So, your guests won't have to wait long, even if you start up a second batch. It also reliably keeps the coffee hot for an extended period, and there's an indicator light to let you know when the coffee is ready to serve.
This stainless steel product is attractive enough that you won't mind serving your company with it, and the long tapered pour spout lets you do so easily without making a mess. The removable power cord is another helpful feature, letting you carry the carafe out of the kitchen or around the table. The brew basket and stem can go right in the dishwasher, while the rest is easy to clean by hand.
The Best Coffee Percolator for Camping
If you're looking for a stovetop percolator to take on camping trips, in the RV or to tailgating parties, this is a great one to place on a fire or grill. This lightweight 8-cup percolator is easy to carry with you, and it's also available in a larger 12-cup size. It's a good price point for the quality of the coffee it brews and the overall quality of the product, and the manufacturer backs it up with a lifetime warranty.
The three-ply steel construction is sturdy and durable, while the scratch-resistant and chip-resistant speckled enameled finish adds an aesthetic touch. It goes well with the rustic, outdoorsy design. This all means even heat distribution for even brewing and effective heat retention, too. The product is easy to wash out with water wherever you are, and it's also dishwasher safe when you're at home. Just one word of caution: The plastic knob on top of the lid can get hot and even melt if flames get to it, so be careful about that.