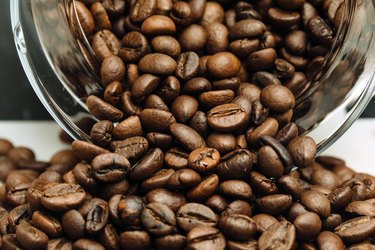 There's nothing more important than that first sip of coffee in the morning. (OK, there are probably a few more important things, but this is about coffee.) As a coffee drinker, you probably understand the seriousness of taking care of your coffee beans. A coffee canister is an efficient way to keep your coffee beans and coffee grounds fresh. A coffee canister protects whole and ground coffee beans from oxygen, extends the lifespan of the beans, keeps them fresh, and protects the flavors and aromas.
Even the slightest exposure to oxygen or sunlight can reduce the shelf life and decrease the flavor of coffee beans. So while the coffee canister you use doesn't have to be airtight or UV protectant, it can certainly help by keeping them in an airtight or vacuum-sealed container.
What to Consider When Purchasing a Coffee Canister
‌Seal:‌ The first thing you should look for when buying a coffee canister is whether or not the seal is airtight. An airtight seal will provide the longest shelf life for your coffee beans. Canisters that aren't airtight certainly get the job done, but they can have a considerable amount of air trapped inside or leaking through the lid, which won't preserve the lifespan of your coffee beans.
‌Material:‌ Coffee canisters come in stainless steel, plastic, glass or ceramic materials. Stainless steel is less porous, so coffee oils won't stain like they can with plastic. If you buy a plastic canister, you should make sure that it has a UV-protective coating to prevent light from entering. Ceramic storage containers can be airtight, and they typically have more character and charm than stainless steel or plastic canisters.
‌Capacity:‌ You might want to take a look at the size of the coffee bean bag you usually purchase so you can make sure all of the coffee beans will fit inside. Some canisters can hold up to a pound of whole-bean coffee while others will hold less. Typically, the larger the canister, the higher the price.
Scroll on to check out our coffee canister top picks of 2022.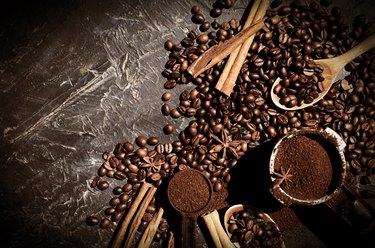 The Best Overall Coffee Canister
Planetary Design Airscape Stainless Steel Coffee Canister
Many food storage containers are airtight, meaning they lock air in with the contents. The Airscape, however, forces the air out of the canister, extending the life of your coffee beans. Its plunger lid removes and locks out air and humidity while a two-way valve pushes out excess air to maintain freshness and flavor. Designed from restaurant-grade stainless steel, the BPA-free coffee container doesn't hold onto stains and it keeps odors inside. The lid makes a swooshing sound that indicates the airtight seal is working, which is fun and efficient. There are two sizes and 11 colors to choose from.
‌Material:‌ Brushed steel
‌Capacity:‌ 0.25 liters (small), 0.5 liters (medium)
‌Dimensions:‌ 5" x 4" (small), 5" x 7" (medium)
‌Airtight Seal:‌ Yes
‌Dishwasher-Safe:‌ No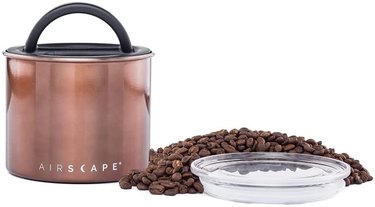 The Best Budget Coffee Canister
DoreenBow Stainless Steel Coffee Canister
If you want an efficient coffee canister without paying top dollar, this stainless steel canister with an airtight lid is a fantastic option. A buckle lid is easy to open and close, keeping your coffee beans fresh and ready to use. The rust- and corrosion-resistant canister can also double as a storage jar for tea or other various foods. It's small enough to be kept on the countertop for easy access. The included coffee scoop helps you portion out the right amount of coffee beans every time.
‌Material:‌ Stainless steel
‌Capacity:‌ 0.76 liters (small), 1 liter (medium), 1.2 liters (large)
‌Dimensions:‌ 4.33" x 4.33" x 5.12" (small), 7.09" x 5.52" x 4.73" (medium), 7.09" x 5.91" x 5.91" (large)
‌Airtight Seal:‌ Yes
‌Dishwasher-Safe:‌ No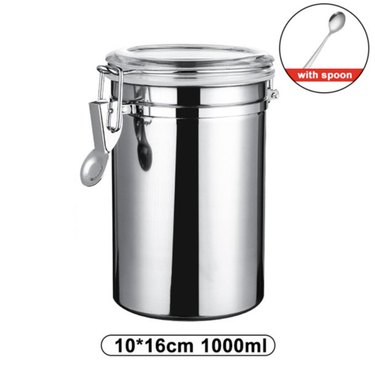 The Best Airtight Coffee Canister
Airscape Ceramic Canister
From the makers of the brilliant push-down canister we listed as our overall favorite coffee canister, this Airscape Coffee Canister is the ceramic version that'll look great on your kitchen countertop. Its opaque design is ideal for keeping UV rays out and your coffee beans fresh. And of course, your coffee beans will be kept extra fresh thanks to the vacuum seal lid that pushes out extra air. This airtight coffee storage container can be washed using a little warm, soapy water. The ceramic canister comes in sizes small and medium, or you can buy a set of one small and one medium if you purchase it from Food52.
‌Material:‌ Ceramic
‌Capacity:‌ 0.76 liters (small), 1 liter (medium), 1.2 liters (large)
‌Dimensions‌: 5.25" x 4" (small), 5.25" x 7" (medium)
‌Airtight Seal:‌ Yes
‌Dishwasher-Safe:‌ No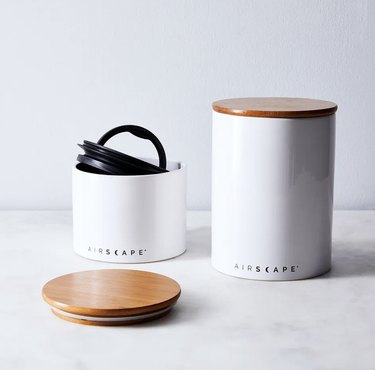 The Best Vacuum Coffee Canister
Coffee Gator Stainless Steel Canister
There's a lot to love about Coffee Gator's Stainless Steel Canister. A freshness CO2 valve releases carbon dioxide from the canister and an airtight, BPA-free rubber vacuum seal lid locks out oxygen. Layered stainless steel material blocks harmful UV rays from diminishing the flavor and freshness of your coffee beans. Something that makes this canister extra unique is a freshness date tracker, which conveniently lets you keep track of the best by or roasting dates. That way, when you throw away the package, you won't have to remember the date your coffee beans expire. Who has the brain space for that anyway? This coffee or food storage container comes in four colors: black, gray, silver or a gray/silver combination.
‌Material:‌ Ceramic
‌Capacity:‌ 11 oz. (small), 16 oz. (medium), 22 oz. (large), 64 oz. (extra-large)
‌Dimensions:‌ 5.71" x 5.59" x 4.69" (small), 5.12" x 5.12" x 5.98" (medium), 5.12" x 5.12" x 7.48" (large), 8.94" x 5.63" x 5.55" (extra-large)
‌Airtight Seal:‌ Yes
‌Dishwasher-Safe:‌ No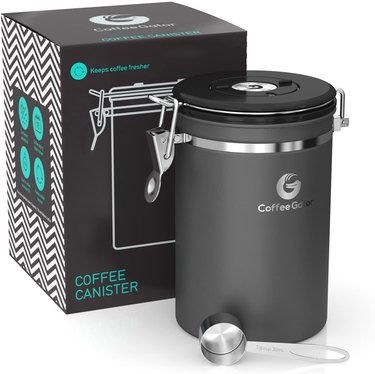 The Best Coffee Canister Design
Magenta Stem Print Coffee Canister
This coffee storage container has three features that make it a great addition to your coffee bar: It's dishwasher-safe, has an airtight seal and it's microwave-safe. It's also an adorable coffee canister that would likely bring you joy when making that first cup of brew in the morning. Plus the word "coffee" written on the can in bold letters makes it an obvious choice for coffee storage, but it's a less obvious place to hide your favorite candy from your kids. The canister is BPA-free, well-made and fits in nicely with most kitchen decor.
‌Material:‌ Ceramic
‌Capacity:‌ 2.5 qt.
‌Dimensions:‌ 9.75'' x 6'' x 6''
‌Airtight Seal:‌ Yes
‌Dishwasher-Safe:‌ Yes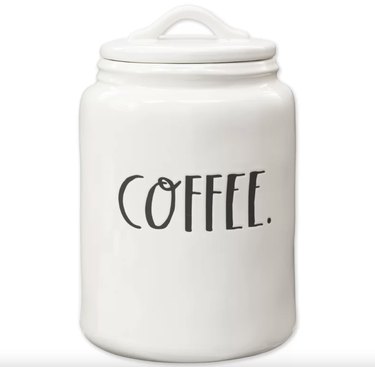 The Best Large-Capacity Coffee Canister
OXO Steel POP Coffee Container With Scoop
While the OXO Steep POP Container wasn't designed solely for the purpose of holding coffee grounds or beans, it certainly does a good job of it. This canister can be used for other kitchen storage purposes, but its airtight and space-efficient design will keep your coffee fresh and full of flavor. To activate the airtight seal, push the button on the lid. The container and gasket are dishwasher-safe, but the lid is not. It does, however, come apart for thorough cleaning. There are eight sizes to choose from, so however much coffee you drink throughout the week, you should be able to find the size that suits you. For reference, the 1.7-quart canister featured here can hold exactly 1 pound of coffee beans.
‌Material:‌ Stainless steel, silicone, plastic
‌Capacity:‌ 1.7 qt.
‌Dimensions:‌ 8.62'' x 7.72'' x 6.1''
‌Airtight Seal:‌ Yes
‌Dishwasher-Safe:‌ Container and silicone gasket are dishwasher-safe; lid is not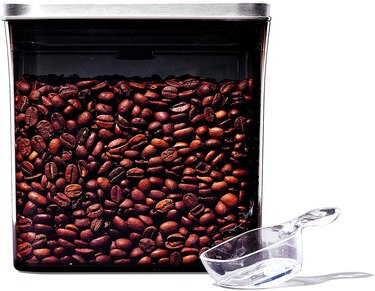 The Best Coffee Canister Set
Pebble & Stem White Metal Canister Set
This coffee canister set comes with four metal kitchen canisters in four different sizes. They're great for storing coffee grounds or beans, along with sugar, tea or anything else you need for your perfect cup of coffee. The canisters are made from thick galvanized steel with bamboo lids. They are just as decorative and pretty to look at as they are efficient kitchen storage jars.
‌Material:‌ Metal, bamboo
‌Capacity:‌ 26 oz. (small), 37 oz. (medium), 68 oz. (large), 135 oz. (extra-large)
‌Dimensions:‌ 4.9" x 3.8" (small), 5.3" x 4.3" (medium), 7.3" x 5" (large), 9.4" x 6" (extra-large)
‌Airtight Seal:‌ Yes
‌Dishwasher-Safe:‌ No