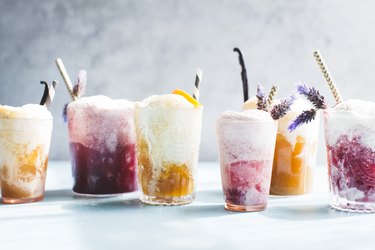 There's something dreamy about combining creamy ice cream with fizzy soda. When the weather is warm, ice cream floats drift right up to the number one spot on our list of beloved desserts. And while root beer and vanilla ice cream make for the most classic float option (with good reason!), there are so many other wonderful ways to mix soda and ice cream. To get you started on your fantastic float journey, we've rounded up three unique flavor combos that you simply must try. From prosecco to orange soda, there's something sweet on our list to float everyone's boat.
1. Limoncello Prosecco Float
Our first fun float recipe comes from @tnstyled, who whips up limoncello prosecco ice cream floats. This recipe is delightfully simple—all of the ingredients you need are listed right there in the title! Start with the vanilla ice cream and then add limoncello and prosecco. You can even top off the drinks with lemon slices if you're feeling extra fancy. This idea definitely has us bubbling with warm-weather joy.
2. Watermelon Ice Cream Float
Our next float idea, courtesy of @thewhyteelephant, is perfect for ringing in the summer season—because what says "summer" better than watermelon? The upbeat creator kicks off his recipe with a healthy pour of watermelon-flavored soda in a chilled glass. A few scoops of vanilla ice cream come next, followed by even more watermelon soda and a very generous amount of whipped cream. The finishing touch? A cherry on top, of course! Add even more watermelon delight by including sour watermelon gummy candies.
Tips for the Perfect Root Beer Float
Want to keep it classic? Here are a few pointers for making your best-ever root beer float:
Use high-quality ice cream and root beer. A root beer float is only as good as its two main ingredients!
Start with ice cream and then add root beer.
Pour root beer into the glass at an angle to avoid too much extra foam.
Top things off with whipped cream to really set your dessert apart.
3. Orange Creamsicle Float
Last but not least, @satisfyingdrinkss highlights an orange creamsicle float that looks almost too good to eat—we said ‌almost‌! If you love classic orange creamsicles, this dessert will certainly float your boat. Start with vanilla ice cream, add orange soda and top it all off with whipped cream and sprinkles. For a delicious twist, replace the vanilla ice cream with a literal orange creamsicle.
And there you have it: three fresh, delicious takes on a classic. We're bubbling with anticipation and can't wait to sip these bright, flavorful floats all summer long.