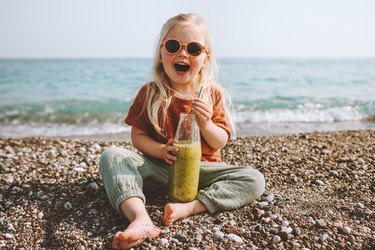 If you drink out of a straw on a regular basis, switching over to a reusable straw will have a positive impact on the environment. Over the past several years, silicone straws, stainless steel straws, glass straws and bamboo straws have been popping up more and more as eco-friendly alternatives to plastic straws. Plastic straws are harmful to the environment because they aren't biodegradable, and the plastic breaks down into smaller particles, releasing chemicals into the air, soil and water.
There are plenty of reusable straw options to consider instead of single-use plastic straws. You'll want to narrow down your choices based on who will be using the straws and when. Some straws are better for travel, some are best for hot or cold beverages, some are better for kids, and some are better performing and longer-lasting than others.
What to Consider When Purchasing Reusable Straws
‌Material:‌ The most efficient and long-lasting reusable straws are made of metal or silicone. Both materials can be thrown in the dishwasher for a thorough cleaning, which is ideal, considering straws can be challenging to clean by hand. The best option for kids are BPA-free silicone straws, since they're soft, flexible and won't easily break. While metal has the capability of chipping teeth, they're very durable. Other reusable straw options include bamboo and glass.
‌Size:‌ If you're using a straw for liquids like water, iced coffee or anything that doesn't have a thick consistency, a regular-sized straw will do. For beverages like boba or extra-thick smoothies or milkshakes, you'll want to go for the extra-wide straw.
‌Pack Size:‌ Reusable straws generally come in packs—anywhere from two to a dozen straws per pack. Some straws, however, come as a single unit depending on the material, like a high-quality glass straw, for example. Consider the number of people living in your house who use straws when making your purchase. Is it just you? A small pack of washable straws should do. Have a large family who loves homemade boba? You'll need something bigger.
‌Storage:‌ Reusable straws are an ideal addition to your kitchen utensil drawer, but they're also great when you're on the go. If you plan on using your straw at restaurants or while you're out and about, consider getting one that folds into a carrying case. That way it's easy to store in a purse or bag, and you'll be more likely to use it in place of a disposable straw.
Below you'll find the best reusable straws of 2022 to add to any beverage.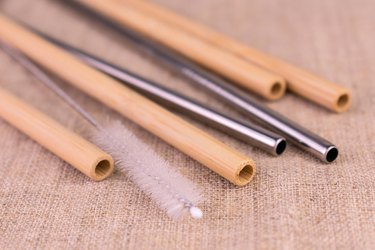 The Best Overall Reusable Straws
StrawExpert 16-Piece Reusable Straw Set
If you're looking for a variety of size and shape options, this set of 16 reusable stainless steel straws offers several. The straws are made of food-grade stainless steel with eight multi-colored BPA-free silicone tips to protect your lips, keep them from getting too cold or hot, and serve as identifiers for your family. They are nontoxic, dishwasher-safe and rust-proof. The set includes straight and bent straws for 24-, 30-, 32- and 34-ounce cups, mugs, water bottles or tumblers. They're perfect for cold or hot beverages. The straws come in five color options: silver, gold, black, rainbow and rose gold.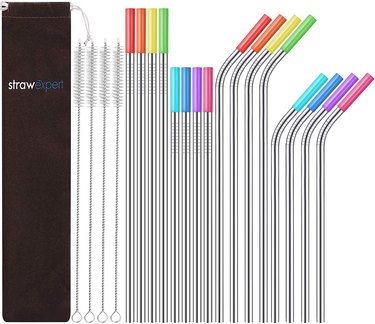 The Best Budget Reusable Straws
Ozark Trail Stainless Steel Straws
You can't beat the price of this set of four stainless steel straws. At less than a dollar per straw, you definitely get your money's worth while reducing your carbon footprint. A cleaning brush is included with this set, as are four multi-colored BPA-free silicone tips. They're great for liquids like water, coffee, iced tea or juice.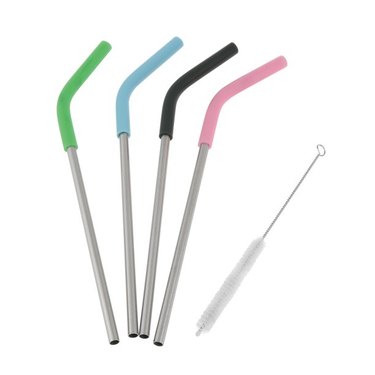 The Best Stainless Steel Reusable Straws
Hiware Stainless Steel Straws with Case
Stainless steel straws are durable, reusable and washable. Even more, they don't hold onto odors, nor do stainless steel straws have a metallic taste. This set of 12 food-grade drinking straws comes in two size options—both straight and bent—for 20-ounce or 30-ounce cups or tumblers. The set comes with a convenient cotton carrying bag and two nylon cleaning brushes that fit perfectly inside the straws. You can buy these straws in silver, black, gold, rose gold or rainbow colors to turn any drink into a party drink.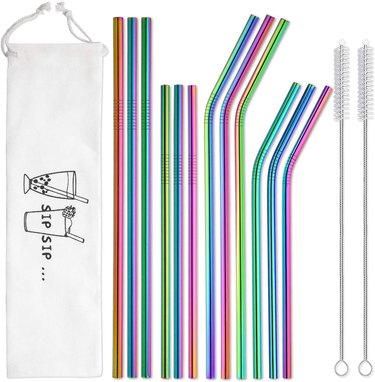 The Best Glass Reusable Straws
HeykirHome 8-Pack eeGlass Straws
Depending on how often you use a straw in your beverage, you can buy the 8-pack or 12-pack of these glass reusable drinking straws. You'll also get two cleaning brushes to help wash away any liquid remnants, but the straws are also dishwasher-safe (and freezer-safe). Four of the straws in this set are straight and the other four are curved for whatever type of sipping you prefer. The glass is processed from food-grade borosilicate glass, which can withstand both high and low temperatures while having an anti-crushing function.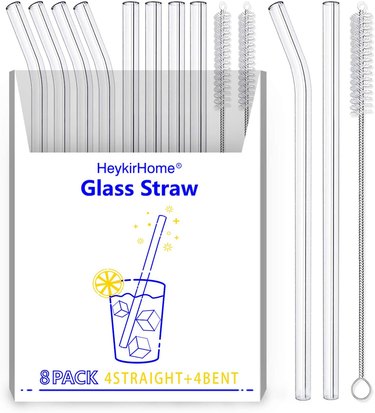 The Best Silicone Reusable Straws
Softy Straws Reusable Silicone Drinking Straws
Not only are these super soft, food-grade silicone straws reusable and earth-friendly, but the packaging is also eco-conscious. The straws are safe for kids since they won't chip teeth or break, and they are free from phthalates, lead, cadmium, mercury and PBBs. The length of the straws is 9 inches and the diameter is slightly wider than a regular straw. A squeegee cleaning tool is included in this pack, which is a flexible cleaner if the dishwasher doesn't remove all the grime. The straws come in different colors like a multi-pack of earth tones and another in brighter colors, as well as two shades of pink.
The Best Bamboo Reusable Straws
Bambaw Reusable Bamboo Straws
This 100% organic 12-pack of bamboo straws is handcrafted in Bali. The straws are biodegradable and compostable, so their carbon footprint is minimal. The odorless and tasteless straws are durable, safe for kids, and suitable for both hot and cold beverages. The set comes with a carrying case for all 12 straws and an individual case for just one to keep with you as you're out and about. Also included is a cleaning tool that fits the length of the straw. They're available in two sizes: 5.5 inches and 8.7 inches.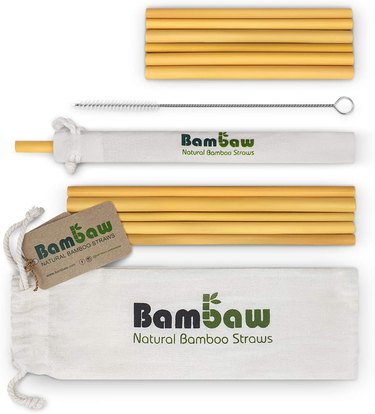 The Best Reusable Straws for Hot Drinks
Brilli Baby HotSips Drinking Straws
Using a straw to sip a hot drink can help avoid coffee stains on your teeth and burns on your lips (you should still wait for the beverage to cool down before sipping though because tongues aren't very forgiving). These soft straws are super flexible but sturdy enough not to become flimsy or melt in hot liquid. Safe for the dishwasher and microwave, HotSips can withstand most conditions. The top of the straw is oval shaped, which requires less sip effort, making the straws more accessible for people with disabilities, elderly people and kids. Manufactured in the U.S. by a women-owned company, the straws are packed by a local organization that provides meaningful employment to people with disabilities.
The Best Collapsible Reusable Straws
Doboli Collapsible Stainless Steel Straw
These collapsible straws are perfect for drinking on the go. Made of high-quality stainless steel, the straws can be pushed down to fit inside a travel keychain case that can attach to your purse, backpack or fit in your pocket. This 2-pack comes with a cleaning brush that's long enough to wash the entire straw. There are several color combinations to choose from.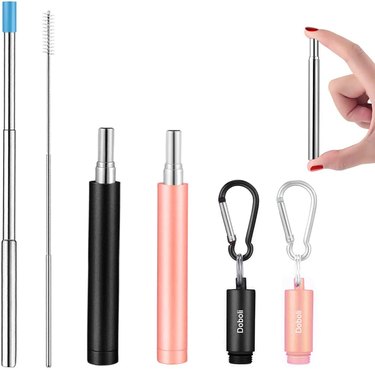 The Best Reusable Straws for Kids
Tegion Short Reusable Silicone Straws for Kids
Straws make drinking easier and a whole lot less messy for little kids. The size of these reusable silicone straws is perfect for sippy cups, toddler-sized cups or small tumblers. The opening of the straw is the standard size, they're just shorter than the average straw. There are a few different packs to choose from, all of which have various colored straws included to help kids keep track of which straw is theirs.