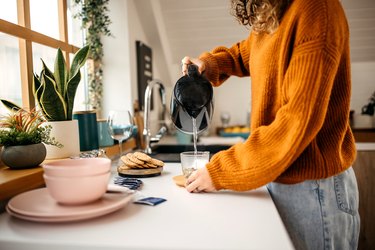 Kettles aren't just for tea devotees, they can be used to brew a cup of pour-over coffee, blanch spinach in mere minutes or purify water to mix with baby formula. There's a wide variety of kettle styles on the market, and choosing the right one depends on how you plan to use it. Before you begin shopping for this small but mighty appliance, ask yourself the following questions:
‌Electric or stovetop?‌ The typical electric kettle heats up in minutes, has an automatic shut-off feature and can be set to a specific temperature. However, it will take up precious counter space. A classic choice, most stovetop tea kettles are designed to last for years and can heat to high temperatures. They're a bit more hands-on but are preferred by some tea drinkers.
‌Gooseneck or traditional?‌ A gooseneck kettle is designed for pour-over coffee and gives you greater control over the speed and direction of your flow. If you're less concerned about the accuracy of your pour, a traditional-shaped spout will do just fine.
‌Whistling or non-whistling?‌ Apartment dwellers might opt for a quiet tea kettle that won't disturb their neighbors at 6 a.m., while those who live in a multi-story house might require a kettle that sounds like a train whistle to alert them that the water is boiling.
Now that we've discussed the key specs, here are our top seven picks for the best tea kettles on the market.
This stovetop kettle circumvents many of the design flaws that other models have. The insulated handle ensures that it's safe to touch, the push-button spout makes it easy to pour, and the surgical-grade, stainless steel material resists rust. The five-layer base heats up quickly and keeps the water piping hot for your second cup of tea. The whistle is loud enough to be heard from the next room, which is especially helpful if you're the 'set it and forget it' type. The kettle has a two-quart capacity and is suitable for most heat sources, including induction, electric, gas, ceramic and halogen. As an added bonus, it comes with two free tea infusers and a one-year warranty.
The British-made Haden Dorchester kettle is the total package. Made of BPA-free plastic and stainless steel, this electric kettle has six pre-set temperatures ranging from 110° to 212° Fahrenheit. It comes in three contemporary colors—Silt Green, Pebble Grey or Stone Blue—and is complemented with faux wood accents. There's an LED-lit display screen, a removable filter, and a keep-warm function that holds water at your desired temperature for 45 minutes. The kettle has a 1.7-liter capacity and can be paired with Haden's matching toaster, microwave and drip coffee maker.
The Best Whistling Kettle
If you're looking for a tea kettle that whistles so loudly it startles the dog, this KitchenAid model is it (watch this video for further proof). The rounded handle is made of heat-resistant plastic, while the porcelain enamel base allows water to reach a boil within minutes. The kettle has a push-button spout and a removable lid that makes it easy to fill. It's currently sold in two colors, Cameo Blue and Pyrite, and has a capacity of two liters. The kettle was designed for all types of heat sources and comes with a limited lifetime warranty for peace of mind.
The Best Budget-Friendly Kettle
Looking for an electric kettle that won't break the bank? This sleek gooseneck kettle is made of durable stainless steel and is accented with a European cork handle and lid. It comes in a stainless steel or black matte finish and has a 27-ounce capacity. The round base must be plugged in, but the kettle itself is cord-free for seamless pouring. To boil water—which only takes about three minutes—you simply push down the button on the side of the kettle and verify that the red indicator light has turned on. It has an automatic shut-off feature and lends a modern look to any kitchen.
The Best Splurge-Worthy Kettle
Who said grown-up tea kettles can't be whimsical? This three-quart design by MacKenzie-Childs features hand-applied floral transfer decoration and a brass-finish sparrow that sits atop the lid. The carved wooden handle offers a vintage feel, and the underbody of the kettle is made from hand-glazed, heavy-gauge steel. While it's definitely a splurge, the kettle serves as a functional piece of art for your kitchen. The only drawback is that it doesn't whistle when the water begins to boil.
The Best Gooseneck Kettle
Listen up, coffee snobs—this electric kettle has everything you need to brew the perfect cup of pour-over coffee. Expect minimalist design, a precision pour spout, a temperature-control knob, an LCD screen, a brew stopwatch, and a 60-minute hold mode that maintains your desired temperature (in either Fahrenheit or Celsius). The 1200-Watt heating element ensures a quick boil, but there's an automatic shut-off feature if you forget about it on your way out the door. Food52 sells the kettle in five colorways, including matte black with a sleek walnut handle and lid pull.
The Best Vintage-Inspired Kettle
You could spend close to $200 on a retro-looking SMEG kettle, or you could nab this polka dot and cherry-printed design from kate spade new york for a fraction of the price. The stovetop tea kettle has a 2.5-quart capacity and is made of enameled stainless steel. It's compatible with all heat sources and makes an audible whistling sound when the water reaches a boil. It's hand-wash only, requiring a bit of extra work, and can be paired with dozens of matching items.