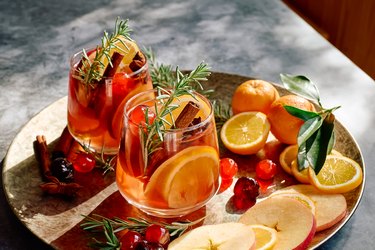 Whether you're meeting up with old friends at a neighborhood eatery or arriving at a party, you're sure to encounter one question this holiday season: "What's your drink of choice?"
For an increasing number of people, the answer will be something without alcohol. Mocktails, nonalcoholic wines and booze-free spirits have had something of a renaissance lately. The movement picked up speed with "Dry January," the recent trend of taking off a month from drinking after the holidays, and expanded as more people took a mindful approach to alcohol consumption year-round. Now, with many restaurants offering mocktail menus, and celebrities such as Blake Lively and Bella Hadid launching their own nonalcoholic beverage lines, it looks as if the movement is here to stay.
That's why we put together a fun collection of delicious winter mocktail recipes—along with helpful tips from Camille Wilson, author of ‌Free Spirit—‌to carry you through Christmas, New Year's Eve and beyond. Read on to be inspired by DIY spirit-free drinks that allow you to opt out on the alcohol without missing the experience of sipping an expertly crafted beverage.
1. Nonalcoholic Mulled Wine
Not only does this drink look like Christmas in a cup, but it will also make your home smell warm and inviting—a perfect mocktail to whip up if you're hosting a holiday party. The recipe, which comes from @nikfoodamour on Instagram, calls for cranberries, orange slices and freshly ground ginger, along with winter spices such as star anise and cloves. Heat on low and wait for the house to fill with a delightfully festive aroma. Strain and serve warm for the dreamiest way to end a chilly winter's day.
Nothing says winter craft cocktail (or mocktail!) like a frothy beverage, and Instagrammer @olivianoceda does it right. Froth is typically accomplished by adding an egg white to a shaker and shaking vigorously before pouring over ice. The simultaneously light and rich-tasting froth tones down sharper flavors, rounding out the drink. Consider incorporating interesting flavors (guava is a great option) or adding an artisanal twist with lemon zest, freshly ground cloves and a rosemary sprig garnish.
4 Quick Tips from a Mocktail Expert
Elevate your holiday mocktails with these tips from Camille Wilson, a cocktail blogger, content creator and author of the cocktail and mocktail recipe book ‌Free Spirit‌.
‌1. Think beyond seltzer. ‌"I've used things like tea, tonic water, different juices and things that you wouldn't normally think of," says Wilson. "We get stuck in this box where we feel like we have to top drinks off with seltzer, but it doesn't have to be that way."
‌2. Pick the right glassware. ‌ Wilson says, "Different drinks call for different vessels. Serving your mocktail in a nice glass that suits it creates a better experience." For example, large rocks glasses are the best for drinks that include ice, while dainty coupe glasses work for beverages that are meant to be enjoyed in small amounts.
‌3. Squeeze your own citrus.‌ "I get it—nobody wants to squeeze lemons and limes and oranges, but it makes such a difference!" says Wilson. "Bottled juices from the grocery store aren't great. They contain a lot of sweeteners and other ingredients to keep them shelf-stable. The difference between a drink that uses fresh lime juice versus store-bought is definitely noticeable."
‌4. Don't underestimate ice. ‌"A lot of people don't add enough ice because they think that they're watering down a drink, but ice is actually essential. You want some of the ice to melt and dilute the drink just a bit so the cocktail or mocktail is balanced out," Wilson says. "I wouldn't say there are fixed drink-to-ice ratios, but the bigger the cube or sphere, the slower it melts. This keeps the drink longer without watering it down, so you don't have to rush."
3. Alcohol-Free Apple Cider Aperol Spritz
The Aperol Spritz is definitely having a moment lately (thanks, ‌From Scratch‌ and season 2 of ‌White Lotus‌!). With its standard makeup of bitters, soda water and Prosecco, the Spritz is a light and flavorful choice with Italian roots. For a mocktail version, TikToker @mocktailgirlie offers a decidedly delicious variation: the nonalcoholic apple cider Aperol Spritz! Made with alcohol-free Aperitif, nonalcoholic champagne, a few ounces of apple cider and soda water, this drink is a guaranteed crowd-pleaser. Garnish with thyme, a cinnamon stick or apple slices to dress it up.
4. Spiced Poached Pear Mocktail
This delicious poached pear mocktail from @vegan_asya on Instagram actually starts with poaching pears in a mixture of apple cider and mulling spices. Another creative ingredient is ginger kombucha, which adds flavor and fizz to the drink. Garnish with a slice of fresh pear and herbs, then enjoy a sip that's as refreshing as it is comforting.
Tip
You can, of course, easily transform your winter mocktails into cocktails. There are several spirits that expert Camille Wilson recommends for pairing with popular winter mocktail flavors. For fruitier drinks that incorporate orange, cranberry, pomegranate or pear, she recommends using light rum or tequila. While making creamy drinks such as eggnog, opt for rum or whiskey. If you're whipping up something with winter spices or ginger, dark rum is a great pick due to its slightly spicy notes. For beverages with notes of vanilla, her go-to is whiskey. "Whiskey is aged in oak barrels and picks up this vanilla flavor naturally, so it goes well with vanilla," she explains.
5. Pomegranate-Lime Mocktail
Don't forget pomegranate when considering winter flavors. Sweet and tart with a deep red hue, pomegranate adds zest and color to dishes and drinks throughout the holiday season. This delicious and festive Christmas mocktail, courtesy of @simplylakeandlace on Instagram, blends pomegranate with fresh-squeezed lime and orange juice. Top with sparkling water to add a touch of effervescence, then garnish with fresh cranberries arranged on a sprig of rosemary.
6. Blood-Orange Vanilla Spritzer Mocktail
This unique mocktail from Instagram's @marisamoore is simple to make without skimping on flavor. It features bright citrus and warm vanilla sweetened with honey. Garnish with a slice of blood orange (fresh or dehydrated) for a stunning presentation. As a bonus, citrus and raw honey offer immune-boosting properties to help you stay healthy during cold season.
The holiday season calls for cream-based drinks—and the good news is you can still enjoy sipping on a "Baileys" without the booze, thanks to @themindfulmocktail on Instagram. Indulge in this mix of milk and cream, espresso, vanilla and cacao. The concoction is sweetened with maple syrup, shaken and served over ice in a beautiful glass for an indulgent experience. Some recipes suggest dipping the rim of the glass in chocolate syrup and rolling it through crushed peppermint candy canes for extra Christmas flavor and flair.
8. Holiday Mojito Mocktail
This holiday mojito mocktail from Instagram influencer @arkaik_ph includes an unexpected ingredient: tea! Combined with steeped mint leaves, cranberry syrup and lime juice, it touches on a broad spectrum of fruity winter flavors. A dried blood orange garnish and a sprig of fresh mint make this mocktail festive and fun to drink.
Who says holiday mocktails are only reserved for evening get-togethers or cozy nights in front of the fireplace? We're firm believers that delicious (alcohol-free) beverages can be enjoyed all day. Enter: the nonalcoholic holiday mimosa, a mix that comes to us from TikToker @mocktailwiz. Made with alcohol-free sparkling wine, a cranberry juice ice ball and rosemary and cranberry garnish, this drink is ideal for a winter brunch get-together or a midday break.
The Moscow Mule's signature copper mug makes a standout drink to serve at holiday parties. Not only does the vessel look beautiful, but it also keeps beverages cold longer. This Moscow Mule mocktail includes nonalcoholic ginger beer and lime juice for that perfect dash of citrus. Some recipes suggest using cranberry juice, a twist of orange and a cinnamon stick garnish for added seasonal flavor.
Whatever your reasons for opting away from traditional alcoholic beverages this season, we hope you'll give these flavorful recipes a try. Your fun and festive mocktails might just be the talk of the holiday party!