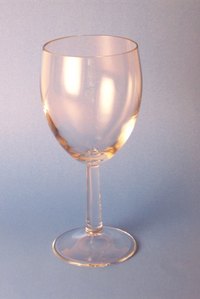 Decoupage first became popular in 19th century Europe. The process involves cutting out paper designs which are glued and sealed onto object surfaces. Furniture and other home objects decorated with this technique may appear to be hand painted, but are actually embellished with decoupage papers. It was sometimes called a poor man's art since no professional artist was hired to paint the design onto the furniture. Today decoupage continues in popularity because of its ease in creating original furniture, home accents and glassware, including wine glasses.
Things You'll Need
Decorative printed paper
Scissors
Decoupage glue
Plastic disposable dish
Sponge brush
Wine glass
Damp wash cloth
Cut designs from the decorative printed paper in sizes that will fit onto the glass. Large designs that do not fit around the curves should be cut into smaller pieces.
Pour a small amount of decoupage glue into the plastic dish. Using small amounts will prevent the glue from developing a film over its surface making it hard to use.
Brush a small amount of glue onto the back of the first paper cutout and apply it to the glass. Add a small amount of glue to the brush and brush it over the applied paper. Do not apply the glue too thickly or it will run down the glass. Any mistakes or excess glue should be wiped away quickly with the damp wash cloth.
Continue applying the paper cutouts until all desired pieces are on the glass. Allow the glue to dry completely, which may take one to three hours depending on the thickness of the glue and humidity.
Brush on a second coat of glue over the glass. Let it dry completely and repeat with an additional coat or two of decoupage glue.