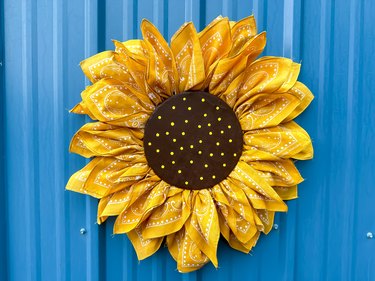 Sunflowers, with their bright and cheerful demeanor, have long been symbolic of warmth and positivity. It's no wonder that they're a popular theme in the home decor realm. To help you embrace this vibrant yellow blossom and spruce up your space, we've put together a tutorial for a DIY sunflower wreath made with bandanas—yes, bandanas!
Whether you're looking to adorn your front door, add a spot of sunshine to your living room or even create a thoughtful handmade fall gift, our step-by-step guide will walk you through the process of making a beginner-friendly sunflower wreath.
Gather those bandanas and let's get started!
Video: A Sunflower Bandana Wreath to Brightly Adorn Your Door
Things You'll Need
12 in. wire wreath form

36 4-in. zip ties

9 gold bandanas

Sharp scissors

Spray starch

8 1/2 in. cardboard circle

9 1/2 in. piece of fabric

Hot glue gun

Craft paint

Small paintbrush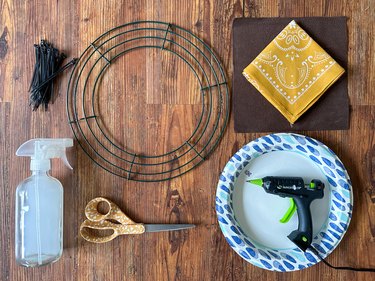 1. Make wreath form with zip ties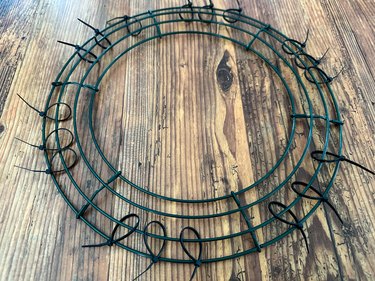 Loosely attach 18 zip ties to second ring from outside of wreath. Place three ties in each wreath section. Insert zip tie ends into the opening and tug slightly, allowing them to click once without pulling tight. This will ensure a sufficiently sized loop for threading petals later.
2. Cut bandanas for "petals"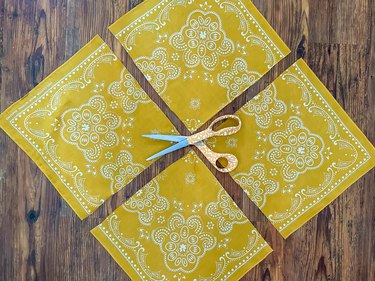 Cut each of the nine bandanas into four squares of equal size. This will provide you with a total of 36 squares.
3. Stiffen bandana fabric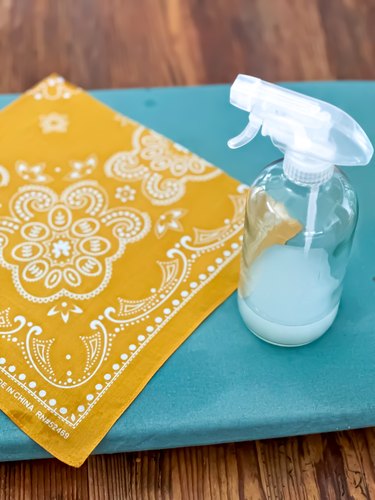 To keep petals from sagging, use spray starch. You can buy starch in an aerosol can or opt for liquid starch (pour 1 cup into a spray bottle and mix with 1 cup water). Spray this onto bandana and press with a hot iron to stiffen fabric.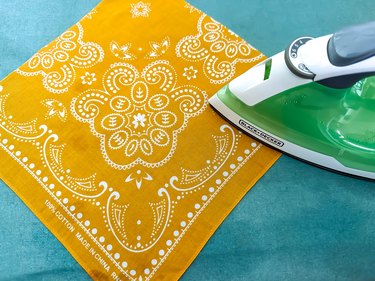 4. Fold and gather fabric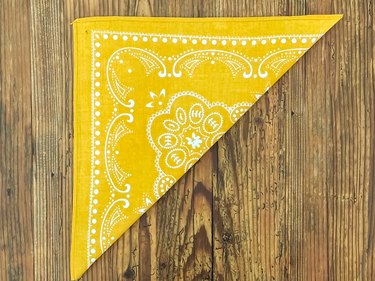 Fold square in half diagonally with finished side facing up. Starting in middle of folded edge, use small accordion folds to outside edge and then continue folding out from center fold on other side.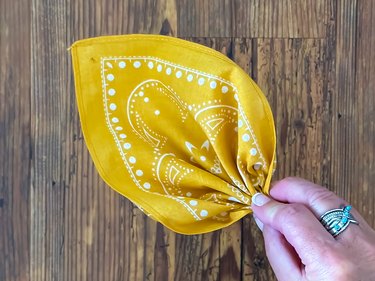 Bandana will form a petal shape when all gathered together.
5. Attach petals to wreath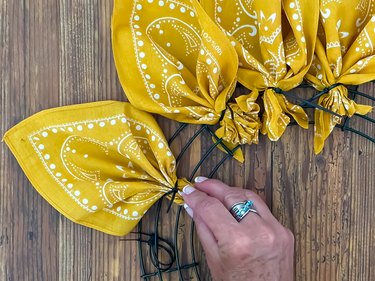 Pull gathered edge of petal through zip tie. Continue pulling all 18 petals through zip ties.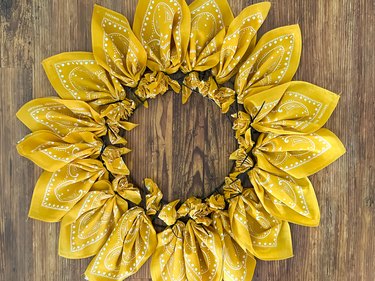 Adjust petals so they're evenly distributed around wreath and then tighten and trim each tie.
6. Create another row of petals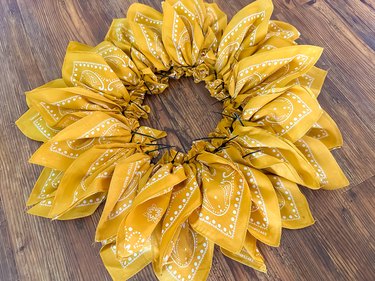 Repeat process by adding 18 more petals to inside ring of wreath.
7. Create wreath center with cardboard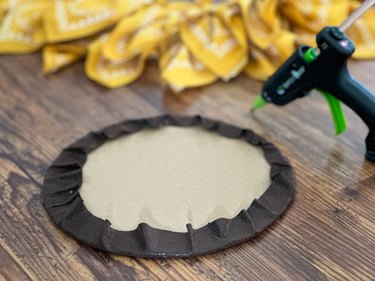 Use a hot glue gun to cover an 8 1/2 in. cardboard circle with fabric. We chose a brown leather-look fabric for its texture, but you can choose whichever fabric you prefer to complete your beautiful sunflower wreath.
8. Add paint and attach to wreath
Once more, let your creativity flow as you decorate the sunflower center. While we opted for yellow dots, you might consider painting the word "welcome" or using a stencil to embellish the center of your front door wreath.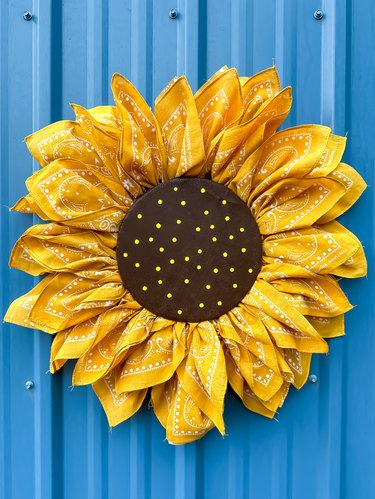 Tie up any remaining knots and admire your completed DIY sunflower wreath!
This easy DIY makes a perfect project for crafters who love sunflowers or those who simply prefer handmade wreath creations over more expensive store-bought options. Whether you're hanging your completed sunflower craft on the front door or using it as a vibrant centerpiece for a gathering, it's sure to steal the show!