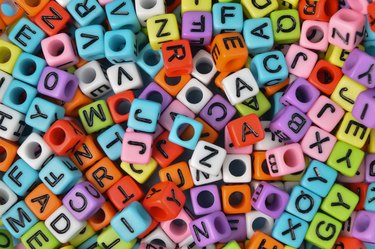 Hey, Swifties! Whether you're lucky enough to have coveted tickets to the Eras Tour or you're just hoping to pay homage to Taylor Swift with fun homemade jewelry, we've got you covered. Every true Swiftie knows that friendship bracelets are kind of a big deal in the fan community—and if you find yourself at one of Tay's shows, you'll almost certainly leave with a handful (er, armful) of handmade friendship bracelets from fellow concertgoers.
If you're eagerly prepping for an upcoming concert or simply feeling inspired by your love for all things Taylor, you might find yourself searching for friendship bracelet ideas and creative bead designs. Never fear—with our roundup of DIY jewelry inspo, you'll be trading bracelets with fellow Taylor Swift fans in no time. Ready to become a friendship bracelet-making mastermind? Grab those letter beads and take a look at these awesome ideas from across social media.
1. Rainbow Bead Friendship Bracelet
We'll start with a basic but totally beautiful design from Instagrammer @mscaseyrenae, who shows off a collection of mini rainbow beaded bracelets featuring Taylor Swift's album titles. Recreate the look in your own at-home jewelry studio with dainty beads, a straightforward rainbow pattern and thin, neutral string.
2. Accent Charm Friendship Bracelet
Take your Taylor Swift friendship bracelet-making game up a notch by adding unique and meaningful charms to represent your favorite songs and albums, much like TikToker @rachelerin.s. Her inventive creations feature song titles alongside representative charms and trinkets. Think whimsical flowers and butterflies for "Lover" and shiny purple stars for "Lavender Haze."
3. Eras Tour String Friendship Bracelet
Swiftie and TikToker @amanda_ryan22 shows off a braided flat string bracelet that pays homage to the Eras Tour itself. We're in awe of the talent and precision it must have taken to perfectly weave white letters into a colorful string arrangement—and while we might not all have the bracelet-weaving skills of @amanda_ryan22, there are plenty of string bracelet tutorials to help simplify the process!
4. Glow-in-the-Dark Friendship Bracelet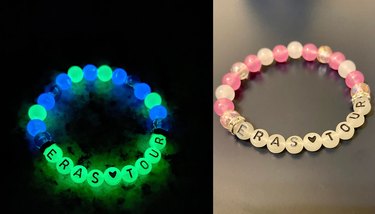 OK, let's face it: We aren't all cut out for DIYing our jewelry. If you're in a pinch but don't want to miss out on the Eras Tour friendship bracelet frenzy, artisans on Etsy have you covered. One fun example comes from Etsy crafter SeaDawgDesign, who offers adorable and affordable glow-in-the-dark friendship bracelets for Swifties who aren't up for making their own.
5. Delicate Floral Friendship Bracelet
With the recent release of ‌Speak Now (Taylor's Version)‌, many Swifties are embracing the purple color scheme and whimsical vibe. Draw inspiration from TikToker @bijouxlasotita, who demonstrates how to make a ‌Speak Now‌-themed bracelet using tiny beads tied into floral patterns on thin, clear string. We're totally enchanted.
6. Friendship Bracelet Dress
Who says friendship bracelets are only for trading and wearing on wrists? Creative TikToker @itslucysfashion might just win the bracelet game with her incredible Taylor Swift friendship bracelet dress, which is just as impressive as it sounds. Lucy hand-beaded the top of a dress and adhered completed bracelets to the bottom, creating a Taylor Swift concert outfit that undoubtedly garnered compliments galore.
7. Nylon String Friendship Bracelet
Want to put letter beads at the center of your friendship bracelet design? Check out this video from TikTok crafter @braceletsmadebyliz, who uses wax-coated nylon string and simple letter beads to create cute wearable art complete with Taylor-related phrases. Make a batch of these with your besties or keep them all for yourself—either way, they're simply lovely.
8. Beaded Friendship Earrings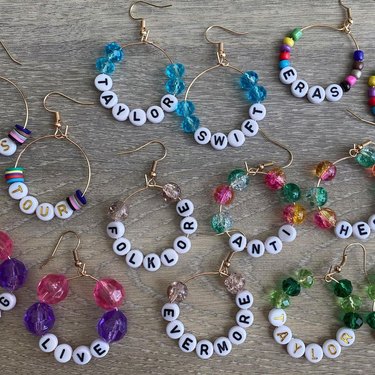 Yes, you read that correctly: We're wrapping up our roundup of friendship bracelet ideas with something totally different! Instagrammer @tastethemomentbraceletco puts a fun, fearless twist on the Eras Tour concert bracelet trend by making friendship ‌earrings‌ with letter beads, colorful accents and fun hoops. Featuring everything from Taylor Swift song titles to Taylor's name, these earrings will leave you wonderstruck.
So, there you have it: plenty of inspiration for your very own Taylor Swift friendship bracelets. When it comes to designing the perfect jewelry to trade with fellow fans or wear on an everyday basis, you're certainly ‌not‌ on your own, kid (get it?!).