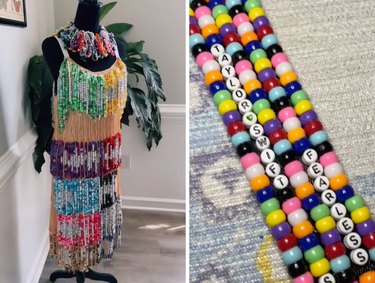 OK, so you somehow beat the seemingly impossible odds and snagged tickets to Taylor Swift's Eras Tour. Amazing! Or, if you weren't so fortunate, you're still processing the fact that you won't be a lucky concertgoer this time around.
Chin up, Swiftie! Whether you're counting down to an upcoming concert or prepping to watch another internet livestream of the Eras Tour, you're ‌not‌ on your own, kid! We're right by your side with friendship bracelet inspiration to help you look and feel your best as you mingle with fellow fans in a decked-out concert outfit (or eat snacks on the couch with your cat and your besties while cozying up to watch Taylor on a smaller screen).
We've already featured a few of our favorite traditional Taylor Swift friendship bracelet ideas, so we thought it would be fun to highlight a few friendship bracelets that aren't really worn as, well, bracelets! These ‌fearless‌ DIY fashion ideas incorporate bead bracelet designs into nonbracelet creations. Think: friendship bracelet jackets, dresses, earrings, necklaces, sunglasses and just about everything in between.
Ready to be the most original Taylor Swift fan in the audience (or the living room)? Read on for our roundup of Eras Tour friendship bracelet inspo that strays from the norm.
1. Friendship Bracelet Denim Jacket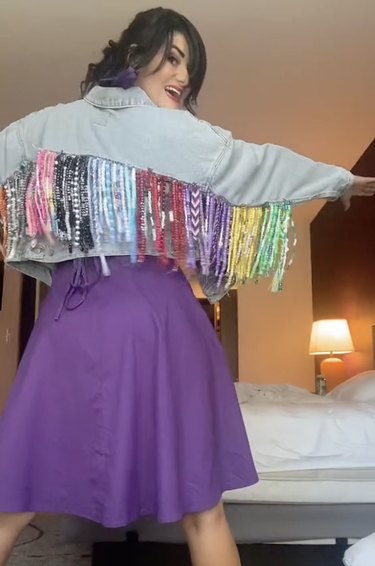 TikToker @kelseykaminari shows off her incredible creation: a simple denim jacket embellished with a row of friendship bracelets across the back. We love the movement and rainbow-themed bracelet arrangement on this one-of-a-kind garment—and it's especially effective when paired with the creator's ‌Speak Now‌-inspired purple dress!
2. Bejeweled Friendship Sunglasses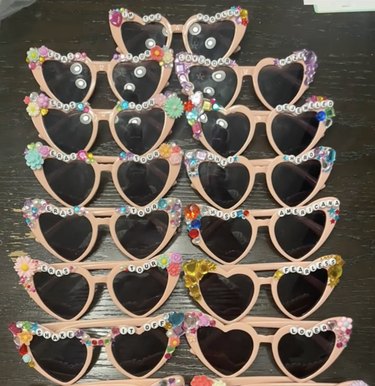 Here's another playful take on traditional beaded jewelry: friendship bracelet sunglasses! Crafty TikToker @erika_on_the_radio made beautifully bejeweled sunglasses to trade with fellow fans at the Eras Tour. She used alphabet beads to spell out album and song titles and then embellished each pair with colorful jewels and designs. We'll take one pair of ‌Lover‌ glasses, please!
3. Beaded Eras Tour Purse Strap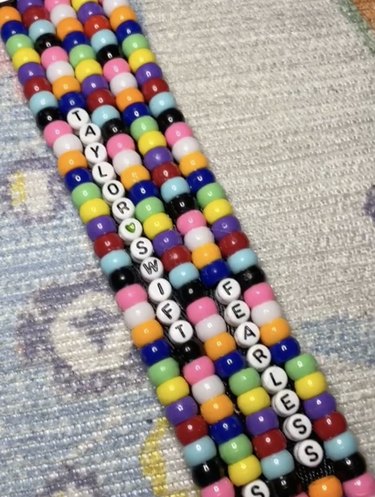 If you know anything about the Eras Tour, you know all too well that bag limitations are strict—but that doesn't mean you can't dress up your transparent purse or crossbody! Take a cue from the ultra-creative @holyguacamollyb on TikTok, who used a colorful combination of simple plastic beads and letter beads to embellish her purse strap with album titles. Gorgeous!
4. Polymer Clay Friendship Earrings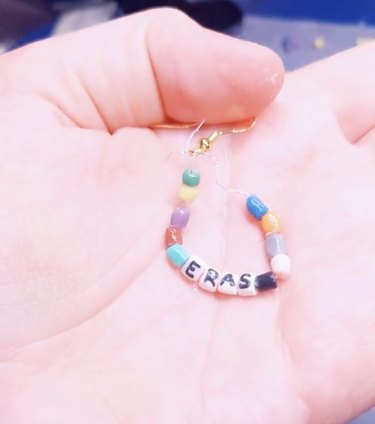 Want to take the full-blown DIY route when creating Taylor-inspired jewelry? Check out this quick tutorial from TikToker @coviescrafts, who works with polymer clay to create tiny beads that look utterly adorable when strung into earrings. The best part? If you're not a crafty type yourself, you'll soon be able to snag a pair from the creator's Etsy page!
5. Friendship Bracelet Tassel Dress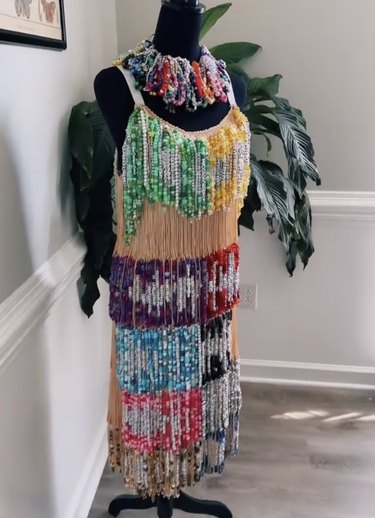 Talk about dedication! This friendship bracelet tassel dress from TikTok DIYer @laurajpetty is projected to weigh a whopping 13 (yes, 13!) pounds when it's complete. Laura combines traditional tassels with super-glued friendship bracelets to make the most flowy and inspiring dress we've seen in a while. If that weren't enough, she shows off an accompanying friendship bracelet hoop necklace that will hold bracelets to trade throughout the concert.
6. Clay Taylor Swift Charms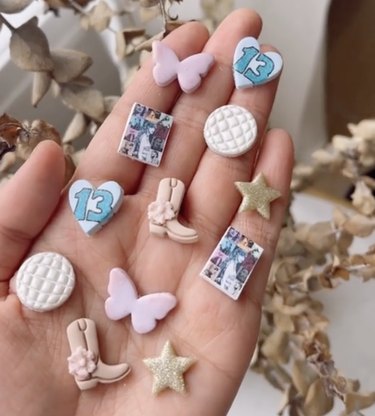 Want to stick with jewelry but not as keen on traditional beaded friendship bracelets? Check out this incredible charm bracelet from TikToker @indigoclayjewelry, who creates individual clay charms using skills learned as a clay earring maker. We love the attention to detail in each individual charm, from the cowboy boot to the butterfly!
7. Giant Friendship Bracelet Sash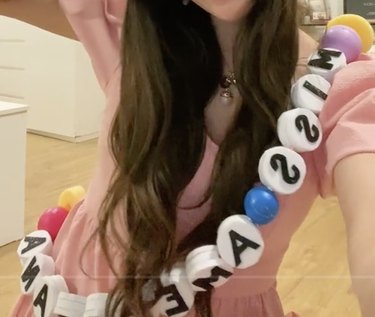 OK, TikToker @soficas19 is something of an Eras Tour outfit mastermind. It doesn't get much more creative than her homemade oversized sash made to resemble a giant friendship bracelet. It looks like her sash was created using simple plastic crafting materials, like foam, paper and even a few toy balls to resemble large beads.
8. Dad-Made Friendship Necklaces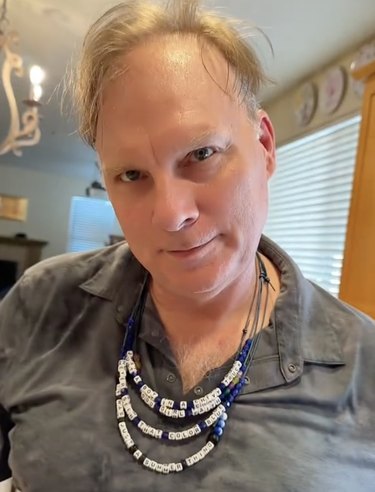 We're a little bit obsessed with this collection of Swiftie friendship necklaces highlighted by @sophiesparkles_ on TikTok—not only because we love the inclusion of beloved song lyrics and cohesive colors but because they were made by the TikToker's dad! Swiftie dads are a special sort, and these necklaces are proof.
9. Taylor Swift Friendship Rings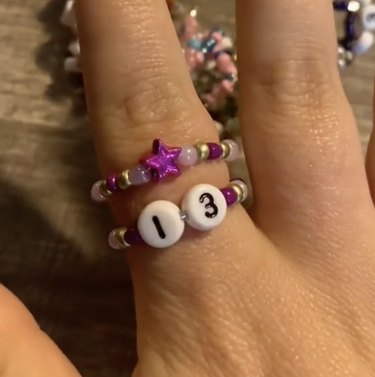 Looking forward to trading bracelets at your leg of the Eras Tour but not quite patient enough to commit to actually, well, making bracelets? TikToker @literalllylexi has the perfect solution in the form of dainty Swiftie friendship rings! Adorned with Taylor's lucky number, these cute creations can be completed in a portion of the time it takes to whip up full-blown friendship bracelets without sacrificing charm. So fun!
Now that you're inspired, here's a quick reminder that you don't actually have to ‌attend‌ a Taylor Swift concert to ‌dress‌ like you're attending a Taylor Swift concert! Swifties are all about self-expression, so let these nontraditional friendship bracelet ideas and outfits guide your next creative endeavor. In the words of Taylor Swift herself, "Take the moment and taste it!"
Looking for more Swiftie-friendly DIYs? Check out our Bejeweled Crocs inspired by (who else?) Taylor Swift!