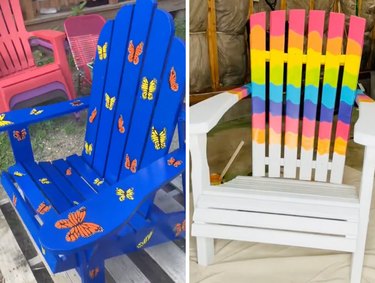 The Adirondack chair is one of those perfect inventions that functions just as well today as it did when it was first designed over a century ago. And while basic Adirondack chairs are downright beautiful, they're also decidedly simple, which makes them perfect canvases for chair makeovers when you're feeling creative.
A coat of paint can transform a weather-beaten or dull plastic Adirondack chair into a one-of-a-kind piece of art for your yard. Their straight lines make them fairly easy to paint—and you don't need a lot of special equipment beyond the right kind of paint. (See "How to Paint Adirondack Chairs" below for the full scoop.)
As for inspiration? Thanks to the artists who have shared their own designs on social media, you don't have to start from scratch. Check out these nine brilliant designs to inspire your own customized Adirondack chair makeover. Happy painting!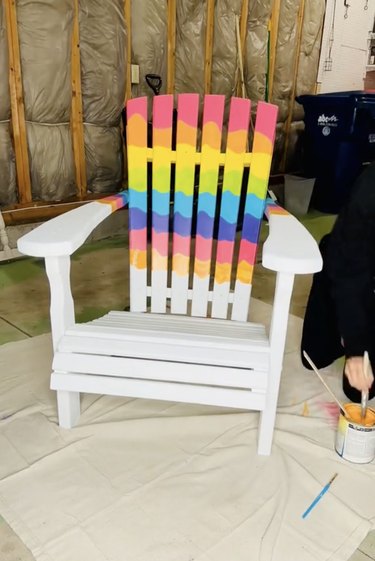 DIYers with limited painting skills will draw plenty of inspiration from multimedia artist @valpaintedthis's rainbow-painted chair. Creating wavy lines of color provides plenty of leeway for hiding mistakes, making this a perfect project for beginners. Val opted for a combination of neon shades and horizontal lines, but you can customize your chair's color palette or—if you're feeling extra creative—create a vertical rainbow design by painting each slat a different color.
If you're the kind of person whose attention span requires DIY projects to take 10 minutes or less (full respect to you!), stenciling is the ideal Adirondack chair upgrade for you. The creator @cuttingedgestencils on TikTok provides a simple step-by-step tutorial for this method. Use a simple graphic or floral-shaped stencil to keep it classic or take a more custom route using a stencil with a favorite team logo or family name.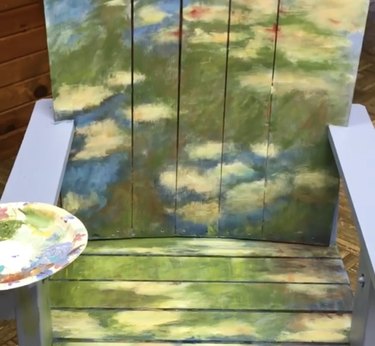 Having museum-quality art in your yard will definitely set you apart from the neighbors. Artist Sherri Burritt (@sburritt.art on Instagram) showed off a Monet-inspired painted Adirondack chair she created for a charity event. Access your inner impressionistic artist and attempt your own take on Monet's water lilies for a fine art twist.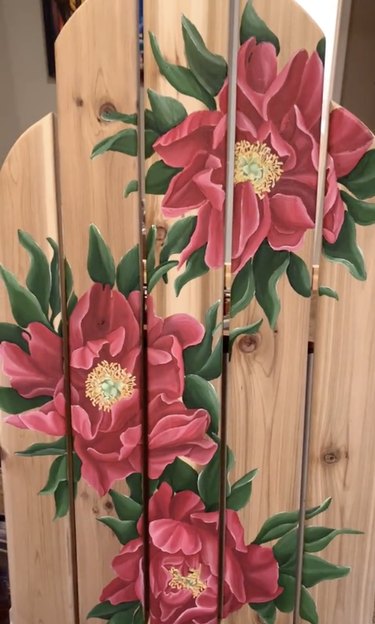 No green thumb? No problem. Painting vibrant flowers onto your lawn chairs lets you create a garden atmosphere without having to actually, you know, weed things. TikToker @mtn.womanstudio painted bold pink peonies, but cheerful yellow sunflowers or daisies would look just as charming.
How to Paint Adirondack Chairs
Painting outdoor Adirondack chairs is a lot like painting any other type of outdoor furniture: It's all about the correct preparation and using materials for things that might be exposed to rain, sun and other elements.
To paint wood Adirondack chairs, start by ensuring the wood is in good condition and doesn't have mold or too much chipping and splintering. Next, use sandpaper to sand the entire chair. Working on a drop cloth in a well-ventilated area, apply a coat of outdoor primer (if the chair is already painted with a dark shade) or skip right to the first coat of paint. Use either a gallon of exterior paint and paintbrushes or exterior spray paint. When you're happy with the paint job, apply sealant made for outdoor furniture, following package directions.
To paint plastic Adirondack chairs, the method is basically identical. Start by thoroughly cleaning the chair to remove debris or mildew. Use sandpaper to rough up the chair surface and apply a layer of primer made for plastic to help the paint adhere to the plastic. Finally, decorate the chair using paint designed for outdoor plastic and finish with at least one coat of sealant.
5. Modern Abstract Chairs
If your aesthetic leans toward the abstract, draw inspiration from artist and Instagrammer @hello.kirsten's work on this set of painted Adirondack chairs. Create contrasting patterns that extend across multiple slats in an unconventional color palette to create truly unique designs.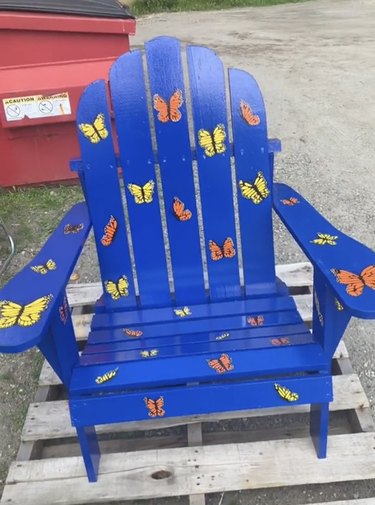 Maybe a chair covered with hand-painted butterflies will attract the real thing to your yard! In any case, it's an easy way to add bright, cheerful color to your outdoor space. Check out @shawnabeattie's TikTok for a close-up view of the orange and yellow butterflies she added over a bold blue base.
7. Inspirational Message Chairs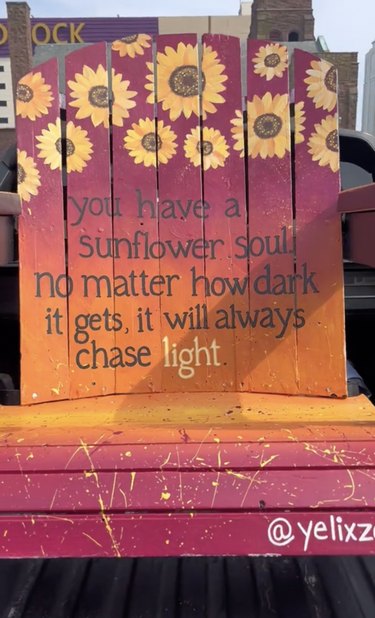 How about sprucing up your yard with a meaningful phrase or quote? TikToker @yelicreationz painted an Adirondack chair with an ombre purple, orange and yellow base and then added an inspiring line about sunflowers accentuated with a cluster of painted sunflowers. Try a similar technique with a song lyric or quote that resonates with you.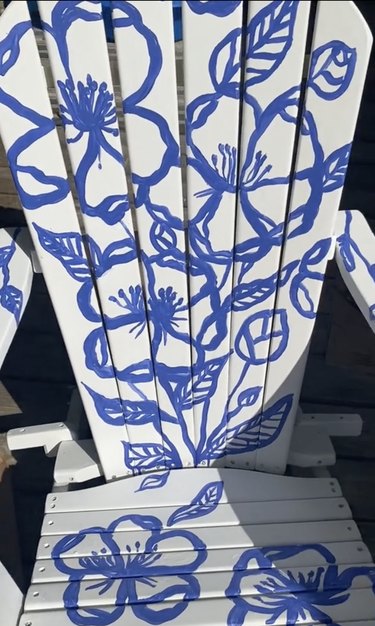 This chair design from TikToker @brydenart echoes the blue and white designs that have been used to decorate delicate porcelain pottery for centuries. Free-drawing outlines of loopy blue flowers create a striking visual impact. Sketch your own outlines onto a white-painted chair with a pencil first before you add blue paint.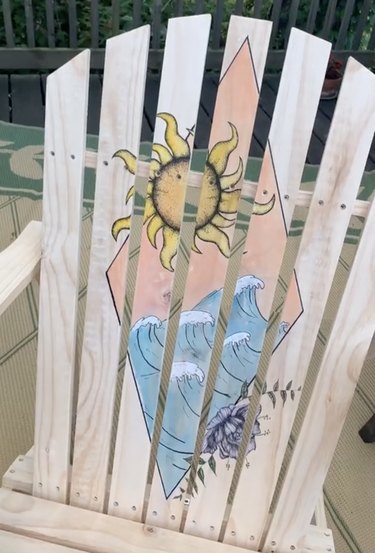 TikToker @maria_fehr painted these chairs, which depict both a daytime and nighttime ocean scene, for use along the shoreline. Even if you're not interested in recreating a similar beachy design, this duo provides a great example of how stylish a central image painted onto an otherwise unfinished chair can look. If you don't feel like painting an entire chair, you don't have to!
Ready to put your own creative stamp on your garden furniture? Throw down a drop cloth, pick up paint designed for outdoor use and start experimenting. If your first attempt goes awry, don't stress—you can always start anew with a second coat of paint. Adirondack chairs are all about relaxation vibes, after all!