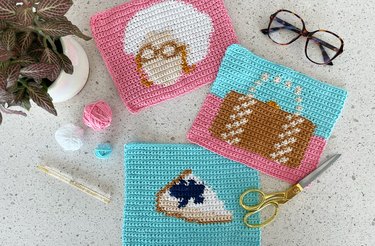 Whatever the weather, there's nothing better than unwinding on the lanai with your best friends and a hefty slice of cheesecake—just ask the ‌Golden Girls‌: Sophia, Blanche, Rose and Dorothy! Whether you're throwing a party for your pals and confidants or planning to make a gift that truly says, "Thank you for being a friend," draw some inspiration from our favorite Miami sitcom mavens and follow our fun, colorful trivet tutorial.
Nobody wants to work on a big, bulky crochet blanket when it's hotter than Sicily outside, so this crochet project is perfect for warm summer months or hotter climates. All materials can fit in a small tote or handbag, so you can work on the project just about anywhere. The completed trivets are perfect for use at the dinner table, during ‌Golden Girls‌ trivia nights or on your very own lanai as an accessory for your favorite coffee mug, water bottle, wineglass or small serving dish.
This crochet project is best for experienced crocheters. However, if you're a confident beginner, can count to 40 and have mastered a single crochet stitch with consistent tension, you might be able to whip out a trio of trivets faster than Dorothy Zbornak can say, "Shady Pines, Ma."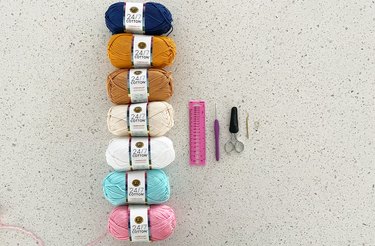 Things You'll Need
Crochet chart for ‌Golden Girls–‌inspired trivets

24/7 Cotton Yarn from Lion Brand (or equivalent) in the following colors: navy, ecru, white, pink, aqua, camel and goldenrod

Ruler

4mm crochet hook

Scissors

Darning needle

Stitch marker
How to make "Golden Girls" Trivets:
Begin by referencing the crochet chart and detailed pattern of your choice. (Our design options include a ‌Golden Girls‌ silhouette and purse, plus a slice of blueberry-topped cheesecake).
For this tutorial, we'll walk through the process of crocheting the silhouette of Sophia Petrillo—portrayed on-screen by the incomparable Estelle Getty—complete with her signature glasses and golden glasses chain.
Tip
Gauge doesn't particularly matter for this project—but even, consistent tension does. If you're already familiar with tapestry crochet, you may choose to switch things up by using half-double crochet (HDC) for each chart square. Your finished project will be significantly bigger (approximately place mat size) if you choose this.
If you're brand-new to colorwork crochet, you might want to begin with Sophia's purse as your first panel. It is more geometric and regular and will help you find your rhythm and stay golden.
Choose other colors if you desire, but note that the charts and written pattern are color-coded to be used with 24/7 Cotton Yarn from Lion Brand. This yarn is easily available in most craft stores and on Amazon. It's also washable and quite durable for everyday use.
You might need to size up or size down your crochet hook to your liking. Make sure single crochet stitches are neither too loose nor too tight. Each square in the chart represents one single crochet stitch and a finished trivet should measure about 9 x 7.5 in.
2. Create mini balls of yarn
Tip
Whether you choose to crochet in a traditional tapestry style (carrying all colors of yarn) or use Fair Isle technique or intarsia with floats on the backside or wrong side of the trivet, this project is most easily accomplished with mini balls of yarn instead of juggling multiple skeins the way Blanche Devereaux juggles boyfriends.
Each chart will instruct which colors are needed for the particular pattern. For example:

Wrap yarn tightly but not ‌too‌ tightly. You don't want to stretch yarn out of place before you even begin. As you proceed, make time for yarn management. If you don't, you'll have to take time to manage colors and criss-crossed madness.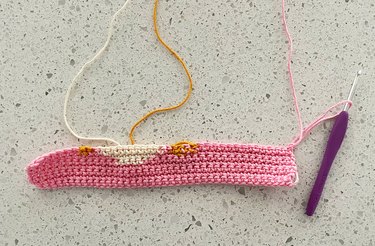 Chain one and turn your work after each row is finished. Chain one does not count as a stitch. Begin row count in first stitch. Work from left to right on odd rows, right to left, even rows. Make note of RS (right side) and WS (wrong side), especially if you are carrying the yarn on each row.
Tip
Keep your foundation chain on the looser side. If you know how, you may do a foundation single crochet and count it as row one.
When working a color change on WS, yarn under instead of the traditional yarn over and always change color before a new color begins. Begin SC (single crochet) as usual, insert hook in next stitch, pull up the loop, then YO (yarn over) or yarn under for WS with the new color and pull through two loops with new color.
Manage yarn between each row. Use a stitch marker to keep your place secure before turning your work and rearranging mini-balls.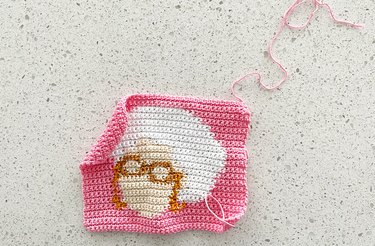 Weave in ends of crochet trivet panel.
More Crochet Gift Inspiration
Here are a few other cozy ‌Golden Girls‌ gift ideas for the fan in your life:
Use a bulkier weight yarn (acrylic or wool work fine) and crochet a pillow cover that Rose Nylund could hug instead of her teddy bear Fernando.
If you want to wrap yourself up in a cheesecake afghan to proclaim yourself the ultimate ‌Golden Girls‌ fan, use our chart for C2C graph-gan crochet. Alternatively, crochet double crochet (DC) where each square of the chart equals a granny stitch of 3DC to create a larger afghan.
Our chart can even be used to create a cross-stitch project or embroidery panel with each square being a French knot or a satin stitch square. Imagine how cute it would be with "Thank you for being a friend" embroidered at the bottom!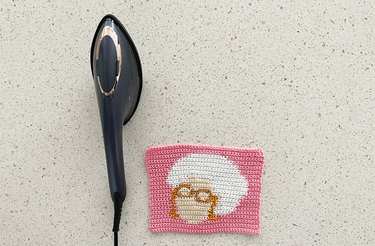 Measure or pin for evenness. Steam lightly until reaching desired results. Do not place iron directly on crochet panel.
If desired, complete a second 40 stitch by 40 row panel to create trivet back.
Use one of our other crochet charts or design your own backs—we used the pink yarn from Sophia's chart and the goldenrod of her glasses in alternating stripes. Or choose to work in a solid color to quickly knock it out.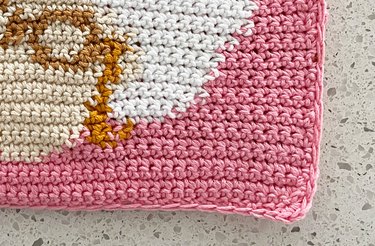 If joining two panels, place WS together and join with single crochet stitch all the way around, crocheting 3 SC in corners for ease. If desired, add a decorative border or yarn tassels.
Tip
Our ‌Golden Girls–‌themed trivets are created out of 100% cotton for durability and safety because acrylic yarns have a tendency to melt when casseroles—or cheesecake—straight from the oven are set on them. And while these should protect your table from warm things, please note that crochet is a craft of knots and holes and these trivets are not intended to be used as pot holders!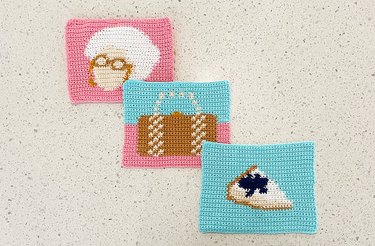 Your ‌Golden Girls‌ trivet (or trivet trio, if you committed to all three of our crochet designs) is now complete!
If you want to give your bestie a ‌Golden Girls–‌themed gift but trivets aren't quite their style, use the same charts for other projects. Completed trivets also look wonderful when framed and displayed as wall hangings or decorative pieces. No matter how you choose to show off your handiwork, you'll soon have homemade treasures that would surely be the talk of Shady Pines. Stay golden!