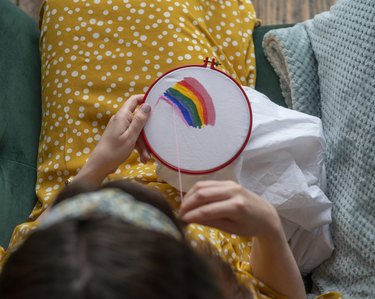 In celebration of LGBTQ+ Pride Month, we're getting crafty with statement-making works of art in an array of rainbow colors. Whether you're looking for a quiet and slow craft to work on throughout the month, a creative activity to enjoy with friends in preparation for your city's Pride festivities, or a homemade gift idea for a loved one, we've got all of your Pride Month craft ideas covered.
From cross-stitching and embroidery to macrame and crochet, here are our top picks for the best Pride crafts for adults.
What to Consider When Purchasing Pride Crafts and Kits
‌Project Type:‌ When shopping for craft kits, it helps to start by having a project type in mind. Not only will this narrow down your search, but it can also spark your imagination and allow you to have an idea of all of the supplies and tools needed (whether included in or in addition to the kit) in order to be prepared and make a more informed purchase. Whether you're looking for a cross stitch kit, a macrame kit, a diamond art kit or an embroidery kit, you can find a variety of craft kits—including ones inspired by Pride month!—on Etsy, Amazon, Michaels, JOANN and more.
‌Skill Level:‌ In addition to considering the craft type, having an idea of your skill level is also beneficial as it can help guide your search and ensure you don't end up with a project that is too challenging and, as a result, frustrating. It also helps to consider your craft experience in general as this might require you to start with a more simple project rather than diving into something more advanced or too complicated. For example, if you don't have sewing or stitching experience, cross stitching and embroidery might feel a little too challenging to start with and you might instead want to create something that requires less pre-requisites like tie-dye.
‌Instructions:‌ No matter what your skill level is, always check for insights on included instructions and look for any bonuses that might help guide you further while creating. Some craft kits, for example, will include directions for basic skills you might need (such as how to create a cross stitch) in order to complete a project. Many craft kits available on Etsy also come with access to a video tutorial, which can help visual learners get a better idea of what they need to do in order to complete a project.
‌Included Materials:‌ Make note of what materials are included in craft kits. Some craft kits come with everything you need to complete a project while others only come with craft supplies and might require additional tools. For example, projects such as cross stitch and embroidery kits should at the very least come with the canvas, thread and hoop necessary for the project. These types of kits might also include a needle and scissors or require you to provide your own. Tie-dye kits usually come with dye, gloves and rubber bands, but might require you to source your own items for dyeing such as plain white t-shirts and tote bags.
‌Additional Craft Supplies:‌ In addition to the items included in your craft kit, you might also need to provide additional supplies and tools such as glue, scissors, crochet hooks, knitting needles, a seam ripper and more. Before purchasing your kit, thoroughly read all of the included materials and make a list of what you might need in addition to what's provided. Be sure to stock up on the items you don't have ahead of time so that you don't run into any delays.
‌Gifting Potential:‌ There's something so special about homemade gifts. This Pride month, if you wish to gift a colorful and celebratory gift, consider a project's gifting potential. Cross stitch and embroidery projects make excellent gifts—you can leave them in their hoop or even frame them for an extra special touch. String art also has lots of gifting potential and would make a beautiful piece of wall art in the home or on the front porch. Of course, you can always make lots of little gifts to give out to friends and family, including friendship bracelets made from embroidery thread or beads. Tie-dyed and crocheted items are also always appreciated and you could have plenty of fun with a rainbow of colors.
The Best LGBTQ+ Pride Crafts for Adults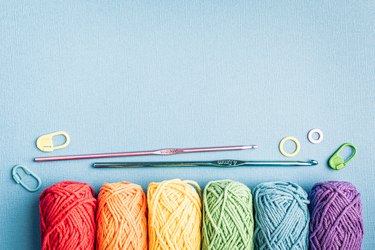 1. ABUnderwoodCo2 DIY Rainbow Hearts String Art Kit
Create your own handmade wall art with this beautiful string art kit from Etsy. The ABUnderwoodCo2 DIY Rainbow Hearts String Art Kit comes with everything you need to complete a 12-by-3-inch wall art featuring five hearts made from colorful string to create a rainbow. It's also beginner-friendly and features pilot holes so you can easily locate where to add each nail for the heart-shaped design. And, if you want the kit to come pre-nailed for an even more accessible project, you can request that at checkout.
2. JunebugandDarlin Pronouns Modern Cross Stitch Kit
Cross-stitching is a fun and mindful craft activity that can result in a stunning piece of art. We are obsessed with the JunebugandDarlin Pronouns (They. Them. Theirs.) Modern Cross Stitch Kit from Etsy for its overall design as well as its quality of materials. The kit comes with everything needed (minus scissors) to complete the project, including a printed counted cross stitch pattern and instructions, a wood embroidery hoop, Aida cloth, tapestry needles, and embroidery floss from DMC. On top of that, it also includes felt for backing and batting for framing, giving you lots of options for how you want to display your finished piece.
3. Make Market Rainbow Heart Diamond Art Kit
A mix between cross stitching and paint by numbers, diamond art kits help you create a shimmering masterpiece made entirely out of small rhinestones. Whether you're new to the craft or are an experienced diamond art creator, the Rainbow Heart Diamond Art Kit from Make Market at Michaels is a fun way to celebrate Pride month, and results in something you can display in your office or home, or give as a gift to a loved one. We love this kit because it features an elevated rainbow design that feels ultra-chic and design-forward. Plus, it comes with thorough instructions for how to complete the project, a pre-printed canvas and everything you need to finish it.
4. EpicYarnDesigns Rainbow Love Heart Jumper LGBTQ+ (Digital Download)
This isn't a craft kit, per se, but if you happen to have some extra colorful yarn lying around and wish to create a crochet sweater, this crochet pattern download is one of our favorites. The EpicYarnDesigns Rainbow Love Heart Jumper LGBTQ+ pattern helps you create a stylish and chic crewneck sweater with the word "love" front and center in rainbow hues. We love this Pride craft idea because it costs less than $10 and allows you to use what you already have for a more budget-friendly craft project.
5. Tulip Tie Dye Party Kit
The Tulip Tie Dye Party Kit is a fun craft kit you can enjoy with friends in celebration of Pride. Grab blank tote bags, tees and other cotton items to create your own swirling rainbow designs. This kit comes with six gloves, bundles of rubber bands, and 18 easy-squeeze bottles of dye so you and your besties can craft together this month. To up the ante, consider purchasing some fun and festive patches (we love the Kirako LGBT Iron-On Patches) and add them to your finished dyed products.
6. bluebamboo Rainbow Macramé Wall Hanging DIY Kit
For a chic piece of rainbow home decor, we love the bluebamboo Rainbow Macramé Wall Hanging DIY Kit which teaches you how to create a stunning colorful wall-hanging and results in a super chic finished project that you can display on a wall, use in place of a door wreath, or add to your Pride celebration decor. This DIY craft kit comes with pre-cut pieces of macrame cord in various colors, a 12-inch wooden dowel, and step-by-step instructions that teach you how to finish the project and also show you how to create the specific macrame knots involved in this project.
7. TesseraMosaicCraft Love is Love Pride Rainbow Mosaic DIY Craft Kit
Create a beautiful piece of decor for your garden or yard with the TesseraMosaicCraft Love is Love Pride Rainbow Mosaic DIY Craft Kit. This craft project walks you through how to create a piece of mosaic art and includes everything from thorough instructions to materials such as a wooden backing board, ceramic tiles and grout. It also includes tools that can help keep yourself and your space clean, including gloves, a spreader for grouting and a plastic drop cloth.
8. Louise Maelys Love is Love Rainbow Embroidery Kit for Beginners
If you love embroidery, the Louise Maelys Love is Love Rainbow Embroidery Kit is a fun way to learn how to make your own embroidered work of art and practice your stitching skills. We love this kit because it costs less than $10 and comes with everything needed to finish the rainbow design, including instructions and materials such as embroidery thread, embroidery cloth, an embroidery hoop and needles.
9. SugarMtnCrafts Progress Pride Flag Crochet Pattern (Digital Download)
Make your own Pride flag with this downloadable crochet pattern from Etsy. The SugarMtnCrafts Progress Pride Flag Crochet Pattern teaches you step-by-step how to create a beautiful Pride flag that you can hang on a wooden dowel and display in your home, off your balcony, on your porch, or while celebrating in the city streets with loved ones.
10. Choose Friendship, My Friendship Bracelet Maker
If you want to make something that is giftable and easy to create in abundance, you can't go wrong with rainbow friendship bracelets. The My Friendship Bracelet Maker by Choose Friendship makes friendship bracelet making super easy with a functional device designed to keep your project in place without tape and pins while you braid, twist, and knot.
11. JunebugandDarlin Homo Sweet HomoCross Stitch Pattern (Digital Download)
For those who already have cross-stitch experience and have some extra supplies lying around, the JunebugandDarlin "Homo Sweet Homo" Modern Cross-Stitch Pattern is a funny and festive way to use up your excess embroidery thread. The pattern is available as an instant download, allowing you to get started right away, and features step-by-step instructions and a visual pattern that you can use to create your own cross-stitch wall art or the beginnings of a fun and decorative pillow for your home.