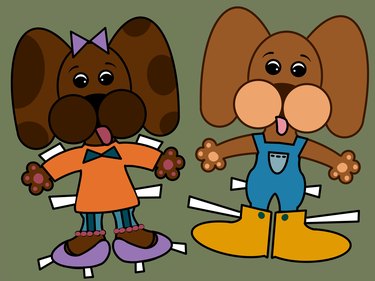 There's a reason paper dolls have remained a beloved pastime for generations. Despite their simplicity, these paper toys provide endless opportunities for creative, colorful play—no matter your age! What's more, they're easily DIYable, even for true beginner crafters. If you'd like to make your own paper dolls at home but need a little jump-start, we've got you covered with a step-by-step guide. We'll show you how to create your own printable dolls using a free paper doll template (and plenty of imagination, of course!).
Whether you're a parent looking for a fun craft to share with the kiddos, an everyday DIY enthusiast looking to capture a bit of nostalgia or a serious crafter seeking a unique new project, this tutorial will delight—and the resulting dog-themed paper dolls are pretty darn easy to love.
Your foray into fun and functional paper crafts begins now!
Things You'll Need
Printable paper doll template (includes accessories and clothes)

Crayons, colored pencils, watercolor paints or markers

Plain white card stock or printer paper

Scissors or X-Acto knife

Stickers and other embellishments (optional)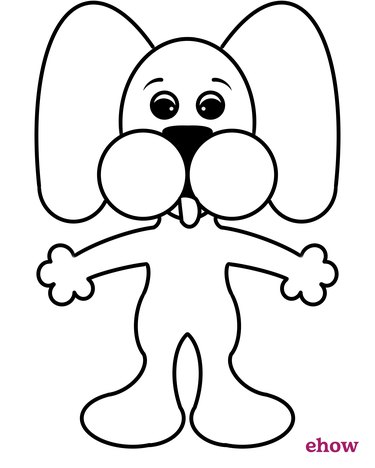 The world of paper dolls is vast. Whether you're a fan of vintage dolls or more modern options, there are loads to choose from. For the purposes of this tutorial, though, we've created a free downloadable template featuring an adorable dog character.
Tip
Our downloadable template includes a character with a stand attached and one without.
2. Select paper doll outfit
What's a paper doll without a plethora of outfit options? Our template also includes a few pieces of clothing, shoes and accessories that can be customized (either digitally or as a coloring page once printed) to suit your doll dog character. Choose outfits that match the season or theme—perhaps winter clothes for a chilly day or beach clothes for vacay fun!
Tip
If you're working on a drawing tablet, color the paper doll and clothing using digital tools before printing the downloaded PDF template.
3. Print paper dolls, outfits and shoes
Load your printer with card stock or standard printer paper. Ensure that printer settings are appropriate for selected paper type. Once you've printed paper dolls and outfits, carefully cut them out along outlines. Using an X-Acto knife can provide a more precise cut but make sure this step is completed by an adult on an appropriate cutting surface.
Tip
Printing the template using card stock will make the paper dolls and their clothing more durable. Also, the included stand will work more efficiently.
It's time to bring your paper dolls to life! Use crayons, colored pencils, markers or watercolor paints to add color and personality to dolls and clothes. Get creative with fine motor skills as you draw details and unique touches. Use stickers, scrapbooking materials or origami techniques to embellish paper dolls and their outfits for extra creativity. These details can make your paper dolls truly stand out.
Mix and match doll outfits and accessories to create versatile looks. This step encourages imaginative play as you (and kids of all ages) explore style combos.
Tip
Use the foldable flaps to adhere clothing and accessories to your dog characters. Use a small piece of tape or glue to secure them more permanently.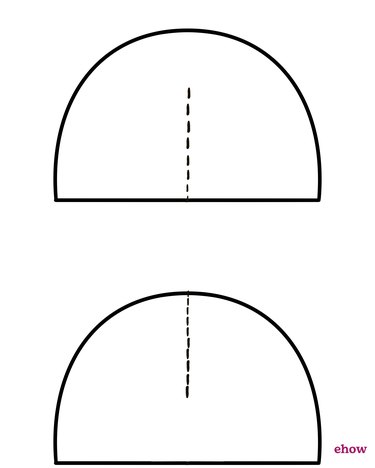 Our template includes a version of doll design with a half-circle base that can be adhered to another set of printable half-circles (pictured above) to create a stand. With stands, completed dolls can be easily displayed on windowsills, bookshelves or mantels.
Tip
Print stands on the thickest card stock possible so they're durable and moveable.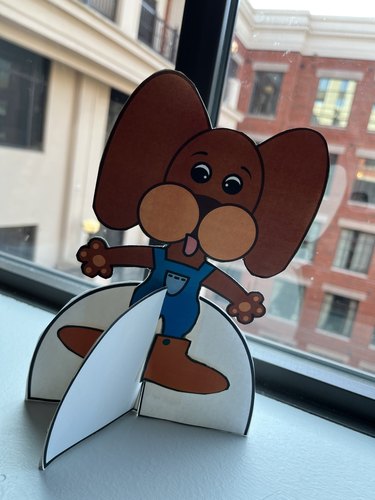 Don't stop after completing your first printable paper dolls! Explore new templates and outfits to expand your collection. This DIY activity is perfect for crafters who love to experiment. You're on your way to becoming a bona fide paper doll expert!
Whether you're revisiting a classic childhood activity or helping your kids start their very own paper doll collection, we hope our printable paper crafts inspire loads of joy.