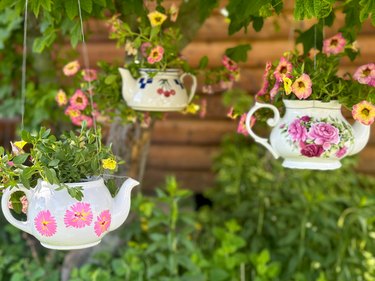 Eager to add charm and character to your garden while combining creativity and sustainability? Enter: 0ur whimsical DIY teapot planters, which breathe new life into everyday objects. By repurposing old teapots into unique plant containers, you'll infuse your outdoor space with a touch of enchantment while keeping things eco-friendly.
Video: Playful Teapot Planters to Spruce Up Your Garden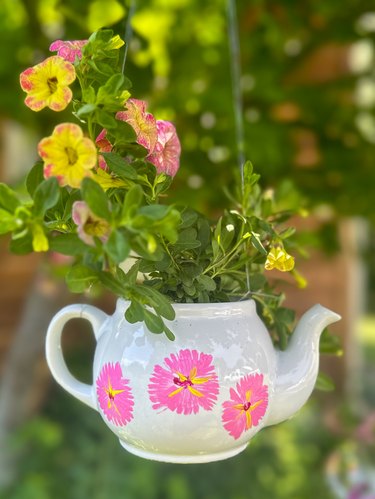 Whether you're an avid gardener or a novice with a passion for crafting, these teapot flowerpots offer endless possibilities for sprucing up your garden with a dash of nostalgia and a burst of vibrant flora. Start creating the garden sanctuary of your dreams while letting your imagination and artistry bloom.
Things You'll Need
Thrifted ceramic teapots

1/8-in. mason drill bit

Drill

Fan paintbrush

Small round paintbrush

Acrylic paint

24 gauge craft wire

Wire cutters

Flowers or succulents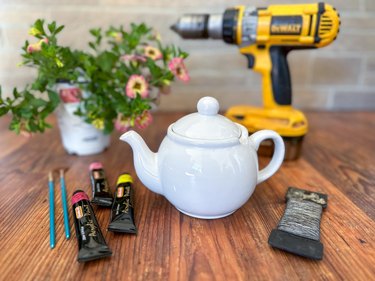 Part 1: Create Drainage Hole
1. Drill hole in bottom of teapot
Use a 1/8-in. mason drill bit to carefully drill a drainage hole in the bottom of teapot.
Tip
If you find that the mason bit is unable to penetrate glaze, simply replace it with a 1/4-in. diamond tip drill bit. The diamond tip drill bit will effectively cut through glaze, allowing you to proceed. Once glaze is penetrated, switch back to the mason bit and complete the drilling process.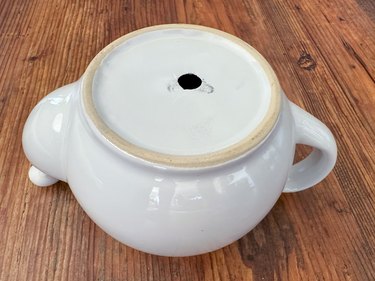 1. Choose colors and design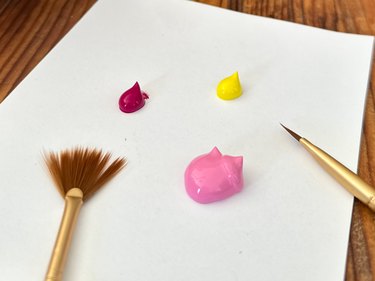 Get creative during this step. If your plant pot already possesses a design you admire, painting might not be necessary at all. We opted to paint charming pink flowers on our planter pot, complementing an existing ceramic planter adorned with pink roses.
To paint flower petals, we used a fan paintbrush, while center details were delicately crafted using a small round paintbrush.
Part 3: Attach Wire Hangers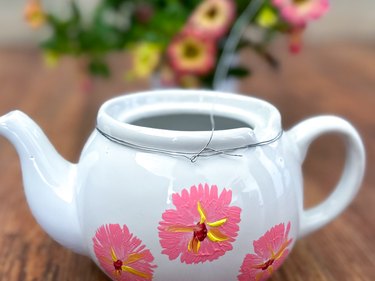 Wrap craft wire around upper portion of teapot. Ensure a secure hold by tightly twisting wire. Next, affix three additional long wires to serve as teapot hangers.
Tip
If wire tends to slip off due to insufficient lip atop teapot, an alternative approach is to fasten wire to the handle and thread it through the spout securely.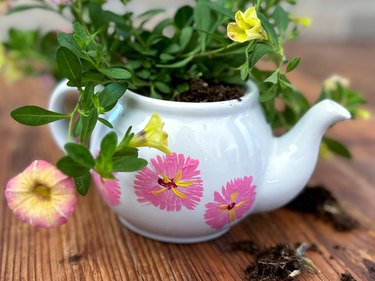 For a cascading effect, we carefully selected flowers that would gracefully spill over sides of teapot. Succulents would also make an excellent choice for planting, but you can choose whichever small plants or floral arrangements suit your outdoor decor.
To enhance drainage, consider adding a layer of small pebbles or sand at bottom of teapot before adding soil and planting chosen flowers. This simple step will ensure optimal growing conditions for teapot planter.
Part 5: Hang Teapot Planter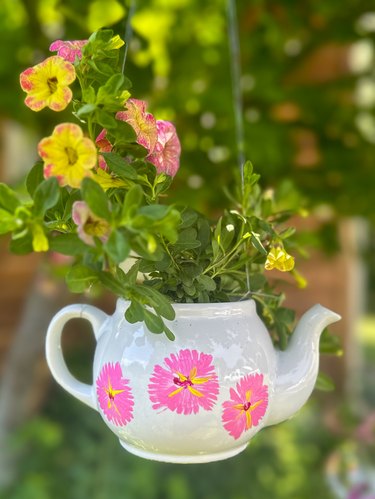 Choose a picturesque location within your yard or garden to suspend teapot planters. Simply wrap wires around tree branches, bird feeders or even table umbrellas. No matter your chosen spot, these planters will enhance the beauty of their surroundings.
By embracing the art of upcycling, you've breathed new life into vintage teapots and bestowed your garden with a delightful dash of personality. These charming outdoor planters bring a nostalgic charm to any garden decor while serving as a testament to your creativity, commitment to sustainability and love for repurposing. May your tea set–inspired garden become a haven of whimsy and natural beauty!