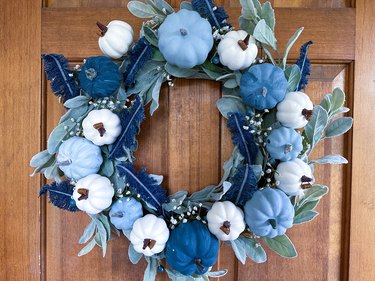 Ready to dress up your door with something that's one of a kind? We adore traditional fall decor and seasonal wreaths with orange pumpkins or red leaves, but there's plenty to be said for taking a more contemporary and creative approach to your DIY home decor. Enter our blue pumpkin and feather wreath, which incorporates petite ombre blue pumpkins and recycled denim.
In this crafty tutorial, we'll show you how to turn old jeans into whimsical "feathers" and give faux pumpkins a facelift with eye-catching blue paint. What's more, the wintry hue of this homemade wreath makes it perfect for winter too—so you don't have to pop it into storage when the first snowflake falls. In fact, you might even consider displaying the same wreath for Halloween, Thanksgiving ‌and‌ Christmas!
Though most wreaths find their way onto doors, they also work beautifully as table centerpieces when set atop colorful runners and mixed in among candles, figurines and other seasonal decor. What's not to love?
Let's craft a piece of blue pumpkin decor that's versatile, stylish and sustainable!
Video: A Blue Pumpkin Wreath With Feathers Made From Old Jeans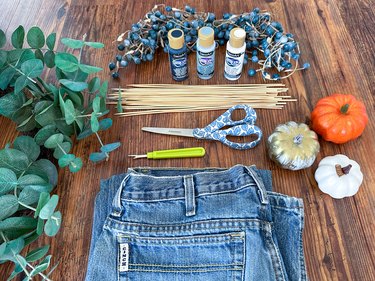 Things You'll Need
Old pair of jeans

Sharp scissors

Seam ripper

Bamboo skewers

Hot glue sticks and gun

Variety of foam pumpkins

Paintbrush

Faux greenery (if using plain wreath form)
1. Cut feather shapes from denim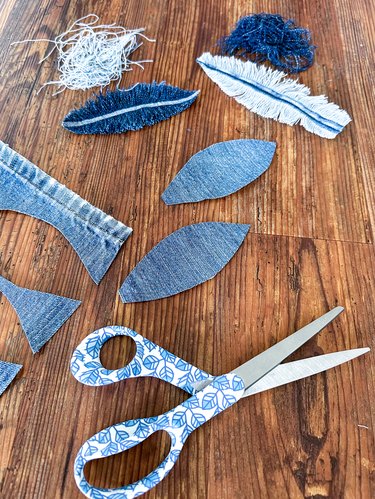 Pull jeans from your closet, find a pair at the local thrift shop or use denim scraps from a previous project. Use a sharp pair of scissors to cut leaf shapes following the grain of the denim.
Tip
Grain refers to the direction in which fabric threads are woven. Fabric comes together through the intricate interplay of threads woven at right angles. There are two primary aspects to grain. The lengthwise grain (known as the warp) runs vertically, while the crosswise grain (known as the weft) consists of threads woven horizontally, passing over and under lengthwise threads.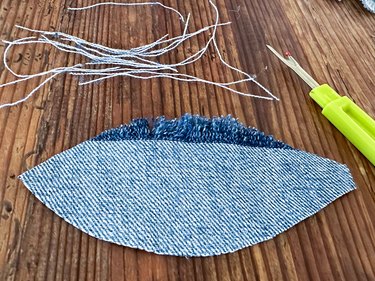 Use a seam ripper to pull the threads from each side of the feather.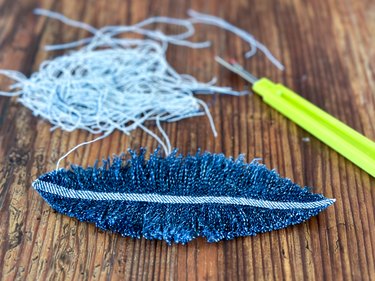 Continue pulling threads until you get to the center of the feather. Leave a narrow strip down the center.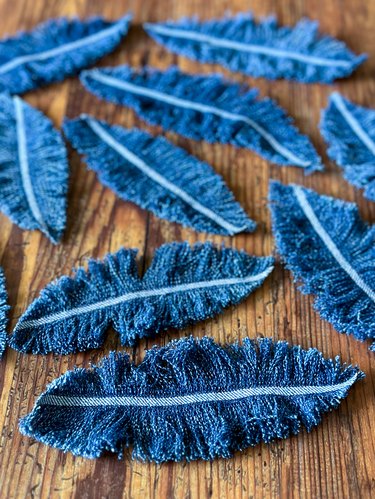 Denim is made up of blue and white threads. To create blue feathers, cut the shape so you'll be pulling out white threads. To create a white feather, cut the shape so you're pulling blue threads.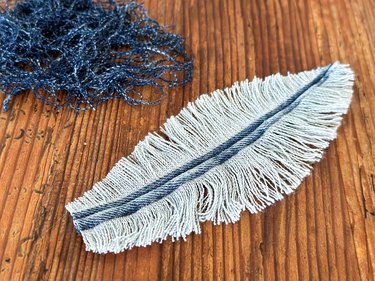 3. Attach denim feathers to skewers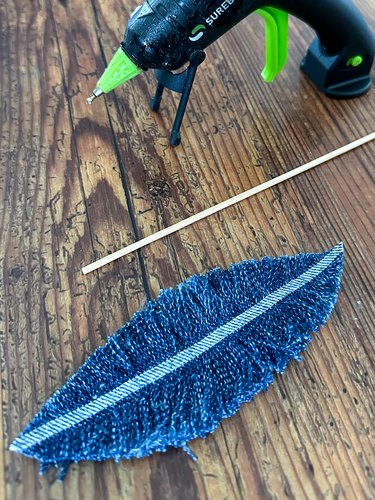 Use a hot glue gun to attach a bamboo skewer to each feather.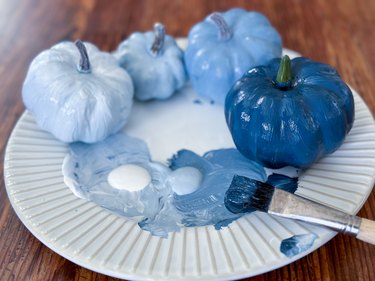 Begin by painting a few pumpkins using dark blue paint. To achieve the second darkest shade, blend a small amount of the next darkest blue with 1 or 2 drops of the darkest blue. Mix with light blue until you have eight pumpkins painted in different shades of blue and eight white pumpkins. Consider shades from navy blue to teal for a varied look.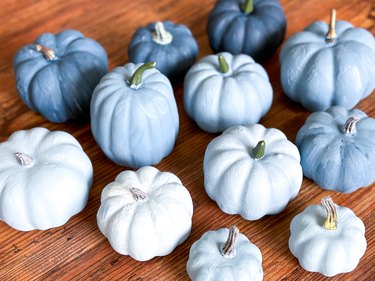 5. Attach skewers to pumpkins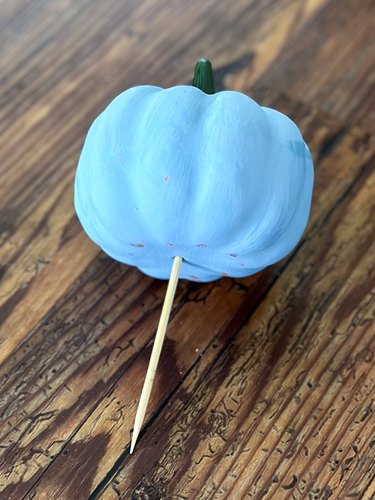 Push a bamboo skewer into the bottom of each foam pumpkin. Use a hot glue gun to secure.
6. Distribute leaves, pumpkins and feathers on wreath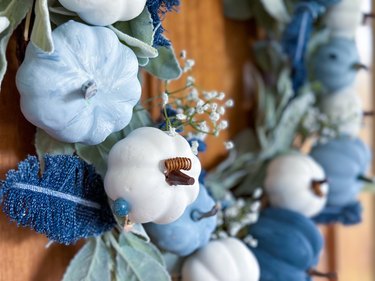 Gently insert greenery, if not already there, into wreath and distribute evenly. For our greenery, we chose wooly lamb's ear because of its silvery green color, which pairs nicely with denim blue. Next, add pumpkins, denim feathers and any additional embellishments in a balanced arrangement. Consider elements such as baby's breath, berries or dried wheat to complete the look.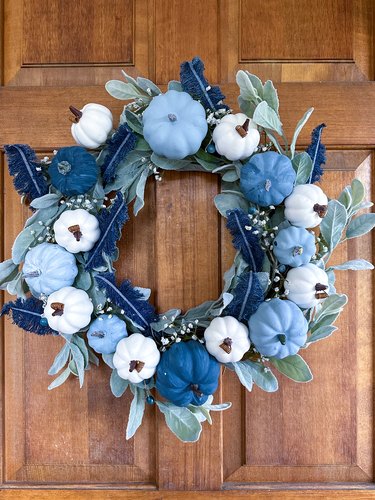 Whether you're using them to welcome guests at your front door, pretty up your dining room table, serve as a not-so-scary Halloween decoration or even grace your wall as a unique piece of decor, these blue and white pumpkins with denim feathers will help you step up your fall decor game—and repurpose those long-forgotten jeans in the process. ‌Gourd‌-geous!