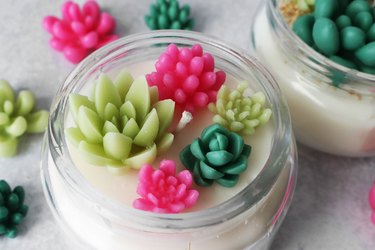 Live plant terrariums have long been popular home decor pieces, especially among nature lovers and avid gardeners. But if you're looking for a fuss-free, low-maintenance option (or if you simply don't have a green thumb!), we've got a fresh alternative that will light up your space in style: DIY terrarium candles.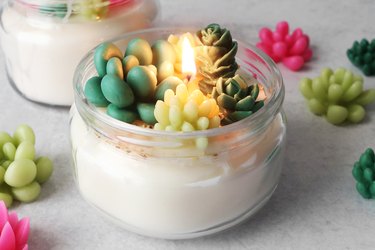 This desert-inspired project involves a mini terrarium made entirely of hand-poured wax succulents. Simply add dye to melted candle wax, pour it into mini succulent molds and then leave the wax to harden. Once set, these adorable wax plants can be arranged on a candle to look like a tiny terrarium. Talk about a creative, unconventional way to add a dash of "greenery" to your decor scheme.
Read on to learn how to make your very own succulent candle...no soil or water needed!
Video: Succulent Terrarium Candles for Greenery & Glow
Things You'll Need
Wide-mouth glass jar

Candle wick

Candle wax

Candle dyes

Wick holder

Dried orange zest (optional)

Heat gun

Scissors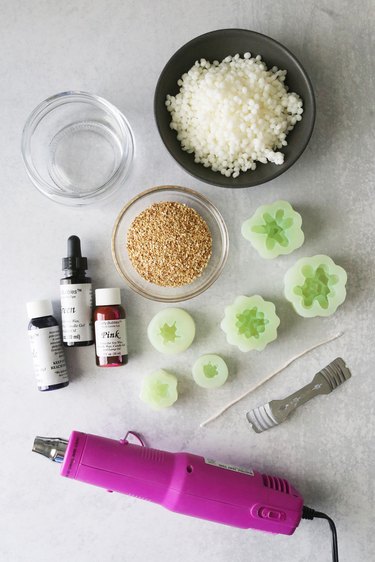 Tip
When using intricate silicone molds, paraffin and beeswax are your best bet. Both options will clearly capture details and create sturdy shapes, making them easy to remove from molds. If you decide to use beeswax, make sure it's white so you can dye it. Another option is soy wax; however, soy candles tend to be softer than others, so you'll need to be extra gentle when removing succulents from molds.
1. Pour wax in glass container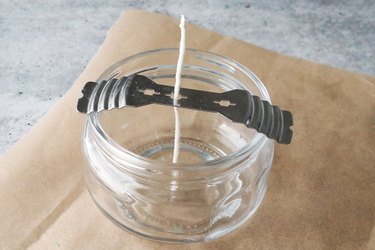 Add candle wick to jar, keeping it in place with a wick holder. Wick should be taller than glass container; you'll trim it later. If you don't have a wick holder, simply wrap wick around a pen and lay it across jar. A clothespin also works well.
Tip
Want to make a multiwick terrarium candle? Use an extra-wide container for the glass terrarium and add two or three wicks. You can also turn this into a cactus candle by using cactus molds (like this set from Amazon).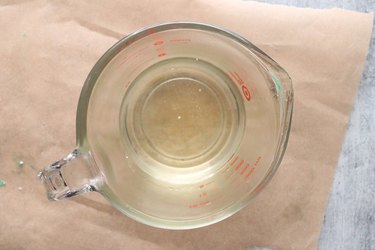 Melt wax according to product's packaging. You can do this on stove top or in microwave.
Tip
To make a scented candle, add fragrance or essential oils to wax during this step.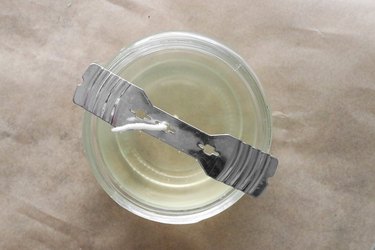 Carefully pour melted wax into jar. Let sit to harden. Total time will depend on type of wax, size of your jar and temperature in your space.
2. Make candle succulents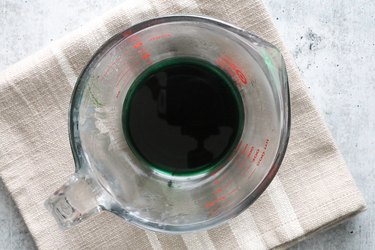 Melt more wax and then add candle dye. Mix well to combine.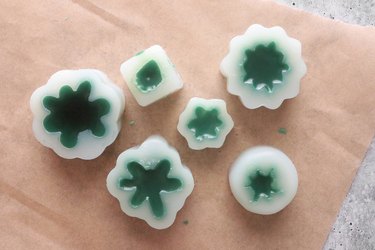 Pour dyed wax into succulent molds. Let sit to harden.
How To Make Succulent Tealight Candles
To make each wax succulent an individual candle, you'll need to thread a wick through the top of each mold. You can do this by piercing a hole with an awl or thick needle and then inserting the wick. Tie a knot on top of the mold so wax doesn't seep out. Once the wax has hardened, carefully untie the knot and remove the succulent as usual. Gift them as party favors or display them with other candles!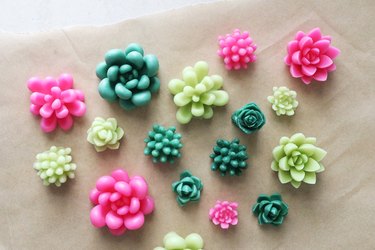 To remove mini succulents, gently separate walls of mold from wax. Stretch the mold with one hand and carefully pull out succulent with other hand.
Repeat process with different wax colors.
Tip
When possible, avoid turning over the mold and pushing out wax, especially if you're using soy wax. This will increase the risk of cracks and breakage.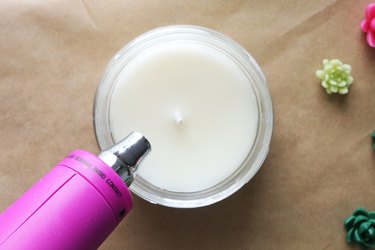 The final step is to melt top of candle and add succulents. But take note: You'll need to work quickly! Consider planning placement of succulents (and which ones you'd like to use) beforehand.
Now, run a heat gun over top of candle until there's a thin layer of melted wax. Add a sprinkle of dried orange zest for "dirt" (this is optional) and then add succulents. Press gently to secure.
Tip
Instead of dried orange zest, you can use tea or dried herbs.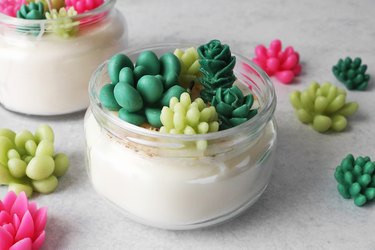 Once wax re-hardens (it won't take long!), your terrarium candle is ready to be displayed. Keep in mind that total burn time will depend on type of wax.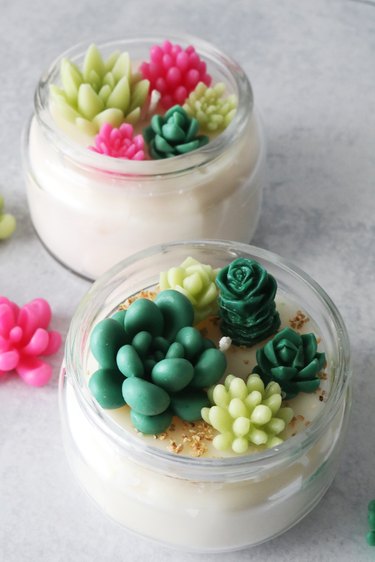 On its own, this terrarium candle holder works well as a centerpiece for botanical table decor. It also makes for a lovely gift idea, especially for Mother's Day, baby showers and housewarming parties (or just because!). You could even use the project as an unconventional birthday candle for a plant-obsessed loved one; simply place it on a large tray or plate and then arrange desserts—like cake balls, cookies or cupcakes—around it. Fun ‌and‌ functional!