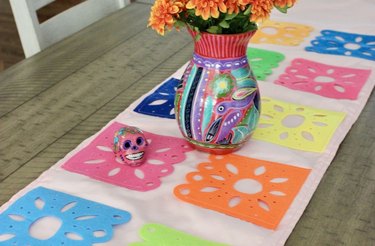 Día de los Muertos (Day of the Dead) is just around the corner, and we're absolutely enchanted by the vibrant colors of this celebratory and deeply meaningful holiday. In keeping with the theme of celebrating deceased loved ones, most Day of the Dead decorations are bright and bold, featuring everything from multicolor ‌calaveras‌ (sugar skulls) to carefully arranged marigolds that decorate ‌ofrendas‌ (altars).
With the vivid hues of the holiday in mind, we created a DIY Día de los Muertos table runner featuring ‌papel picado‌ (punched paper) designs, though this time made of cutout felt. It has just enough flair to set the stage for a beautiful centerpiece or decorate an ofrenda. Our tutorial is user-friendly, even for novice sewers, and results in a home decor project that pairs perfectly with glowing tea lights, colorful napkins, party favors and other pretty table decorations.
Ready to create a table runner that's both gorgeous and meaningful? Let's get crafty!
Video: A Vibrant & Versatile Día de los Muertos Table Runner
Things You'll Need
12 to 16 felt squares (6 x 6 in.) in a variety of colors

Fabric scissors

2 yards cotton fabric

Fabric hole punch

Thread

Pins

Tailor chalk

Measuring tape

Sewing machine

Fusible interfacing for light-medium fabrics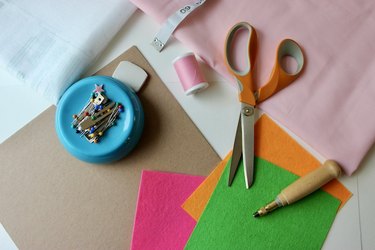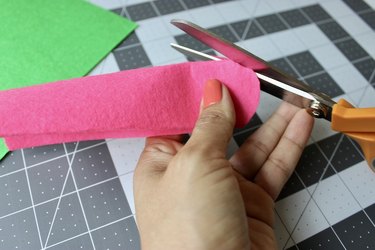 Fold each 6 x 6 in. felt square twice and cut a semi circle at the bottom.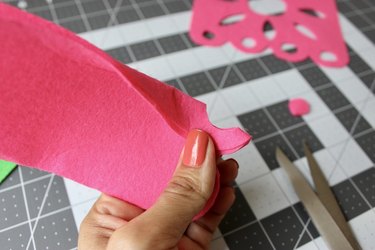 Next, fold each semi circle vertically and cut another semi circle to create holes.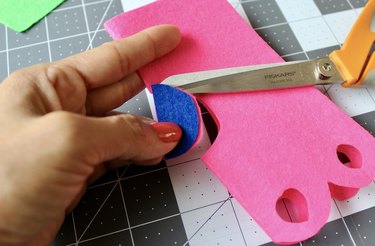 Create a flower in the center of each felt square by folding once more and cutting a semicircle in the center. Feel free to use a felt template as a guide to ensure symmetry.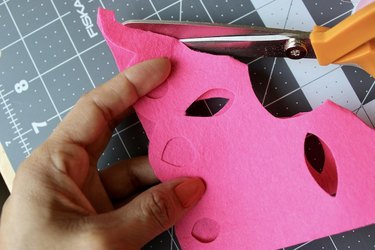 Fold each felt square again. Cut petals around the circle in the middle of each flower.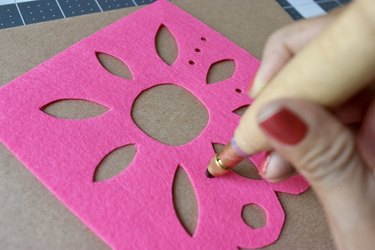 To finish your felt square, use a fabric hole punch to create dots around each flower.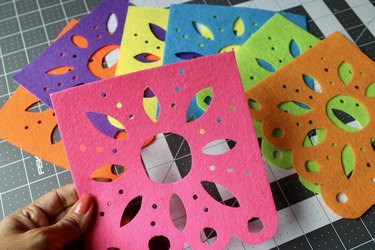 Repeat steps until you've created 12 to 16 squares, depending on desired runner length.
4. Measure and cut table runner fabric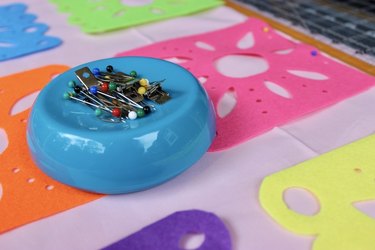 To create the table runner underneath the felt squares, you'll need to cut two rectangles out of fabric. Use a cotton fabric that comes in a variety of colors and is easy to manipulate and sew. Measure your table to determine length of fabric rectangles. Our table runner was made with two rectangles of cotton fabric measruing 2.5 yards long and 16 in. wide.
Tip
If you want to skip the sewing portion of this tutorial, you can use a fabric (such as felt) that doesn't fray when you cut it for the table runner. Or use a plain table runner that you already have on hand. Then simply use fabric glue to adhere the felt squares to the runner.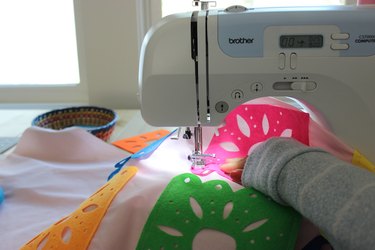 Arrange finished felt squares along sides of table runner using pins to keep them in place, leaving approximately 1.5 to 2 in. on each sides to accommodate hems later on. Sew felt squares one by one onto fabric rectangle.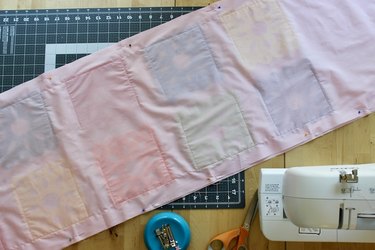 After sewing on felt squares, place fabric face-to-face and upside down, then sew together to create hems. Leave a small opening of about 8 in. on one side and turn fabric inside out.
Tip
If using cotton fabrics, you can also add a fusible interfacing inside your table runner to make it more sturdy. If you're using felt instead of fabric, no interfacing is necessary!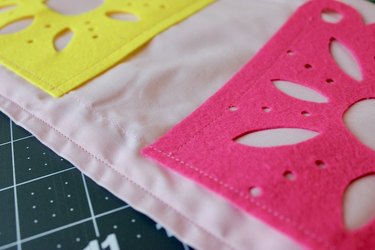 Iron the table runner carefully. Avoid heating the felt squares and focus more on the edges and back of the table runner. Close the opening of the table runner. Feel free to include additional decorative stitches on felt squares to give your Day of the Dead table runner a more finished look.
And with that, you've created a table runner that's ideal for Day of the Dead celebrations. Display completed runner with trinkets, photos of late loved ones, flowers and more.
Whether you're DIYing a piece to match sugar skull decorations, seeking the perfect base for tableware, hosting a Day of the Dead party with family members or simply searching for a craftier alternative to in-store party supplies, we hope this homemade table runner inspires joy.