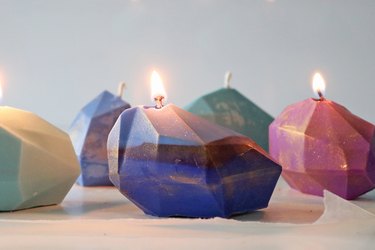 If you collect crystals—or just love the way they look—this gemstone candle project will (literally) light up your life. To pull it off, you'll pour melted candle wax into a silicone gem mold, then brush "stones" with gold mica powder. The result is a beautiful hand-poured crystal candle—because life's too short for boring jar candles!
Video: Get Your Glimmer on With Homemade Gemstone Candles
Like real crystals, gem candles can be made in a variety of colors. It all comes down to the candle dye (available at craft stores) and quantity. So whether you love the deep purple hues of amethyst or the light pink shade of rose quartz, don't hesitate to draw inspiration from real gemstone crystals. Feeling creative? Try blending candle dyes to create your own colors.
Needless to say, this easy home decor project ‌rocks.‌ (Get it?) Let's start making!
Things You'll Need
Silicone gem mold

Small fine-pointed knife

Coated cotton wicks

Heat-safe measuring cup

Candle wax (such as soy or soy-blend wax)

Candle dye

Stirring utensil (such as a bamboo skewer)

Wick centering tools

Scissors

Fluffy brush


Gold mica powder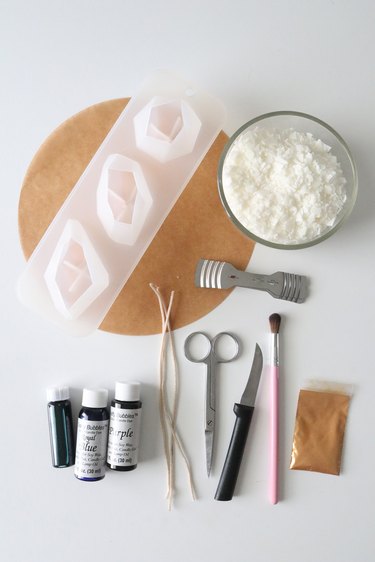 Tip
You can cut apart individual gem molds if you'd like. We found that they were easier to work with when separated.
How to make Gemstone Candles:
1. Thread wick through mold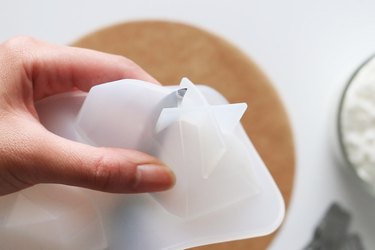 Using the tip of a small knife, carefully poke a hole in bottom of silicone mold. If you accidentally make a hole that's too big, cover part of it with a dab of hot glue.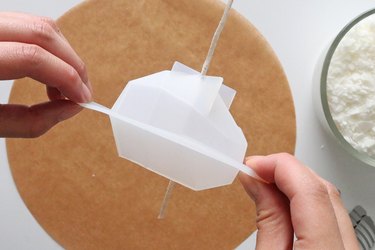 Insert a wick through hole. Pull it through so there's enough wick to span the height of the mold.
Tip
Tie excess wick underneath candle mold into a knot to prevent it from moving. This will also help limit how much wax seeps through. Avoid wood wicks for this project.
2. Melt and dye candle wax
Before starting, check the instructions for melting candle wax. Precise instructions can vary depending on brand and wax type. If using soy wax, it's vital to avoid overheating. If overheating occurs, the final soy candle might develop white patches known as frosting. These patches won't affect how the candle burns, but you might not like how it looks.
Add candle dye and stir well.
Tip
Candle dye saturation will depend on the brand. Most dyes will become lighter as wax hardens. To get an idea of the dye's final color, dip a white paper towel into dyed wax and let dry. You can also make a small test candle to see how much dye you'll need to achieve a certain color.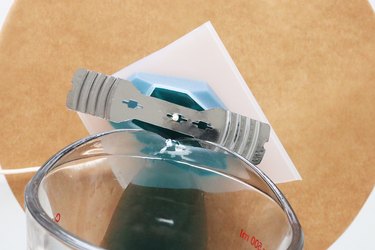 Add a wick centering tool to mold. You can also use skewers or something similar to keep wick centered. Pour hot wax into mold. Let candle harden completely.
Tip
Set aside one mold (with wick) for a layered candle. Whenever you have leftover wax, pour it into that mold. Let wax harden before adding another layer. When it fills, you'll have a layered candle, much like a real-life rock!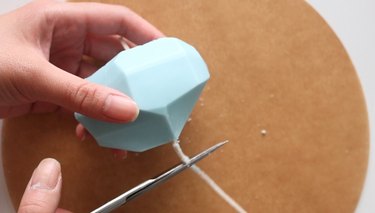 Carefully remove candle from mold. Trim wick as needed.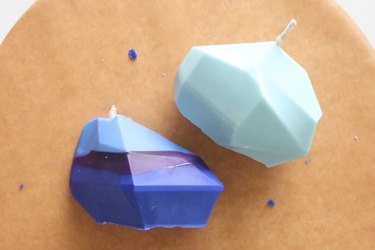 How to make gemstone candles look like crystals
Need inspo for your gem candles? Try these color combos inspired by popular crystals.
Tigereye: Layers of orange and brown
Lapis lazuli: Royal blue with black stripes
Garnet: Red dye mixed with a bit of black
Moonstone: White (wax without dye) and silver mica powder
Citrine: Layers of white and yellow
Rose quartz: Light pink
5. Brush with mica powder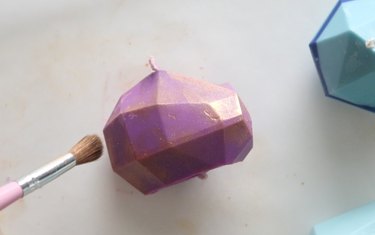 Using a fluffy brush, lightly apply gold mica powder to gemstone candles, making sure to focus on edges. This will add depth and dimension to each piece.
Tip
If you made soy wax candles, powder can help make any white patches less noticeable.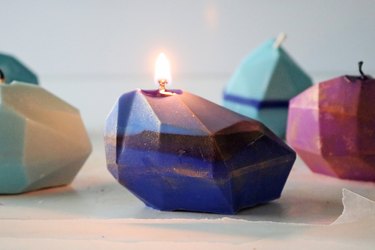 When you're ready to light candles, place on a heat-safe surface. (Always exercise caution with candles, as you would with anything that has an open flame.) Total burn time will depend on many factors, including size of gemstone candle and wax type. Otherwise, the candles make for beautiful decor, even if you decide not to light them.
If you're not keeping completed gemstone candles for yourself, this project makes for a lovely gift for crystal lovers in your life. Simply pack two or three in a box (along with matches or a lighter) for a magical candle gift set. For a self-care-themed present, pair candles with items such as face masks, lip balm, socks and real crystals. If the recipient enjoys aromatherapy, add a few bottles of essential oils. You can also add a zodiac-themed gift if the candles are a birthday gift. Dazzling!