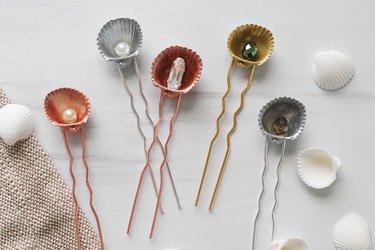 Ready to embrace your inner mermaid? With this seashell hair pin tutorial, you can adorn your locks with dainty ocean-themed accessories. They're perfect for adding a nautical twist to your favorite updo, whether you're attending a beach wedding or craving a bit of mermaid-inspired glam in your everyday life.
You'll only need basic craft supplies for this DIY project. Stock up on metallic acrylic paint, paintbrushes, glue, embellishments and, of course, mini seashells. Shells can be sourced from Etsy, craft stores or the actual beach if you're lucky enough to find them on your next seaside jaunt. You'll also need fun embellishments to decorate shells, like flat-backed rhinestones, crystal beads and pearl beads.
Video: Seashell Hair Pins Pretty Enough for a Mermaid
While this project uses U-shaped hair pins, which are designed specifically for updo hairstyles, like buns, you're welcome to customize your version with different accessories. For example, if you want to make a shell hair accessory for your bangs, use a bobby pin blank (i.e., a bobby pin with a flat disc on which you can glue items). Other options include French hair barrettes or even hair combs, which are ideal for statement pieces.
Either way, these seashell hair accessories will surely make a splash.
Things You'll Need
Metallic acrylic paint

Hair pins

Mini seashells

Paintbrushes

Super glue (like E6000)

Embellishments (pearls, rhinestones, crystal beads)

Craft tweezers (optional)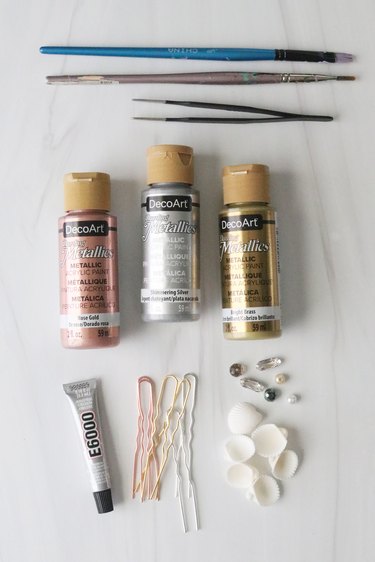 Tip
Use a high-quality paintbrush if possible. This will reduce streaks and patches when you paint the seashells.
How to make Seashell Hair Pins: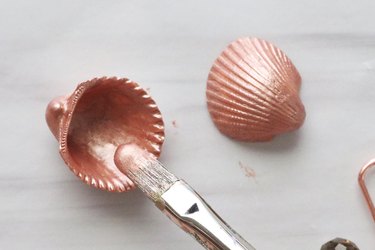 Line your work space with scrap paper. Using a paintbrush, apply a liberal coat of metallic acrylic paint to inside of shell.
Let dry for at least 30 minutes (or up to one hour for thicker layers of paint). Flip shell over and paint other side. Let dry completely, about one hour.
Tip
Depending on brand and color, acrylic paint might be slippery on the shell's surface. This can leave patches. If this happens, apply a liberal amount of paint to ensure it's opaque. You can also paint a layer, let it dry and then apply more paint. It's a good idea to shake the bottle of acrylic paint before using it, as liquids can separate during storage.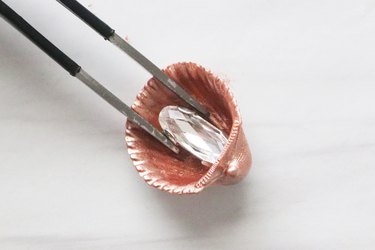 Once paint is dry, apply a bit of glue to inside of shell. Add an embellishment depending on your preferred style. For example, for a pearl hair pin, add a pearl bead to shell. You can also use flat-backed pearls from the craft store scrapbook section.
Leave to dry for one to two hours or until embellishment does not move. (Super glue takes about 24 hours to fully cure, but at this point, you simply need glue to be dry enough to flip over shell.)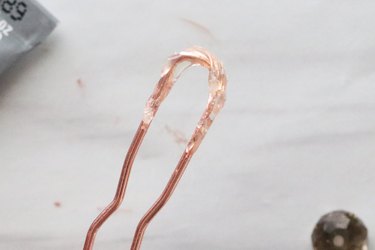 Apply a small amount of glue to top of hair pin.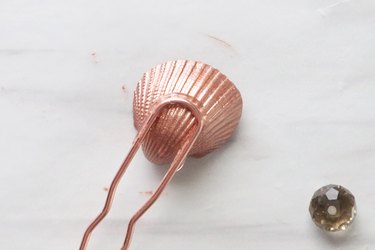 Press hair pin onto back of shell.
Tip
Depending on the shell's natural curve, you might need more glue to keep the hair pin in place. If you'd like to conceal the glue, stick a tiny piece of leather or felt on the curved portion of the hair pin.
More Ideas for Seashell Accessories
The methods outlined in this tutorial can be used to create other seashell hair decorations and pieces. Need some inspo? Check out these easy ideas:
‌Shell barrette: ‌Paint and embellish multiple tiny seashells and then glue them to a French hair barrette or snap hair clip.
‌Shell headband:‌ For a statement mermaid hair accessory, glue painted seashells to a thin headband. You could even alternate them with cowrie shells for a dimensional hair piece.
‌Shell hair claw: ‌If you're all about the hair claw trend, try gluing a few painted shells to a large claw clip.
‌Shell pendants: ‌Transform an embellished seashell into an instant pendant by gluing a flat charm to the back. Add it to a strand of chain for an instant necklace.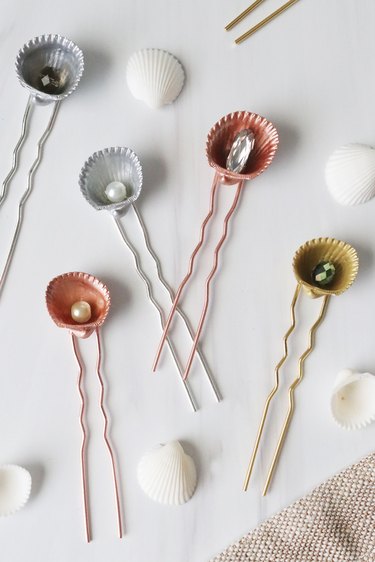 Let dry for at least 24 hours. This will ensure glue is fully set.
Once dry, your seashell hair jewelry is ready to wear! Try styling it with other pretty accessories, like hair rings or hair beads, for the ultimate mermaid-inspired beach hair look.