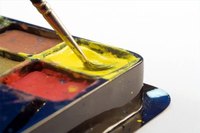 Here is a relatively simple recipe for creating paint with natural resources. All these ingredients are nontoxic and free of any petroleum-based substances, and successive applications of the paint to a surface will reinforce its color. To reduce the appearance of brush marks after the first application, wait for the paint to begin to dry, then run a damp sponge over the surface until it is smooth. This recipe will yield approximately 1 1/2 quarts of paint.
Things You'll Need
1 cup wheat flour
5 1/2 cups cold water
1 cup clay filler in desired color
1/2 cup additional powder filler (examples: chalk, marble or mica)
2 mixing containers
Pot
Stove top
Stir stick
Add the flour to the the first mixing container. Gradually pour in 2 cups of water, stirring continuously until there are no more lumps.
Heat 1 1/2 cups cold water on top of the stove. When the water reaches a boil, gradually stir in the flour and water mixture.
Reduce heat and allow ingredients to simmer until they thicken to form a paste. Remove the paste from the heat and gradually dilute with 2 cups of cold water, stirring continuously.
In second mixing container, whisk together clay filler with additional powder filler. Gradually add filler mixture to diluted paste, stirring continuously to eliminate any remaining lumps and adding just enough filler to bring paint to desired consistency.