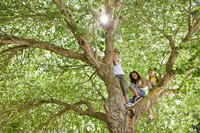 Store-bought children's costumes can be costly, especially if your child grows out of the outfit before it can be used again. Homemade costumes can save you money and be a fun project for you and your child to complete together. Draw inspiration from nature to create a tree costume for your child. Make a simple tree costume for Halloween parties or school plays by decorating comfortable clothing with fabric leaves.
Things You'll Need
Brown pants
Black fabric marker
Green sweatshirt
Hot glue gun
Fabric leaves
Green stretch hat
Black or brown shoes
Green stretch gloves
Stuffed bird or animal
Safety pins
Green, water-based face paint
Lay a pair of brown pants on a flat surface. Use a black fabric marker to draw vertical lines on the trousers so that they resemble bark.
Lay a green sweatshirt on a flat surface. Use a hot glue gun to attach fabric leaves to the front and back of the sweatshirt. Layer the leaves so that the front and back are well covered.
Lay a green, stretch hat on a flat surface. Attach fabric leaves to the hat with hot glue
Dress your child in the pants, sweatshirt and hat, as well as a pair of black or brown shoes and green, stretch gloves.
Attach a stuffed bird or animal to the shoulder of the sweatshirt using safety pins.
Paint the child's face green with water-based face paint. Avoid the lips, eyes and nostrils when painting the face.