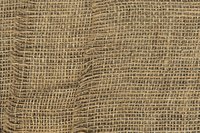 Burning initials into burlap gives a rustic look to this inexpensive fabric made of natural jute fibers. Uses for burlap that has been branded with initials include cowboy-themed party invitations, Western-style decorations and other household crafts that utilize burlap. The uses for burlap are limitless and burning initials into burlap gives the fabric a unique form of identification as well as adds aesthetic appeal to an otherwise plain piece of fabric.
Things You'll Need
On your computer, create the design layout of the initials that will be burned into the burlap. Adjust the font size so that the printout of the initials is large enough for the design. Print the document out. Alternatively, sketch out the lettering for the initials on paper.
Lay the piece of burlap flat on a nonflammable work surface, such as ceramic tile or concrete block. If the burlap features two layers, put a nonflammable piece of material underneath the layer that is being burned, so that the heat from the pen does not scorch the other layer of burlap.
Use pins to attach the paper to the burlap. Place one pin in between, above and below each letter in the design.
Put a tip on the wood-burning pen that will provide the line width of the desired initial design.
Plug the wood-burning pen in until it is heated.
Hold the wood-burning pen in one hand and trace the lettering over the paper. Hold the wood-burning pen down on the burlap fabric just long enough to burn through the paper and lightly scorch the top layer of burlap. Do not allow the wood-burning pen to rest in any area long enough to burn a hole all the way through the burlap fabric.