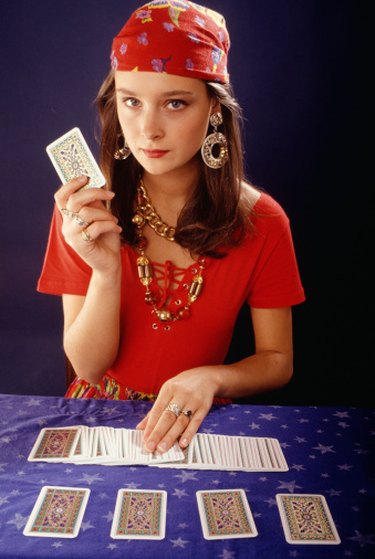 The original definition of a gypsy was a person who lived a nomadic lifestyle, often with dark hair and skin, who migrated from India into Europe in the 14th century and spoke the Romany language. However, that definition has expanded to include a person who lives a nomadic lifestyle and often works as a fortune teller. Gypsy costumes are popular for Halloween and often can be made with household items. Once you have your costume, polish your gypsy look with makeup and accessories.
Basic Makeup
Gypsies often are thought to have mysterious eyes that really pop, so focus most on this part of your face. You'll need black or very dark eyeliner and a dark eyeshadow, perhaps dark gray or even deep plum. Use a makeup brush to apply dark eyeshadow on your eyelid from the crease of the eye down to the top of the eye itself. Apply a thick line of the dark eyeliner all the way around the eye, getting as close to the eye as possible. Then, start at the outside corner of one eye and use the eyeliner to draw a 1/4- to 1/2-inch line that appears to be an extension of the eyeliner on the bottom part of the eye. In other words, this line will appear to slant slightly upward from the corner of the eye. Repeat on the other eye. Make up your lips and cheeks as you would normally if you want the eyes to remain the focus. Use dark red lips and a darker blush color for a more mysterious look or for an evening Halloween party.
Wig
The original gypsies were thought to have dark hair, and some gypsy costumes feature curly, unruly hair, perhaps to add to their unkempt, nomadic image. If your hair is dark and straight, try rolling your hair with small hair rollers. If your hair is light, stay away from ultra-dark dyes, as even temporary dyes can discolor hair. Check your local costume or party store for a gypsy wig.
Head Piece or Jewel
Gypsy costumes often include a head piece or forehead jewel. If you have an adjustable-chain necklace that would serve as a good headpiece, simply adjust the chain so that the necklace rests around the top part of your head, or so that the pendant or jewel of the necklace rests in the middle of your forehead. If you don't have a necklace, try temporary stick-on body jewels. You can find these online or at drugstores. They're inexpensive, and many come in ornate patterns that will add interest to your costume. Finally, if you don't have a necklace or stick-on jewels, use costume makeup or regular makeup to draw a jewel in the middle of your forehead.
Head Scarf
No gypsy costume makeup is complete without a head scarf. While most any scarf will do, those that are made of shiny fabrics or that have a paisley print on them may make the most impact. You can tie the scarf many different ways. One of the most popular gypsy looks is to place the middle of the scarf over the top of your head so that it covers the area above the top of your ears. You then can either tie the scarf ends together once or twice, either on one side of your head near your ear or in the back of your head. Another option is to drape the scarf over the back, top and sides of your head so that only your face shows and tie the scarf underneath your chin.
Jewelry
The stereotypical image of a gypsy often features oversized gold or silver earrings in the shape of hoops or circles. Other common gypsy jewelry includes coins as well as multiple bracelets or bangles.