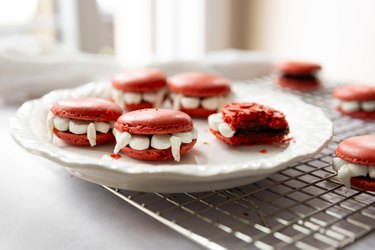 If you ask us, Halloween treats are a highlight of the fall season. Luckily for those of us who are passionate about creativity ‌and‌ sweets, there are so many unique ways to think outside the box with Halloween-inspired bakes and bites. And while typical store-bought Halloween candy and treats have their place (after all, you can't go wrong with peanut butter cups and candy bars), we're all about homemade desserts with a fun and frightful twist. Enter our deliciously creepy Dracula-inspired macarons!
If you're looking for something a little more technical than Halloween sugar cookies, chocolate chip cookies, brownies or cupcakes but don't want to go ‌too‌ over the top, these Dracula macarons are a fantastic option. They're more of an intermediate or advanced-level bake, but assembly and design requirements are rather simple in comparison to character macarons. Think of them as a happy (and hair-raising) medium!
Instead of cookie dough, you'll make a fluffy egg French meringue folded in with powdered sugar, almond flour and red food coloring. And instead of cookie cutters, you'll pipe circles onto a lined baking tray. After baking, macaron shells are sandwiched together with chocolate ganache and mini marshmallow "Dracula teeth."
With this eerily wonderful recipe, you'll create treats that will surely make Dracula himself (and your Halloween party guests) proud. Let's bake!
Video: Dracula Macarons to Sink Your Teeth Into
Quick Recipe Overview
‌‌SERVING SIZE:‌‌ 12 Dracula macarons (1.75 in.)
‌PREP TIME: ‌30 minutes
‌‌‌‌DRYING TIME: ‌‌1–2 hours
‌‌‌COOK TIME: ‌‌15–18 minutes
‌‌‌‌DECORATING TIME:‌‌ 10 minutes
‌‌‌‌TOTAL TIME: ‌‌2–3 hours
Things You'll Need
2 baking sheets

Parchment paper or silicone mats

1 large piping bag

Hand mixer or stand mixer fitted with whisk attachment

Large mixing bowl or bowl of a stand mixer

Rubber spatula

Scissors


Toothpick or cookie scribe

50 g egg whites

40 g granulated sugar

60 g almond flour

50 g powdered sugar

Gel food coloring (red)
1. Whip egg whites and granulated sugar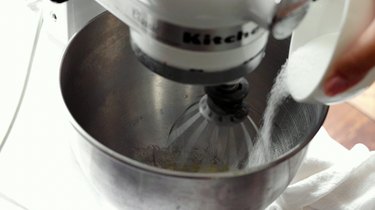 Set up tools and measure out all ingredients first. This will help you move through the recipe more seamlessly.
Whip egg whites on medium speed until foamy. Slowly add in granulated sugar in 1/3 portions while whisking on medium-high speed.
Once egg whites reach soft peaks, add red food coloring.
3. Beat eggs until stiff peaks form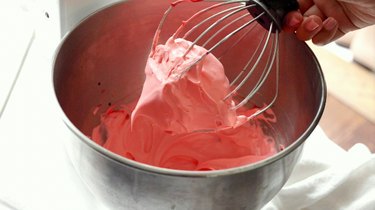 Continue whisking until stiff peaks form and you get a thick, glossy meringue as pictured above. This should take ‌‌‌‌‌at‌‌‌‌‌ ‌‌‌‌‌least‌‌‌‌‌ five more minutes. Add more red food coloring if needed but not too much or batter will become too wet. Keep in mind that color will develop and deepen more over time, so don't aim for a very vibrant red meringue.
Tip
Meringue should ball up onto the whisk. When whisk and bowl are held upside down, meringue should not move.
4. Fold in dry ingredients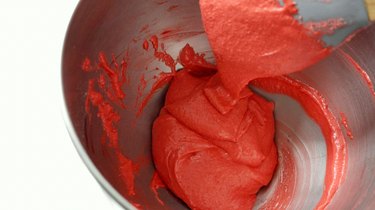 Sift powdered sugar and almond flour into meringue. Using a rubber spatula, mix dry ingredients into meringue, scraping sides and bottom of bowl often.
Mix until batter reaches a thick, glossy consistency and comes off spatula in continuous ribbons. Batter coming off spatula should melt back into remainder of batter in bowl within 20 to 30 seconds. Transfer to piping bag and cut a medium-large tip using scissors.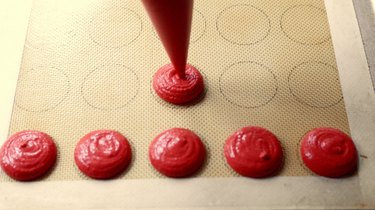 Use our macaron template (beginner or advanced) as a guide beneath parchment paper or a silicone mat to pipe design.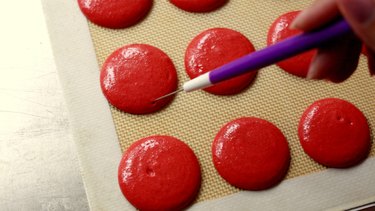 Tap cookie sheet on counter to eliminate air bubbles. Use a toothpick or cookie scribe to pop any remaining air bubbles.
Let macarons sit out for 1-2 hours at room temperature or until dry to the touch. In humid rooms, this step might take longer. While waiting, skip ahead and make ganaches. Then, preheat oven to 325°F.
Bake cookies at 325°F for 15-20 minutes, flipping halfway through. To test if they're done, poke the side of one macaron. If it wiggles, they need more time. Let cool completely on a tray and then match macaron shell pairs.
Things You'll Need
1 medium microwave-safe bowl

Plastic wrap


1 medium piping bag

Rubber spatula

Scissors


50 g semisweet chocolate chips

50 g heavy cream
1. Microwave chocolate and heavy cream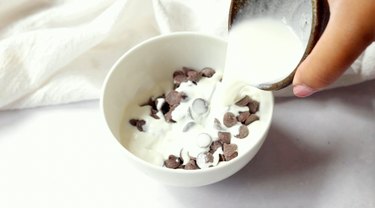 Combine chocolate and heavy cream in microwave-safe bowl. Microwave until melted, stirring every 30 seconds.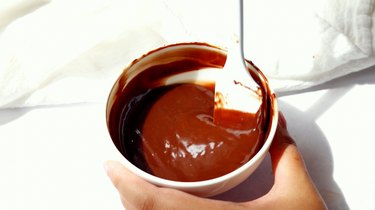 Cover ganache with plastic wrap and refrigerate until thick enough to pipe. Check ganache after 20 minutes and then every 5-10 minutes. Once set, transfer to piping bag and cut a medium tip.
Things You'll Need
Dracula macaron shells

Milk chocolate ganache

Scissors

36 mini marshmallows, cut in half with scissors

1 Tbsp. melted chocolate
1. Pipe chocolate ganache
Pipe chocolate ganache on bottom shell.
Insert four marshmallows around front perimeter of chocolate ganache. Flatten and cut remaining marshmallows with scissors to create fang shapes. Attach two fangs per macaron using a small amount of melted chocolate as glue if needed.
Tip
Want to take your Halloween macarons up a notch? The options are endless! For example, instead of vampire teeth, add candy eyeballs or Halloween sprinkles. You can even create seasonally inspired filling flavors by melting candy corn or adding brown sugar and pumpkin spice to a cream cheese base.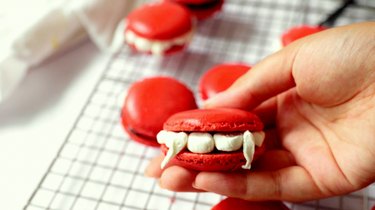 Top with matching macaron shell. Push in teeth a bit more so they're not sticking out. And that's it! Store completed Halloween desserts in an airtight container in the fridge for up to five days or in the freezer for up to one month.
With this Dracula cookie recipe in your back pocket, you'll be the talk of every Halloween party—if you can resist the urge to take a bite before guests arrive, that is!