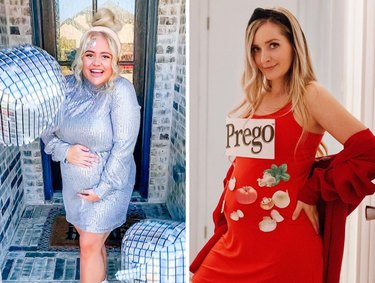 Rocking a baby bump this Halloween? If you ask us, pregnancy provides a unique opportunity to get creative and DIY a bump-friendly Halloween costume that will undoubtedly earn a mention in your pregnancy journal—and might even make your future kid think you're cool!
Of course, if you're expecting, you've probably got a lot on your mind. To take the work out of planning your 'fit this October, we've compiled some of our favorite Halloween costume ideas for pregnant folks from social media creators. Whether you're looking for a couples costume idea to wear alongside your partner, a punny getup or just something super comfy to help you get in the Halloween spirit while embracing your growing belly, we've got you covered.
Ready to get crafty? Take a break from decorating the nursery and check out a few of the best pregnant Halloween costumes from social media.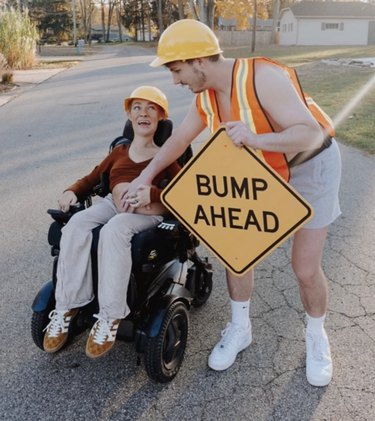 TikToker @wheelchair_rapunzel takes a humorous approach to the maternity Halloween costume by dressing as a construction worker alongside her partner, who holds a "Bump Ahead" sign (you can find a printable version on Etsy or Amazon). We love a good pun, and the sign could be easily DIYed with poster board, orange paint and Sharpies. Just don't forget the hard hats!
Speaking of puns, this playful Halloween costume idea from Instagrammer @knitsknotswpg is as adorable as it is creative. Moms-to-be who ‌also‌ adore pasta can easily recreate this look as a last-minute costume idea by throwing on a red maternity dress and printing a few veggie photos (plus the Prego logo, of course!). Bonus points if your partner can pull off a chef costume!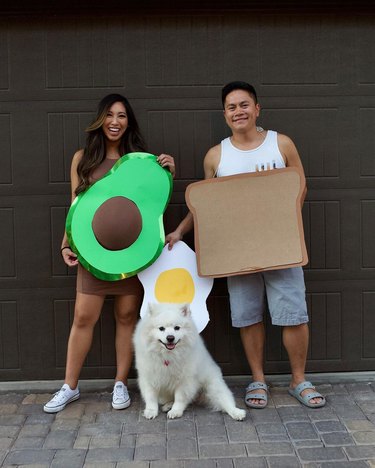 Instagrammer @thelanline highlights a fun family Halloween costume (yes, costumes that include dogs count as family costumes!) by dressing as an avocado while her partner and dog dress as a slice of toast and a fried egg. The beauty of this avocado costume is its simplicity; @thelanline simply cut a baby bump-size circle out of green paper and paired it with a brown dress.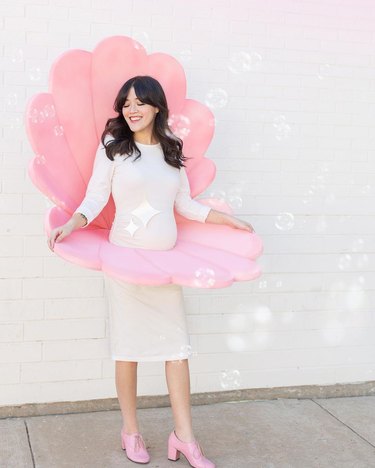 You might have seen Instagrammer @aww.sam featured in our recent roundup of quirky Halloween costume ideas, and we couldn't help but show off another one of her DIY Halloween costume creations! During pregnancy, Sam used dyed and cut upholstery foam to dress up as an oyster, with her baby bump serving as the precious pearl inside. Her final costume theme? Mother-of-pearl!
Sports fans will have a blast with this pregnancy Halloween costume, which calls for face paint (or should we call it belly paint?) to create a basketball design. TikToker @thedaniaustin paired her basketball belly with athletic gear for a super simple but totally fun look.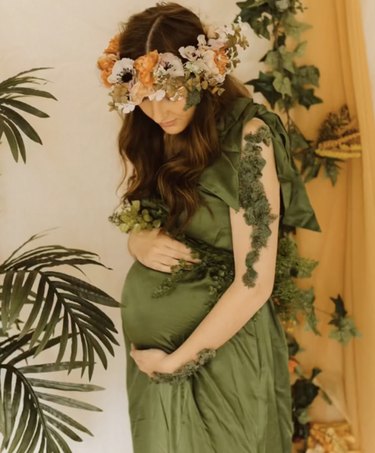 Take a more whimsical approach to your "Halloween-ing while pregnant" experience by dressing like Mother Nature or Mother Earth. TikToker @shleeeeeeeeee shows us how it's done, pairing a flowy green dress with a flower crown and embellishing the look with faux greenery galore (green pompoms would work in a pinch too). This would be the perfect costume for a casual Halloween party or a night of trick-or-treating with the fam.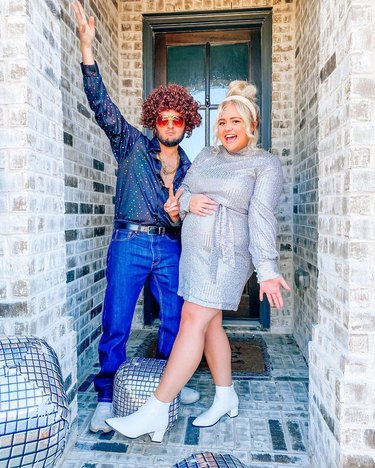 Sparkly and easy to make? Count us in. This disco ball costume from Instagrammer @the_betty_bunch is eye-catching and celebratory without requiring tons of work to create it. @the_betty_bunch rocks a sparkly silver dress with long sleeves and gives a dash of shimmer to her forehead with appliqués. For a less formal take on this costume, consider bedazzling a comfy T-shirt and pairing it with shimmery leggings or rocking a bejeweled silver onesie!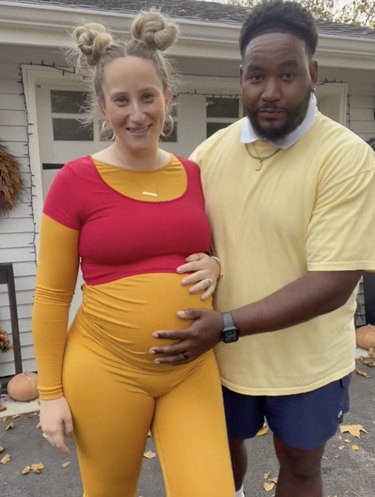 We're big fans of this Winnie the Pooh costume from @thesuburbanfarmhouse on TikTok, which also works as part of a couples costume. The look is straightforward: @thesuburbanfarmhouse pulls on a pair of mustard yellow leggings and a long sleeve T-shirt, tops it with a red crop top and styles her hair into cute buns for a full Winnie the Pooh getup. Our favorite touch? Her partner's Christopher Robin costume, which brings things full-circle. Disney fans rejoice!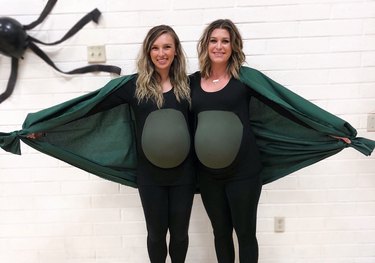 Here's one for the friends who are experiencing pregnancy at the same time —a "two peas in a pod" costume! Instagrammer @bella.and.sophie inspired us by dressing up alongside a fellow pregnant woman. To create the look, you'll need black leggings, a simple black maternity shirt (cut and worn over another olive green layer), a large piece of green fabric to create the "pod" and, of course, a fellow pregnant person!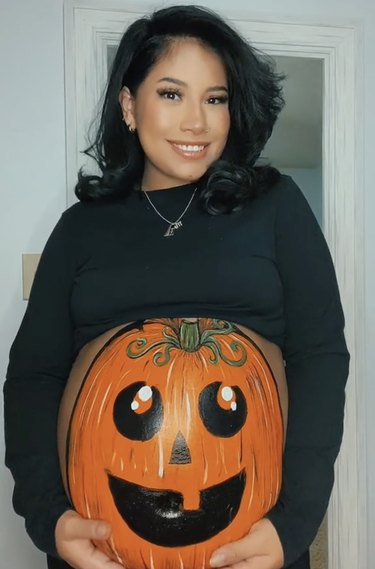 Last but certainly not least, here's a true classic when it comes to pregnant Halloween costume ideas. TikToker @yatziridudley42 rocks the pumpkin costume by painting her belly to look like a jack-o'-lantern. This is an especially fun idea for the third trimester, when you might not be up for crafting a full-blown costume but still want to take part in the Halloween festivities.
Whether you opt for a funny pregnant Halloween costume, take a cue from pop culture or even use your costume as a unique pregnancy announcement, we hope you're feeling inspired by our roundup of bump-friendly garb. Just think—next year, you'll be searching for creative baby Halloween costumes!