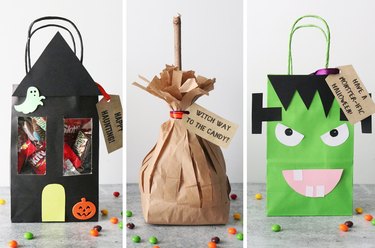 There's no doubt about it—one of the best parts of Halloween is the crafting! So, why not create something that's both functional ‌and‌ fun? Whether you're planning a full-blown costume party or looking for unique favor bags, this trio of DIY Halloween treats bags is a perfect fall project.
Our tutorial includes Halloween candy bags inspired by three iconic motifs: a haunted house candy bag (complete with clear "windows" that let you see the candy!), a witch's broom candy bag made of brown paper bags and a candy bag that looks like Frankenstein (everyone's favorite monster). We've even included an exclusive printable of funny Halloween bag tags, making it easy to spruce up your Halloween goodie bags.
Of course, these treat bags aren't just for candy. If you're hosting a Halloween celebration, they can be used for Halloween-themed gifts, prizes and other noncandy party favors. You could even use trick-or-treat goodie bags as Halloween decorations; just pack them with tissue paper or other festive fillers and display with seasonal tableware.
Needless to say, these eerily adorable bags are sure to be a hit with trick-or-treaters and partygoers alike. If that weren't enough, they're a great alternative to plastic bags and treat boxes! Read on for three ‌scarily‌ easy DIY projects.
Video: 3 Mini Treat Bags for a Sweet Halloween
1. Haunted House Treat Bag
Things You'll Need
Black paper bag

Black card stock

Yellow card stock

Clear plastic scraps

Halloween foam stickers

Ribbon

Pencil


Craft knife

Hole puncher

Clear tape

Glue stick

Scissors

Scrap cardboard

Ruler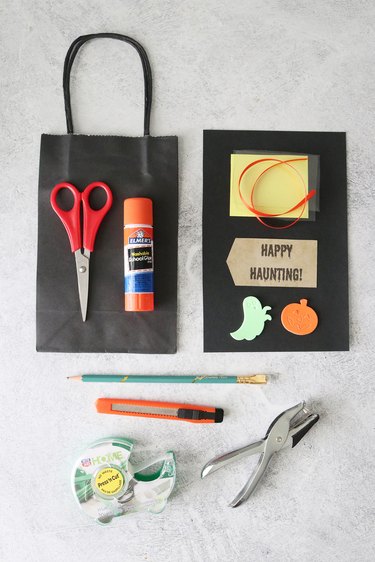 Tip
Plastic from produce containers works great for this bag's windows. Just be sure to wash and dry the plastic first.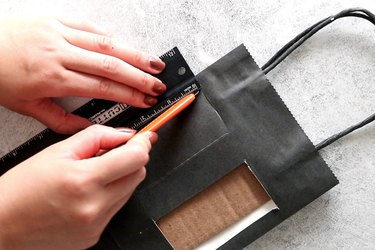 With a pencil, draw two rectangles on the paper bag. Use a ruler (or make a template) to ensure they're the same size. Cut out rectangles using a craft knife and ruler, preferably one with a safety guard.
Warning
If you're making this bag with kids, do this step yourself.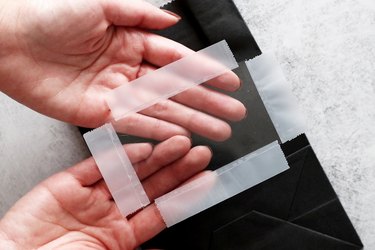 Trim plastic scraps so they're slightly larger than rectangle openings. Next, place a strip of clear tape along each edge of plastic. (For outside edge of each window, you might have to trim width of tape depending on size of windows and paper bag.)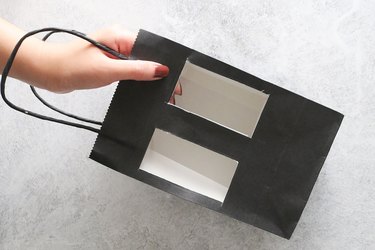 Stick plastic to inside of bag, making sure it covers entire window opening. Repeat with other window.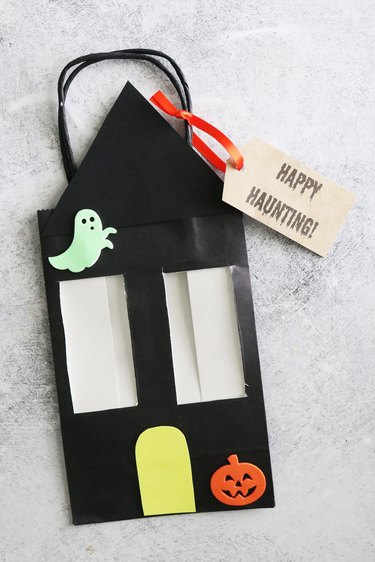 To complete your haunted house-themed Halloween gift bag, glue a black triangle "roof" on the top and a door on the bottom. We used bright yellow paper for the door, but you're welcome to use any color you'd like. You could even go for Halloween paper with a fun pattern or a glow-in-the dark version.
Print, cut and hole-punch tag. Then, tie to bag. Add foam stickers. Our haunted house bag is decorated with a glittery ghost and jack-o'-lantern, but other motifs, like spider webs, spiders and black cats, also work great.
Tip
We printed our tag on parchment paper, but again, feel free to use any type of paper.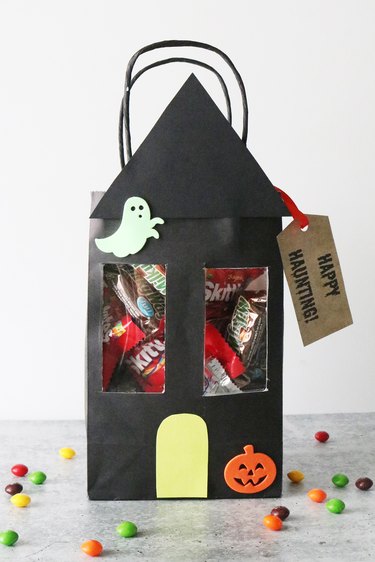 Finally, add candy or party favors to trick-or-treat bag. Since windows are clear, you'll be able to see candy inside the bag. How delightful is that?
2. Witch's Broom Treat Bag
Things You'll Need
2 brown lunch bags

Twig or wooden dowel

Ribbon

Scissors

Hole puncher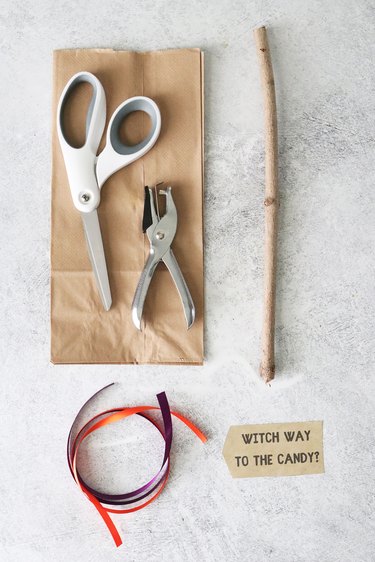 Cut horizontal slits in first paper lunch bag, stopping about 1 in. from bottom. Be sure to avoid cutting through bottom flap.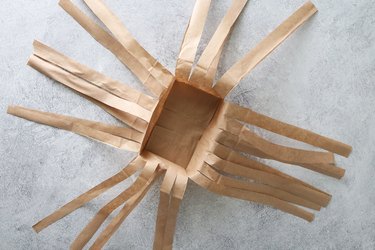 Open bag and separate strands of paper.
Cut short slits along top of second bag.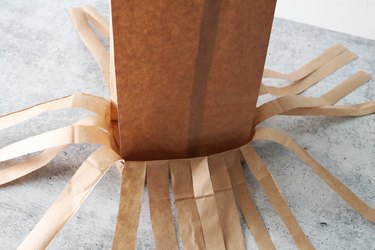 Place this bag in first one.
Fill bag with candy and place twig in middle.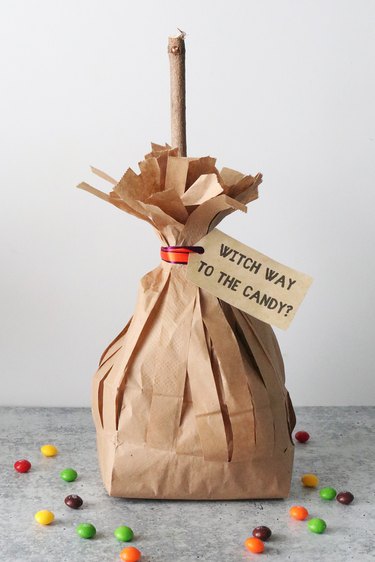 Print, cut and hole-punch tag. Gather strands of paper around the twig and then tie ribbon and tag around it. So cute!
Things You'll Need
Green paper bag

Black, white and pink card stock

Ribbon

Pencil

Black marker

Hole puncher

Glue stick

Scissors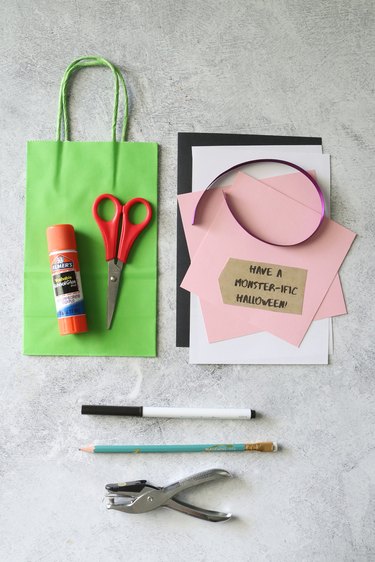 Tip
If you want to make a general non-Frankenstein monster, use paper bags in different colors.
1. Add paper hair and face
Cut a strip of black card stock with a zigzag edge for hair. Glue to top of bag.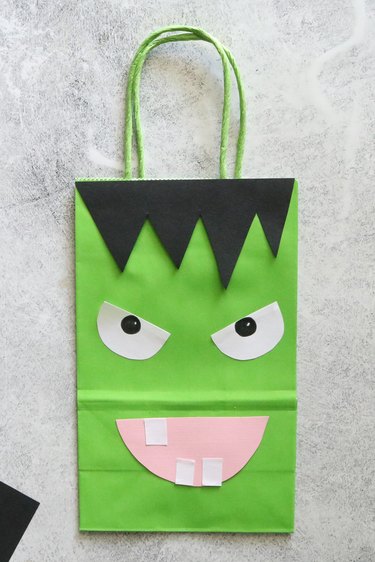 Next, cut half circles out of white card stock and glue them to bag. Draw circles with black marker. Cut a larger half circle out of pink card stock. Glue it to bag, followed with small white rectangles for teeth.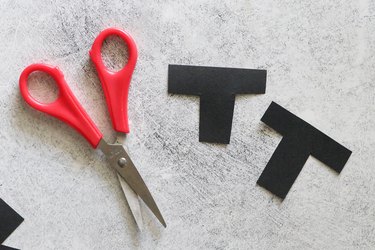 To make bolts, cut two T-shaped pieces of black card stock.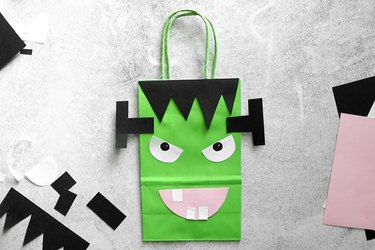 Glue one bolt to each side.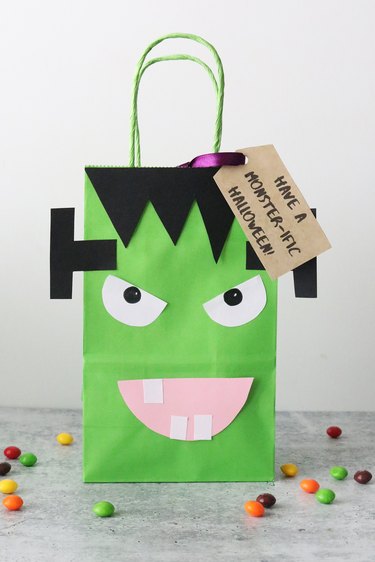 Print, cut and hole-punch tag. Tie it to bag with ribbon and then fill bag with lollipops, candy corn or other Halloween party favors.
With such celebratory and unique treat bags, you'll be the craftiest parent in the trick-or-treating group—or the coolest party host on the block. Wishing you a safe and happy Halloween season!