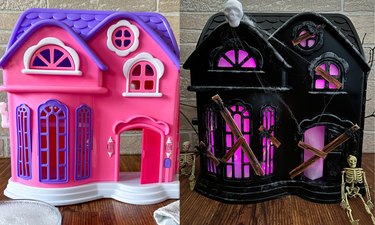 As leaves rustle and the moon casts an eerie glow, the season of shrieks, scares and ghost stories is upon us once again. While we adore traditional Halloween decorations, we've got something totally different for your consideration this year in the form of a playful DIY project: a haunted dollhouse complete with spectral lights! Whether you've got a Halloween-obsessed little one in your life or you're hoping to scare up your front porch decor, this crafty creation won't disappoint.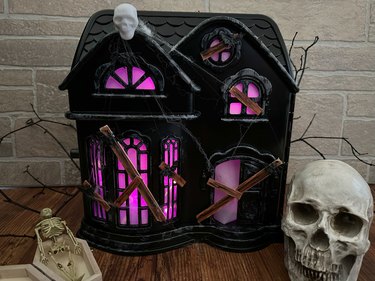 Our DIY Halloween tutorial will walk you through transforming a classic dollhouse (thrifted or pulled out of storage!) into a spine-tingling Gothic mansion sure to delight trick-or-treaters and guests alike. Dust off that dollhouse, conjure your creative ‌spirit‌ and get started on a miniature haunted mansion that will leave everyone spellbound.
Video: A DIY Haunted Dollhouse Just in Time for Halloween
Things You'll Need
Plastic dollhouse

Black spray paint for plastic

Gray, brown and black acrylic paint

Small paintbrushes

Parchment paper

Sharp scissors

Tape

Craft sticks

Plastic bats, spiders, skulls

Faux spiderwebs

Purple lights (optional)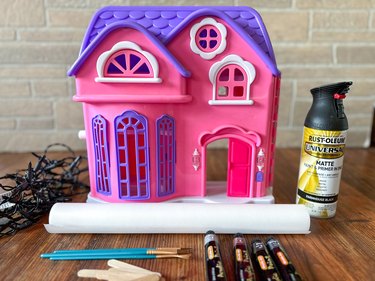 1. Wash and dry dollhouse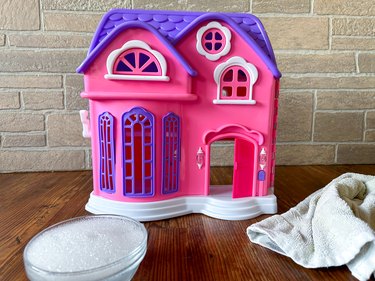 Donated items from thrift stores or concealed for ages in the depths of closets usually have accumulated layers of dust and grime. To ensure paint adheres flawlessly, give the selected dollhouse a thorough washing and drying session.
2. Spray-paint haunted dollhouse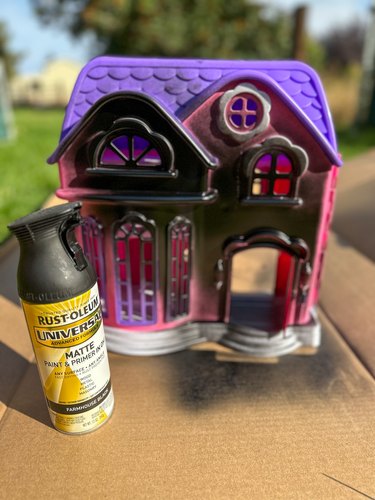 Find a well-ventilated area and spray both inside and outside of dollhouse with black paint. Let dry completely before moving on to the next step.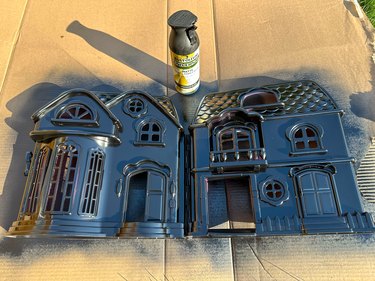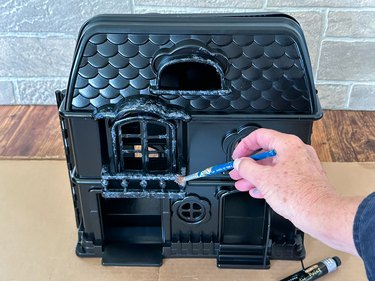 Once the matte black base coat has thoroughly dried, it's time to infuse character into the exterior of your Halloween house. For added depth and eerie allure, we opted to employ a dry brushing technique with gray paint, delicately enhancing window frames, doors and rooflines. However, when it comes to colors and specific areas you wish to accentuate, feel free to get creative.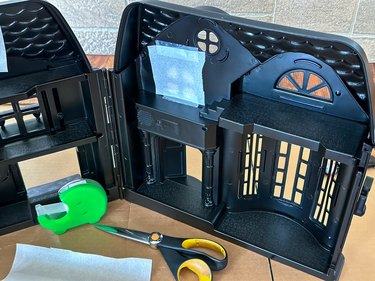 To give your haunted house a mysterious allure, cut small pieces of parchment paper and affix them to the inside of each window and the door of dollhouse using tape.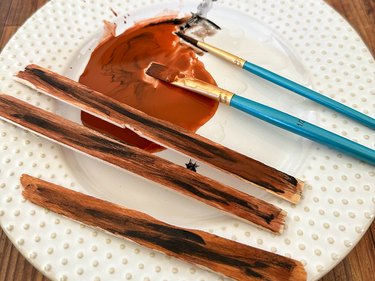 Cut craft sticks to size and apply a diluted mixture of brown and black acrylic paint. After the sticks have dried, use a hot-glue gun to affix them in peculiar angles across select windows and doors, lending a sinister note to your miniature haunted abode.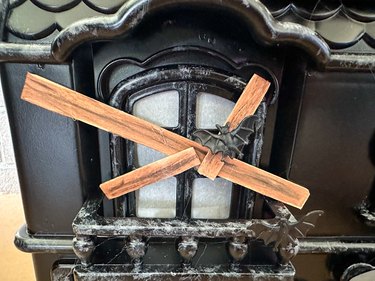 For that complete Victorian or Gothic dollhouse vibe, assemble a collection of small plastic bats, black cats, creepy dolls, faux spiderwebs, spiders, skulls or any other terrifying trinkets that suit your chosen style and era.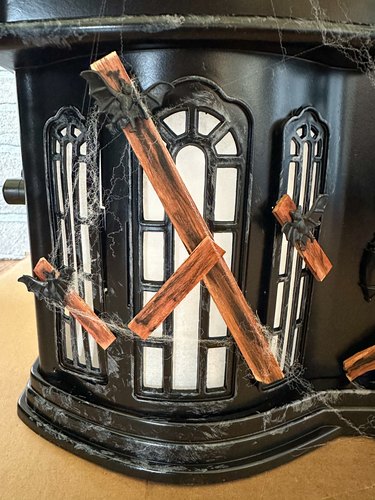 Tip
Check out Amazon or Etsy for seasonal accoutrements and tiny Halloween props to bolster your stash. You might even consider adding dark dollhouse furniture to the outside of your creation!
Use hot glue to adhere items onto haunted dollhouse's windows, doors and balconies, heightening its unsettling ambiance.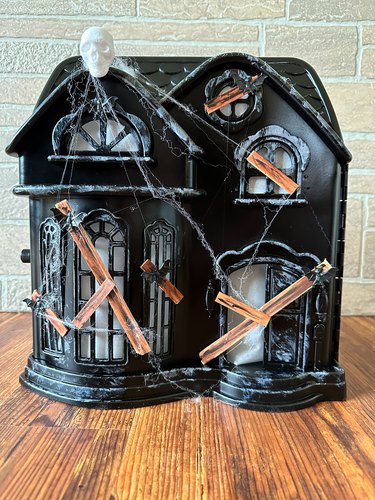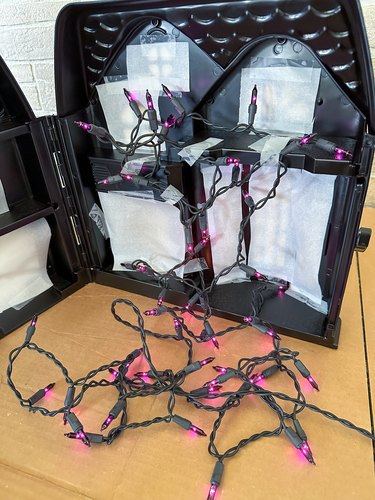 For an extra eerie touch after nightfall, add purple lights to your Halloween haunted dollhouse.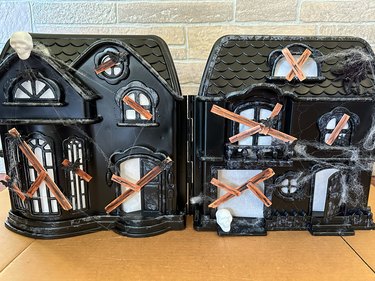 Carefully distribute the lights evenly throughout the haunted dollhouse's interior and secure in position using tape for an enchanting and spectral glow.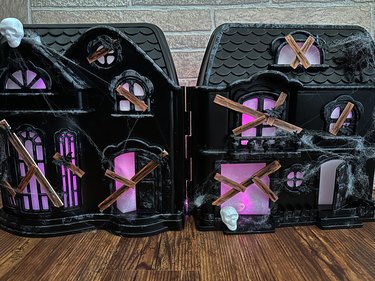 In the DIY world, there's nothing quite like the satisfaction of turning the ordinary into the extraordinary—or, in this case, turning a pink plastic dollhouse into a miniature haunted house for Halloween. Whether it's meant to attract the curious eyes of trick-or-treaters or the admiration of friends and family, your DIY haunted house will cast a spell that lingers long after the witching hour has passed.
Happy haunting, and may creativity continue to guide even your creepiest endeavors!