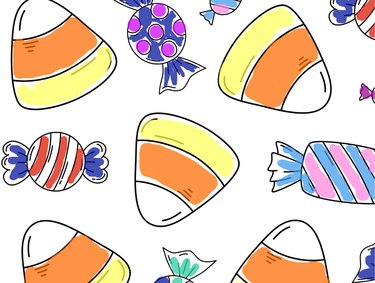 Halloween is all about having fun, whether this means trick-or-treating, dressing up in cute costumes or simply enjoying a creative seasonal craft. With this in mind, we've created five free printable Halloween coloring pages loaded with engaging activities for little ones—no need to go out and buy a coloring book!
Our Halloween coloring sheets include a maze activity, two coloring pages, a drawing activity and a seek and find page. The coloring pages are ideal for preschoolers, while older kids will enjoy the witch's cauldron activity and the seek and find page (though we won't judge if grown-ups want to take part too!).
These free printable pages are perfect for a Halloween party, a classroom Halloween activity or a laid-back art day at home. All you need is a printer (you'll find links to each printable below) and some crayons, colored pencils, markers or watercolors.
Happy Halloween—and happy coloring!
1. Printable Halloween Corn Maze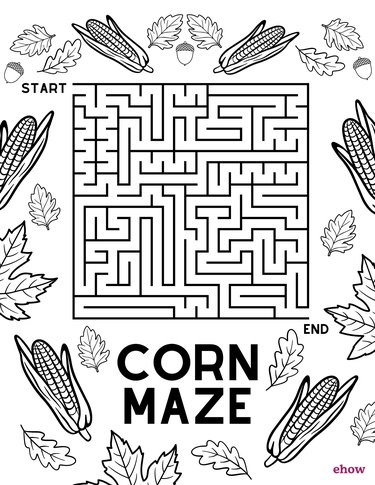 This fall coloring page and corn maze is a fun activity for the classroom or play time at home. The corn, leaves and acorns can be colored in, while the maze provides an engaging challenge. Kids can solve the maze using different-color crayons to document their various attempts through the twists and turns. So fun!
2. Printable Trick-or-Treat Sign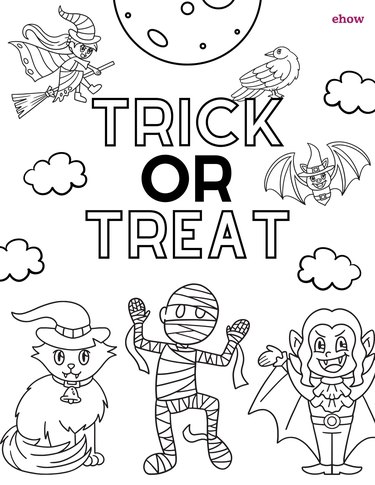 This cute Halloween scene is filled with classic characters, including Halloween monsters like a mummy, vampire and witch as well as a Halloween cat, a bat wearing a witch's hat and a raven. This monster coloring page also doubles as DIY decor; once the kids have finished their Halloween coloring sheet, you can hang it on your front door to greet trick-or-treaters!
3. Printable Witch's Cauldron Activity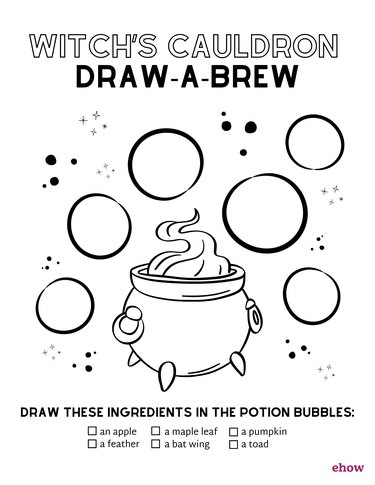 This free Halloween printable is perfect for older kids with basic drawing skills. They can start by coloring the witch's cauldron and steam rising from the brew and then finish by drawing each of the six ingredients listed: an apple, a feather, a maple leaf, a bat wing, a pumpkin and a toad. Each doodle should fit inside a cauldron bubble. Enchanting!
4. Printable Halloween Seek & Find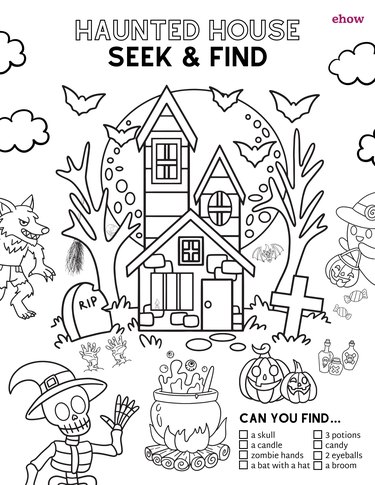 This printable seek and find page is filled with Halloween characters, including jack-o'-lanterns, a Halloween ghost and a werewolf. To complete the activity, your students or children will need to find eight different items hidden among the haunted house scenery. The page is also completely black and white and can be treated like a Halloween coloring page. Little ones might find this one a ‌bit‌ scary, so it might be best for older kids.
5. Printable Candy Corn Coloring Page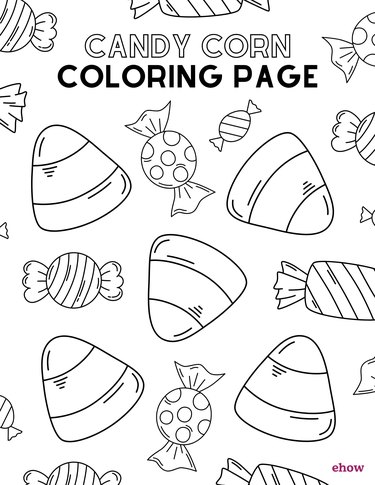 This one is a classic Halloween coloring page featuring lots of Halloween candy (including candy corn, of course) and no instructions—because we're all about creativity and expression! Your kids can color to their heart's content while dreaming about trick-or-treat hauls. This page is perfect for preschool-age children, but older kids and grown-ups will enjoy filling it in as well.
We hope you and your kids love these free printable coloring pages. Happy Halloween!