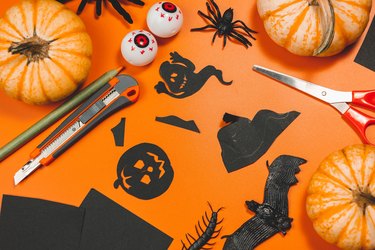 Hey, fellow Halloween enthusiasts! The leaves are changing, there's a chill in the air and if you listen hard enough, you can ‌almost‌ hear the dulcet tones of "Monster Mash" playing in the wind. If, like us, you enjoy your pumpkin spice lattes with a side of macabre, you've found yourself in the right place.
Halloween (and if you ask us, the entire month of October counts as "Halloween") is the perfect time to try out new DIY crafts and activities, from creating your own Halloween costume to dreaming up delightfully eerie decor for your Halloween party to perfecting edible pumpkin treats. With this in mind, we've compiled a haunted hodgepodge of seasonal crafts and creations, ranging from homemade costumes to wall art to Halloween-inspired recipes.
Ready to embrace your inner ghoul enthusiast with a DIY twist? Here's how!
1. Opt for a quirky costume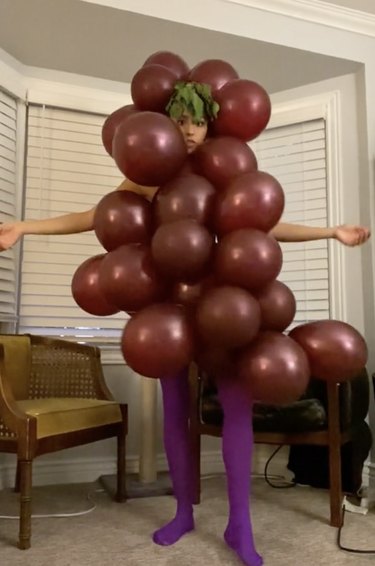 What's Halloween without a great costume? If you err on the side of humor and away from blood and guts each October, check out this fun and crowd-pleasing Halloween costume tutorial from TikToker @yahairasarahii. Using balloons and string, you can make yourself into a deliciously purple (or green!) bunch of grapes. With such a quick and unique Halloween costume, you'll have nothing to ‌wine‌ about.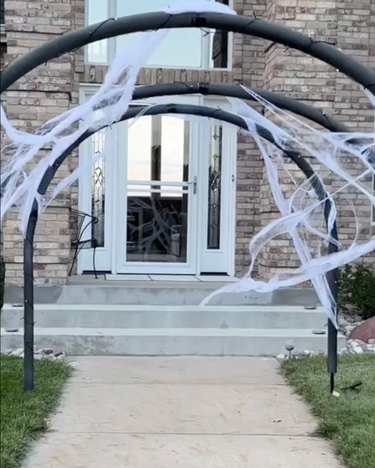 Throwing a Halloween party? You're gonna need plenty of decor. If you're a crafting connoisseur, check out this easy Halloween decorating idea from @chascrazycreations on TikTok. They walk us through a DIY craft project that truly allows party guests to embrace the Halloween spirit. Using pool noodles, you'll create a ghoulishly easy but elaborate-looking archway for guests to pass through on their way to the afterlife—er, after‌party‌.
3. Raise a glass to vampires
Want to make a toast to Halloween in all its gory glory? Check out TikToker @byjamiemichelle's special Halloween-themed mimosa, made from champagne and grenadine (poured from a syringe!). Your party guests will have some bloody good fun with this easy and eerie drink. Bonus: You can all pretend you're vampires—just remember not to step into direct sunlight.
And now for something a bit more kid-friendly! If you're in love with the pumpkin bread, Gilmore Girls, apple-picking version of autumn, check out this fall craft that marries perfectly with Halloween. TikToker @mckennabuck demonstrates how to use leaves and paint for a ghost and bat craft that makes a cozy addition to your Halloween home decor. She also shows off a quick tutorial for creating a broomstick with dried flowers and a garland with dried oranges and craft supplies.
Tip
Preschoolers and younger kids can color faces onto pre-painted leaves with washable markers or crayons for a totally original touch—no messy paint or Sharpies required!
5. DIY for the dearly departed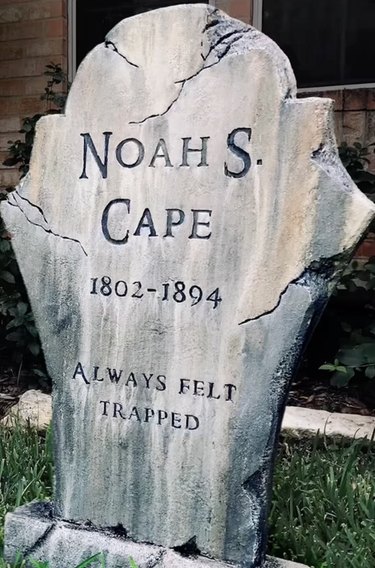 You'll be the (only) life of the party after creating these custom tombstone Halloween decorations for each of your guests, as demonstrated by TikToker @wickedmakers. While a little more involved, these tombstones would be perfect to make during a scary movie marathon, and you can always take a break to munch on Halloween candy (which we know you've already stocked up on). These tombstones just might make your home feel like a haunted house—in the most fun way possible. Bonus points if you can work a pun or clever joke into your homemade epitaph.
Tip
If you want to make your fake tombstone ‌even‌ more effective, coat your hand with red paint and leave a bloody handprint on the DIY Halloween craft!
6. Prepare a pumpkin charcuterie board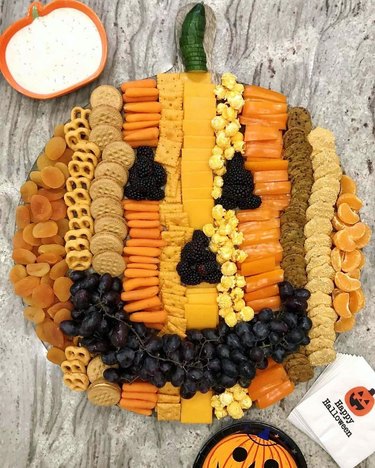 Charcuterie boards are an easy crowd-pleaser, so why not make one with Halloween in mind? Check out this adorable Halloween treat from @thebakermama on Instagram. It's a charcuterie board arranged in the perfect fall formation. The board features all kinds of tasty treats lined up to make an adorable jack-o'-lantern face. Let your guests carve their way into this charcuterie board pumpkin (or save it to eat solo—no judgment here!).
7. Deck the Halloween halls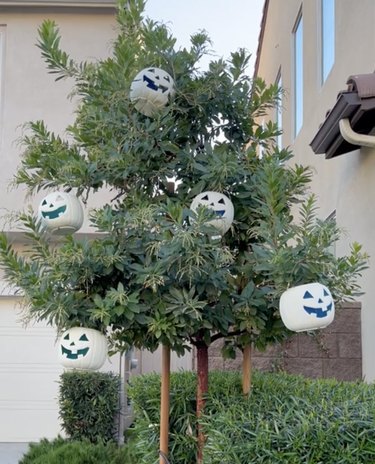 Who says trees are only reserved for Christmas? Check out TikToker @ournestonpowell for ideas on how to make the oh-so-trendy Halloween tree. This DIY Halloween decoration uses plastic jack-o'-lantern treat buckets as ornaments. Combined with tree lights and a bit of paint, this project creates a unique and slightly chilling welcome for trick-or-treaters stopping by your house.
8. Craft some homemade hocus pocus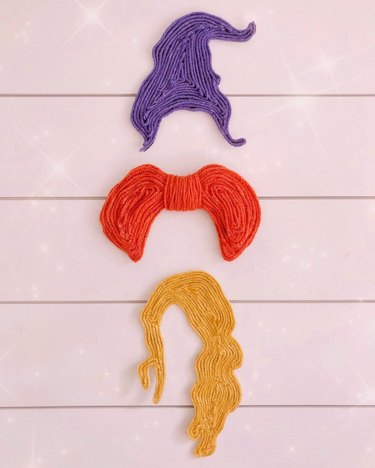 This craft celebrates one of the most beloved Halloween movies of all time: ‌Hocus Pocus!‌ Instagrammer @tinamariegreen shows us that some cardboard, a printable template, hot glue and yarn can come together magically to create the perfect Sanderson sisters homage. This is an easy Halloween craft for kids, especially as an introduction to the ‌Hocus Pocus‌ films. Just don't be surprised if you want to keep it up as year-round wall decor.
9. Cook a savory Halloween snack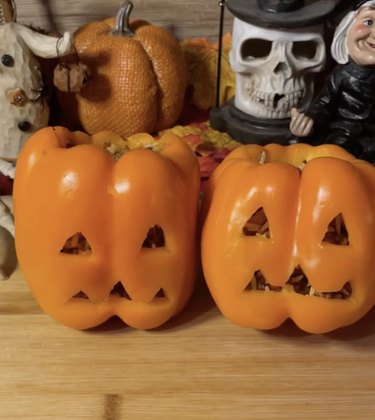 We're firm believers that most of your October food intake should consist of Halloween candy, but you might crave something savory now and then. How about another pumpkin craft that also serves as a delicious Halloween bite? Spend a cozy autumn night in with these carved and stuffed bell peppers. TikToker @wemobakes takes two orange bell peppers carved like jack-o'-lanterns and stuffs them with tasty ingredients for the perfect fall dinner. Enjoy this Halloween-themed meal after you take your little ones trick-or-treating or on any autumn night when you want to get into the Halloween spirit.
Halloween is all about celebrating the season in any way you like. Perhaps you're into the blood and guts, Frankenstein and Dracula, haunted house version of Halloween—or perhaps you prefer candy corn, friendly jack-o'-lanterns and treat bags filled with candy. Either way, we hope these Halloween craft ideas help you embrace the Halloween spirit. Remember, be on the lookout for black cats and spider webs...