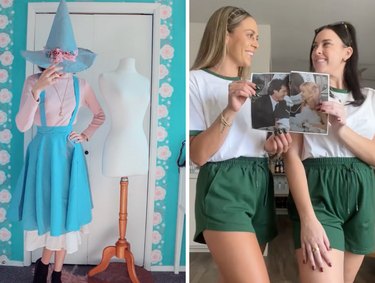 With Halloween just around the corner, it's time to settle on a Halloween costume! Whether you're a vintage lover or someone with a penchant for nostalgia, picking a Halloween costume based on a certain decade can make your decision a whole lot easier. To help you find a look that's perfect for you, we've rounded up the best TikTok costume ideas from the '50s, '60s/'70s, '80s, '90s and 2000s. From ‌Almost Famous‌ to ‌Hannah Montana‌, you're bound to find just the right fit.
Here are a few of our favorite DIY Halloween costume ideas with decade-specific twists.
1. 1950s Halloween Costume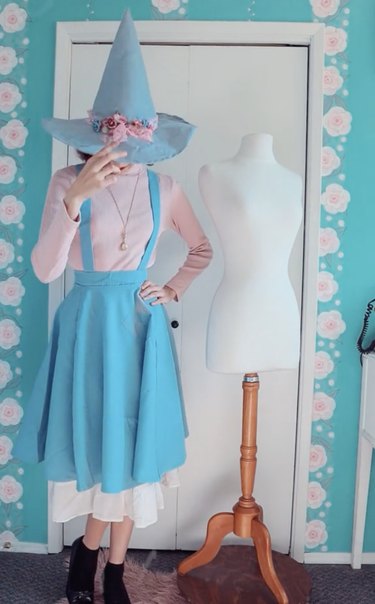 If the 1950s are calling your name, TikToker @miranda__milner has a costume idea that perfectly merges vintage fashion with Halloween vibes: a pastel '50s witch! The look is simple and totally charming, combining a light pink turtleneck with a simple blue overall dress and, of course, a matching blue witch hat with whimsical floral embellishments. We love that this costume celebrates the 1950s without being too on the nose.
2. 1960s & 1970s Halloween Costumes
John Lennon, Twiggy & More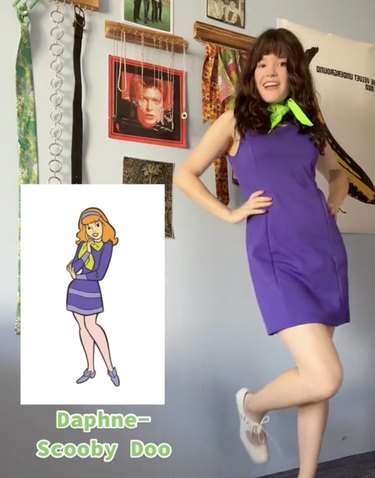 If you're more of a '60s/'70s fashion lover, @missaverywade has four ideas for you that really run the gamut: Daphne from ‌Scooby-Doo‌, beloved Beatle John Lennon, Penny Lane from ‌Almost Famous‌ and supermodel Twiggy!
For the Daphne costume, the creator rocks a vintage-style purple dress paired with a green bandana. To dress as John Lennon, she combines a vintage fur coat with, of course, a pair of signature Lennon-esque glasses. Next, she embodies Penny Lane by dressing in platform heels, bell-bottoms and a long, fur-lined coat (perfect for Halloween in chillier climates!). Finally, to capture the Twiggy look, she dons the model's signature '60s eyeshadow and eyeliner and a vintage long-sleeve mini dress with a collar. So groovy!
3. 1980s Halloween Costumes
Marty McFly, Bon Jovi & More
If hair metal and denim are your vibe, these '80s costumes from @myvintagetears might speak to you. The creator covers outfit ideas for Marty McFly from ‌Back to the Future‌, Sarah from the movie ‌Labyrinth‌ and the musician Bon Jovi (or "any cool rock star").
For Marty McFly, the creator pairs blue jeans with a denim jacket and adds a red vest on top. To recreate Sarah's look, she tops off a flowing white blouse with an unbuttoned vest. And lastly, for the rock star look, the TikToker sports multiple belts, a denim vest, a headband and a black leather jacket. Rock on!
4. 1990s Halloween Costume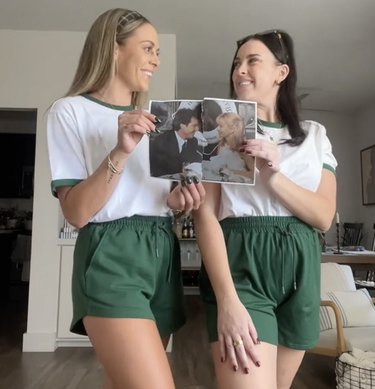 Are you really a '90s kid if you didn't watch the 1998 version of ‌The Parent Trap‌ at least 500 times growing up? Capture the era like TikToker @kristinavalois did by grabbing a pal (or a long-lost twin!) and dressing up as Hallie and Annie Parker from the hit film. All you'll need are a pair of green shorts, a Camp Walden-inspired T-shirt and—obviously—a torn-up photo of your estranged parents. Bonus points if you eat peanut butter-dipped Oreos while getting dressed for the Halloween party.
5. 2000s Halloween Costumes
Elle Woods, Regina George & More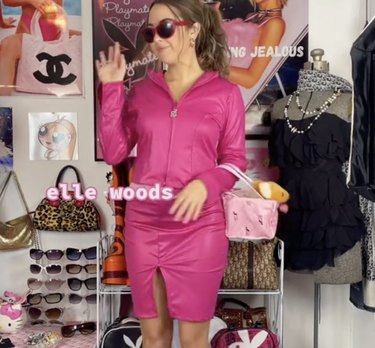 Finally, if you think the '00s were so fetch, @samanthamoweryxx has five costume ideas based on iconic movie characters from the decade. First up, for Elle Woods of ‌Legally Blonde‌, the creator wears an all-pink outfit reminiscent of the character's first day at Harvard.
To dress as ‌Mean Girls'‌ Regina George, the TikToker adds two holes in the front of her white tank top—if you know, you know! To emulate Hannah Montana, the creator rocks a long tube top paired with white jeans and, of course, a somewhat poorly fitting blonde wig.
Next, for ‌Confessions of a Teenage Drama Queen‌ character Lola Cep, she dons a black fishnet long-sleeve top over a white tee paired with army green cargo pants. And last (but ‌definitely‌ not least), to recreate one of Paris Hilton's iconic looks, she shows off a "don't be jealous" T-shirt paired with a very 2000s denim mini skirt. That's hot!
No matter which decade you choose, you can't go wrong with any of these iconic recreations. Happy costume planning!