Are you rolling in leftover Halloween candy at the moment? Maybe your neighborhood was light on trick-or-treaters this year or your kids brought home so much candy that your treat drawer is stuffed to the brim. Perhaps you stocked up to satisfy your own sweet tooth and greatly overestimated your ability to consume six full bags of Halloween treats. Whatever the reason for your candy surplus, we have some solutions!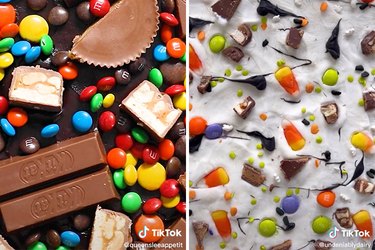 First up? Brownie pizza, which is just as decadent and unique as it sounds. TikTok creator @queensleeappetit came up with a mouthwatering version that's topped with every leftover Halloween candy variety you can imagine. Those halved Reese's peanut butter cups and Snickers bar pieces look particularly appetizing to us. If you love all things chocolate, consider this a sign to upgrade your favorite brownie recipe by tossing in some leftover Halloween candy.
Next up is @undeniably.dairy's Halloween candy yogurt bark. If you're unfamiliar with yogurt bark, it's an easy creation that involves spreading yogurt on a baking sheet, covering it with delicious toppings and placing it in the freezer for a few hours.
@undeniably.dairy's yogurt bark is topped with colorful leftover Halloween candy, including candy corn and chocolate. Yum!
A third option is @munchiesbymallory's Halloween mug cake. Not only is it the perfect portion for one person but it's quick and easy to make. It looks like @munchiesbymallory uses leftover Kit Kats and M&M's, but Reese's Peanut Butter Cups would also pair deliciously.
Last but not least is our very own recipe: an everything-but-the-bucket cookie recipe. (We're @ehow on TikTok, by the way!) We took a classic chocolate chip cookie recipe and replaced the chocolate chips with chopped-up candy bars and Reese's Pieces. These cookies are delightfully delicious if we do say so ourselves.
Halloween might be over, but there's still time to get crafty with these tasty and creative treats!