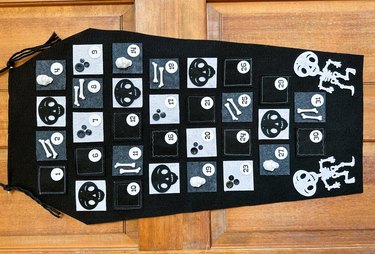 If you're anything like us, you're already itching to unleash your inner ghoul and transform your home into a handcrafted haunted house or perfect Halloween party venue. With that in mind, we've dreamed up a Halloween countdown calendar to help you celebrate the season. That's right—you've heard of Christmas countdown calendars, but we're adding an unconventional twist with a Halloween advent calendar of sorts.
We'll guide you through crafting a ghoulishly delightful holiday countdown calendar that'll not only keep track of the 31 days of Halloween (yes, we count the entire month of October as Halloween!) but also help little ones eagerly anticipate trick-or-treating. Alternatively, it's a great gift for loved ones who look forward to October 31 all year long. And if that weren't enough, we've included free printable number labels, Halloween activity cards for each calendar slot and a cutting diagram to get you started.
Can you feel the anticipation brewing? Grab your crafting supplies, summon some Halloween spirit, turn on ‌The Nightmare Before Christmas‌ and follow our tutorial to create an eerie countdown to the most bewitching night of the year!
Video: A Halloween Countdown Calendar Full of Tricks & Treats
Things You'll Need
One piece of 36-in. x 20-in. black felt

Downloadable cutting diagram

Straight-edge ruler

White chalk

Sharp scissors

31 3-in. square felt pieces

Sturdy white paper

Styrofoam bones, buttons, felt skulls

Hot glue gun

Downloadable numbers

Circle punch (optional)

Wooden dowel

Black yarn

Small surprises such as stickers, candy, etc. (optional)

1. Print felt coffin cutting diagram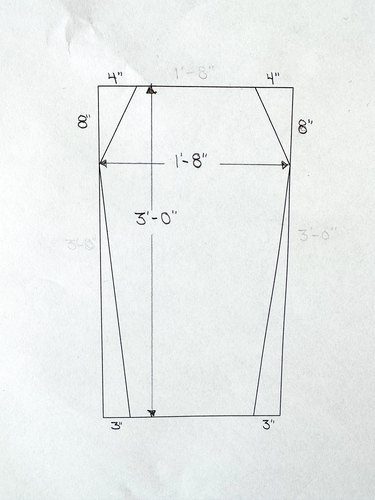 Print cutting diagram for felt coffin to assist in measuring, marking and cutting base of Halloween countdown calendar.
2. Measure and cut black felt coffin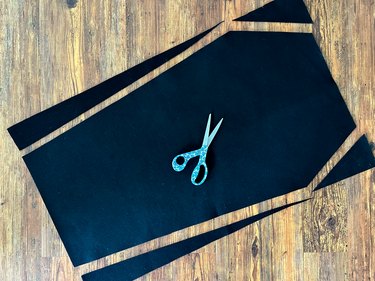 Cut out black felt coffin shape using diagram as well as a straight-edge ruler, white chalk and a sharp pair of scissors (or a rotary cutter).
3. Measure and cut felt pockets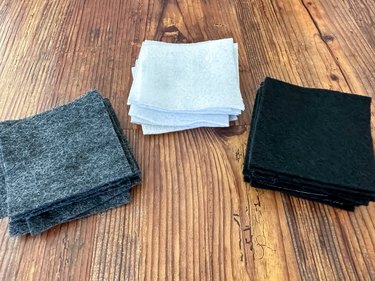 Get creative while selecting felt pocket colors for your countdown calendar. We opted for a timeless palette of haunting black, ghostly white and eerie gray. Next, cut out 31 squares, each measuring 3 in., to bring your creepy creation to life.
4. Print calendar numbers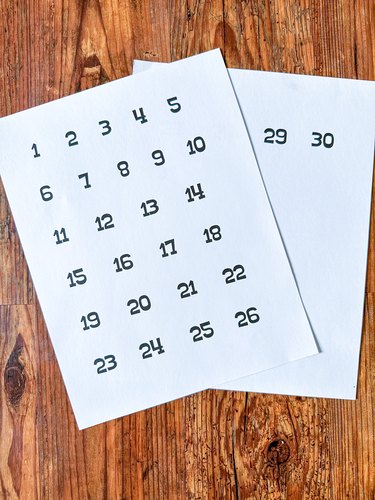 Download and print calendar numbers onto sturdy white paper. As the creative spirit beckons, you have the choice of carefully handcrafting each number, harnessing the precision of a circle punch or choosing your own imaginative shapes.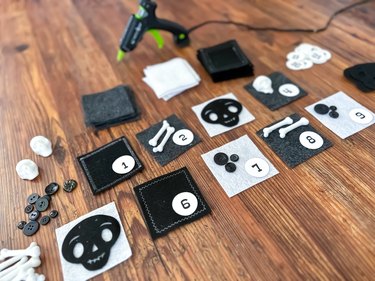 Unearth unused Halloween decor from past projects, hit the dollar store or turn to Amazon and Etsy to gather decorations for your Halloween countdown calendar.
Tip
If your sewing machine has decorative stitches, this would be the perfect time to try them by sewing around black pockets to help distinguish them from the felt coffin background.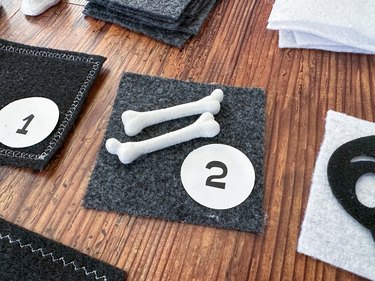 We used felt skeleton garland, Styrofoam bones, tiny skulls and a few long-forgotten black buttons. Fasten numbers and embellishments to each pocket with a hot glue gun.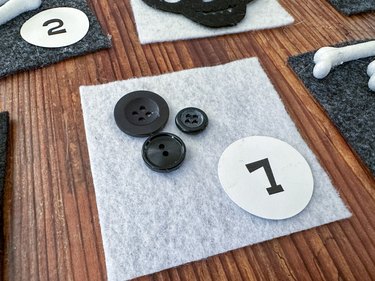 6. Adhere pockets to felt coffin
Position pockets onto felt coffin. With a hot glue gun, securely affix both sides and bottom of each pocket to felt coffin.
7. Add final embellishments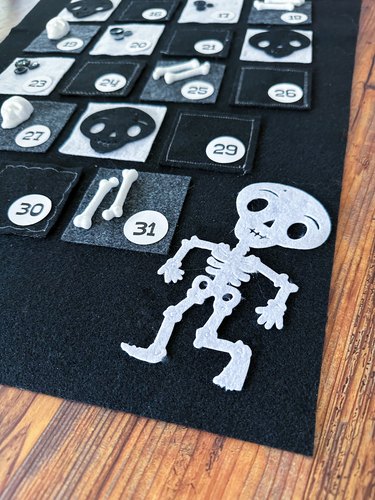 Add any other decorative elements you might have to your countdown calendar.
8. Attach wooden dowel to top of calendar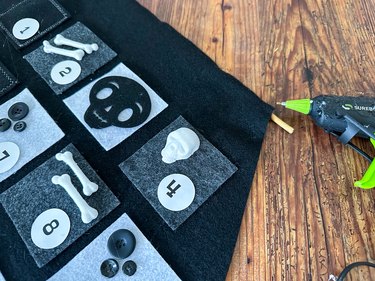 Use hot glue gun to fasten a wooden dowel securely to upper edge of felt calendar wall hanging. Next, tie a length of black yarn to both ends of dowel for a finishing touch.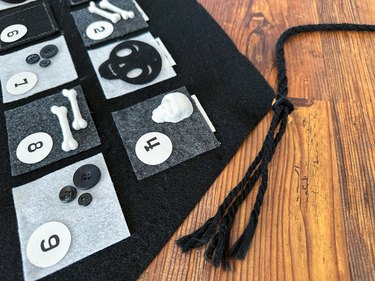 9. Print calendar activity cards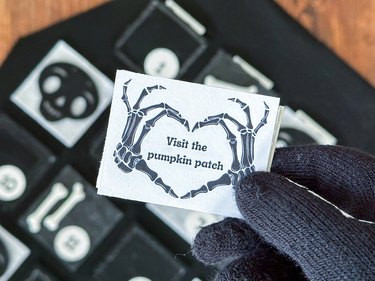 Let your family's schedule guide your selection from the ideas we've included, spanning kid-friendly cooking adventures, outdoor escapades, creative crafts and even a dash of Halloween humor.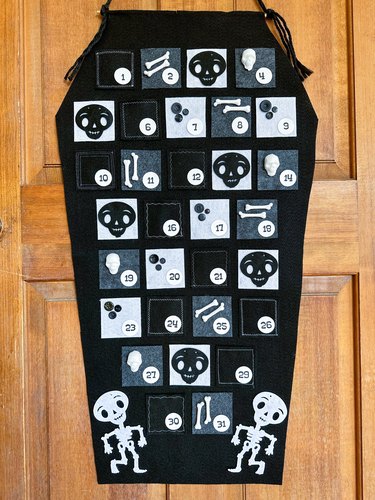 Slip cards into pockets in any sequence you wish. Consider adding small surprises to certain pockets. Think: Halloween stickers, tantalizing candy corn, gum or other goodies to add an extra layer of excitement for kids.
And there you have it, fellow Halloween aficionados! With a dash of creativity and a whole lot of fun, you've crafted your very own DIY skeleton Halloween countdown calendar.
Remember that the beauty of DIY projects is that they reflect your individuality, so feel free to personalize your skeleton calendar with colors, decorations or even witty quotes that resonate with your inner ghost or goblin. Whether you're counting down the days with your own personal coven of black cats, whipping up a Halloween gift for the autumn fan in your life or bolstering your collection of fall holiday decor, this calendar is sure to add a bone-chilling touch to your Halloween festivities.
Looking for another Halloween craft that doubles as a DIY gift idea or home decor piece? You'll adore our eye-popping Halloween wreath tutorial.