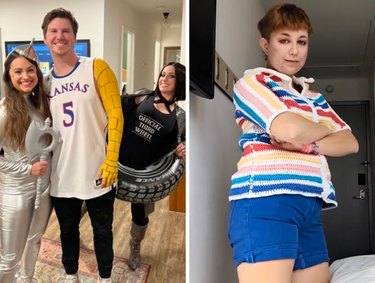 Looking for fun Halloween costume ideas for three people? Whether you dress up as a famous trio, play up the humorous element of third wheeling or consider something more literal, there's endless room for creativity when it comes to costumes for three people.
To help you plan an unforgettable theme and find the perfect fit for everyone, we rounded up a collection of unique and entertaining three-person costume getups from TikTok. Read on for all the inspo!
1. Popeye, Olive Oyl & Spinach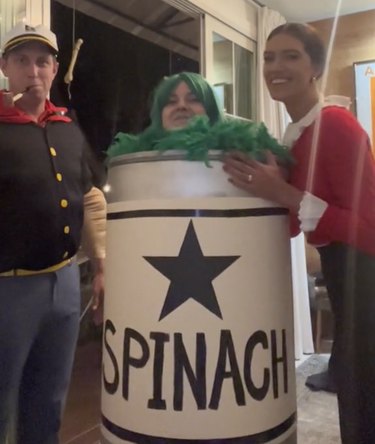 This Popeye the sailor and Olive Oyl duo costume from TikToker @michmashh is made even better with the addition of a human-size can of spinach! As the caption mentions, this trio won the costume contest—and we can totally see why. We absolutely love that the friend who dressed as a can of spinach went all out with a green wig and green feather boas to mimic the leafy vegetable. If you recreate this idea, consider adding some armholes to the spinach can so you can strike a few Popeye muscle poses too.
Classic Halloween Trios
This Halloween, get inspired by these beloved or well-known trios from popular culture and beyond:
Charles, Oliver and Mabel from‌ Only Murders in the Building ‌
Harry, Ron and Hermione from Harry Potter
Rock, paper, scissors
‌Sleeping Beauty ‌fairies
Minions (Kevin, Stuart, Bob)
Three little pigs
‌Hocus Pocus‌ witches
Food trios (think: avocado, toast and egg)
‌The Three Stooges‌
‌Alvin and the Chipmunks‌ (Alvin, Simon, Theodore)
Cinderella and her stepsisters
‌Charlie's Angels‌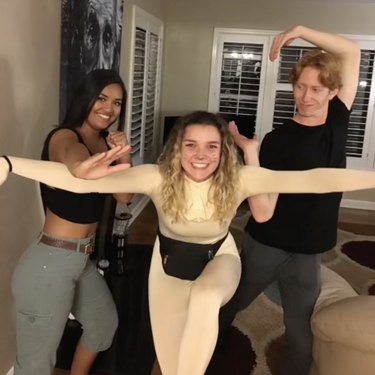 What's the sitch, you ask? These three friends went to their Halloween costume party dressed as characters from the Disney Channel's ‌Kim Possible‌: Kim's sidekick, Ron Stoppable, and, of course, the pair's trusty naked mole rat. TikToker @coley_coe dressed as the little creature by donning a flesh-colored Morphsuit to get the look, which she admitted "was weird, to say the least." We give her props for committing to the bit!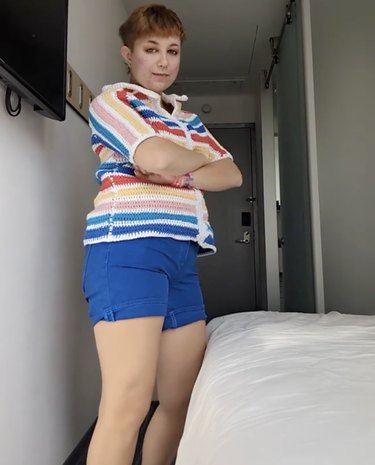 Barbie fans have the perfect opportunity for a third-wheel costume by way of everyone's favorite side character: Allan! TikToker @scarletstitchstudios crocheted an amazing Allan-inspired top to wear at a convention, but we think this 'fit would work perfectly on Halloween alongside a couple dressed as Barbie and Ken. Not into Allan? Dress up as Midge or Weird Barbie for another third-wheel twist inspired by Barbieland!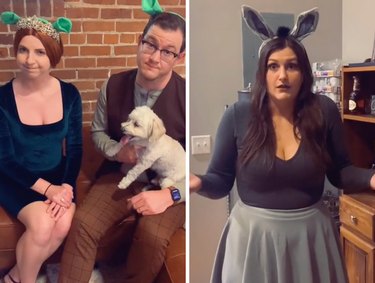 Another classic couples costume is Shrek and Fiona from the 2001 animated film ‌Shrek‌. But don't forget about Donkey! TikToker @alexatb121 posted about this iconic third-wheel duo, and we love how recognizable everyone is in their Shrek and Donkey ears. This is a great last-minute costume idea because you can likely wear clothes you already own and top them off with the headbands. Is anyone else craving waffles now?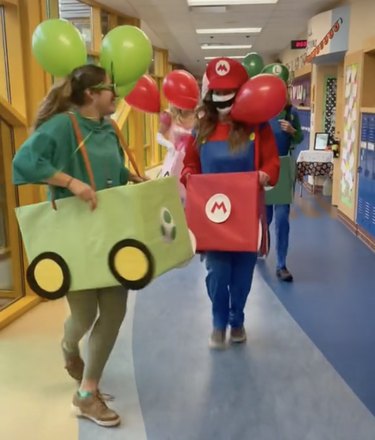 Here's one that works as a third-wheel costume idea and a traditional group costume: TikToker @freethinkingteacher shows off four people dressed as various Mario Kart characters, complete with karts ‌and‌ balloons featured in the game's balloon battles. We love the versatility of this idea because everyone can choose their favorite character for total personalization. To make it a true third-wheel getup, consider dressing as two Mario Kart characters with your third wheel in a banana costume!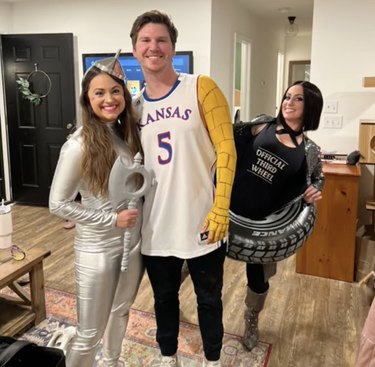 Last but certainly not least, if you're into tongue-and-cheek costumes, you can go as a literal third wheel like TikToker @sheenaolynn, who totally owned her singleness and got plenty of laughs in the process. We love that the creator paired a blow-up tire with an "Official Third Wheel" T-shirt and called it a day. How fun is the Halloween party photobombing compilation?