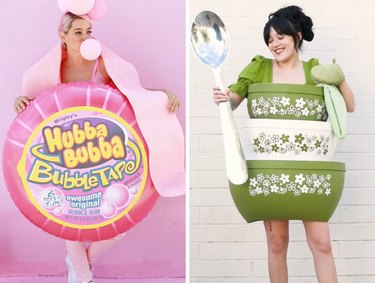 Do you prefer your Halloween costumes with a side of silliness? You don't have to go the scary route to create a getup that turns heads—in fact, many of our favorite Halloween costume ideas are downright odd. If you're a fan of all things quirky, you'll undoubtedly find something to love in our social media–sourced roundup of creative, kooky and just plain funny DIY Halloween costumes.
From food to footwear, there are all sorts of unconventional ideas ahead to help you prep for a Halloween party or ready yourself for a night of trick-or-treating with the fam. The best part? Every selection on our list can be re-created at home, so you don't have to break the bank (or brave the hustle and bustle of a Halloween shop) to complete the perfect costume.
Ready to dress up and spark a few laughs along the way? Read on and get inspired by our favorite funny Halloween costumes from some of social media's most inventive creators.
1. Macaroni & Cheese Costume
If you're a mac and cheese fan (and, honestly, who isn't?), consider incorporating the timeless dish into your Halloween costume this year. TikToker @jordanscissorhands shows off a flawless mac and cheese costume made with painted toilet paper rolls, a massive tin foil fork, a yellow T-shirt and matching beanie. We won't lie: We're kind of craving mac and cheese now.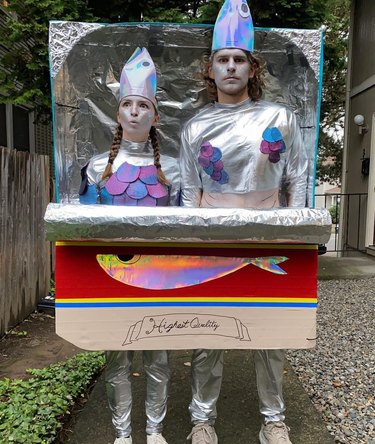 We're blown away by the dedication to detail and perfection used to create this sardine tin couples costume. Instagrammer @cookingwithrel used cardboard, loads of shiny foil, glittery face paint, iridescent fabric and lots of patience to create a two-person Halloween costume that's perfect for sardine enthusiasts. As long as your version of this costume doesn't ‌smell‌ like sardines, it's sure to be a winner at any party or seasonal gathering.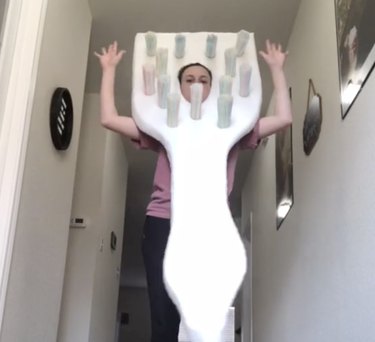 Foam, scissors, markers and a whole bunch of straws are all it took TikToker @meagan_givan to whip up this fun and fresh toothbrush costume. You'll want to add a cutout for your head (and string might be helpful to keep the handle of the toothbrush in place), but this relatively straightforward design would even work as a last-minute Halloween costume.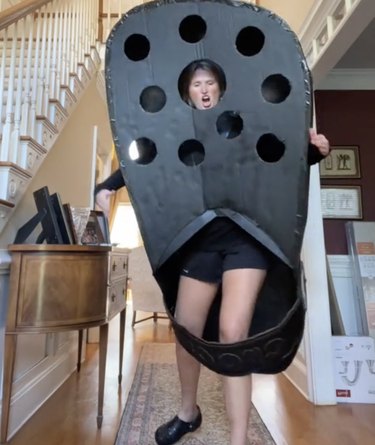 Love 'em or hate 'em, Crocs are here to stay, and TikToker @em_sully_ pays homage to the humble footwear with her hilarious oversize costume shaped like a giant shoe. Recreate the project at home with plenty of cardboard, paint, tape and your very own pair of Crocs to bring the outfit full circle. Just be mindful if you're wearing this to a Halloween party, as you might need some maneuvering to get in the door!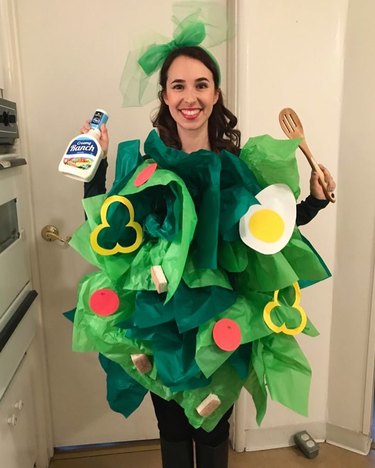 Instagrammer @justinehuxley's homemade salad costume is one of the cutest food-themed getups we've ever seen, plus it's an easy costume for creators on a budget. Justine used green tissue paper in various shades, paper cutouts of veggies and eggs, a green hair bow, a wooden salad spoon and—of course—ranch dressing to complete the look. Adorable!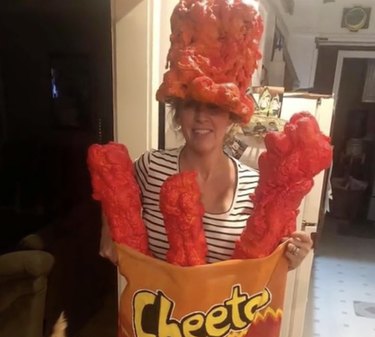 Ah, Hot Cheetos...a divisive yet passion-inspiring snack. If you're like TikTok crafter @kandygzebyk and you love Hot Cheetos enough to embody them for Halloween, you might as well go all out. This means making huge, hyper-realistic Hot Cheetos by adding spray foam to pool noodles, then topping your creations with reddish orange paint before adhering them to your "packaging" costume. @kandygrzebyk even finished her look with a Hot Cheetos hat!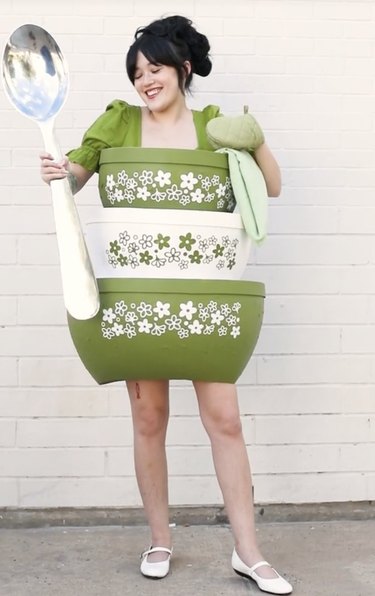 Here's one for the retro fans out there. Instagrammer @aww.sam offers a tutorial for a totally one-of-a-kind Pyrex bowl costume that would be enough to make any thrifter or vintage collector drool. Sam uses papier-mâché, spray paint and decals to create the look of stacked bowls, then finishes the clever costume with a giant silver spoon and an oven mitt. How charming!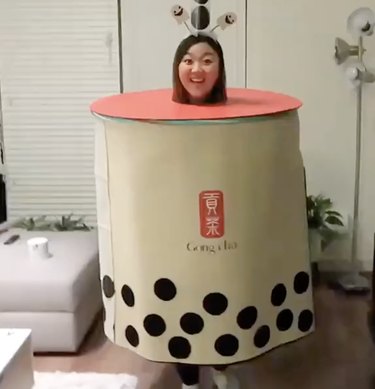 If you adore boba as much as we do, you'll be ‌tea‌-lighted by this DIY costume from @jasminebellepak on TikTok. The adorable outfit is made with cardboard, felt, small black "bubbles" in a headpiece and a logo to boot. The best part? @jasminebellepak added a light-up strip to her completed costume to make it glow! We think boba tea would be especially cute as a family costume idea too—just imagine your little one decked out as a tiny cup of bubble tea!
9. Peanut Butter & Jelly Costumes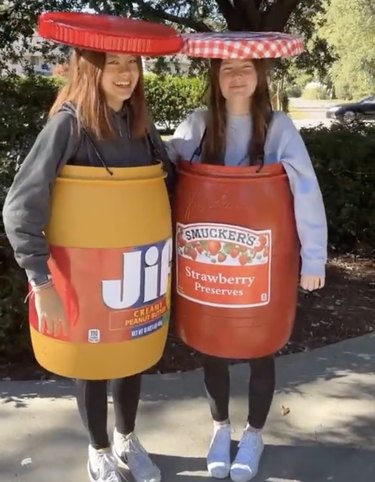 Okay, we're just a little bit obsessed with these peanut butter and jelly costumes from TikToker @ashleeyfalco. We've seen PB&J costumes before, but this particular duo takes a fascinating DIY approach by transforming old plastic barrels into amazingly realistic Jif and Smuckers jars (lids and all!). Bonus points if you loop in your best friends to plan a group costume with everyone dressing as a condiment or dressing container.
TikToker @itshelloodomo absolutely sparkles in a homemade disco ball costume—and you'll do the same when you make your own! Use papier-mâché and a large balloon or spherical object to create the base of your wearable disco ball, then cover with strips of shiny paper or (if you want to get ‌really‌ realistic) individual mirror squares. Rock with tights or a sparkly onesie underneath and finish it off with disco ball earrings like @itshelloodomo!
TikToker @thequeenofglitter proves that you can find Halloween costume inspiration just about anywhere—even at the home improvement store—with her awesome traffic cone costume. All it takes is orange and white clothing and a bright orange traffic cone-turned-hat. You'll be stopping traffic (literally) with this eye-catching ensemble!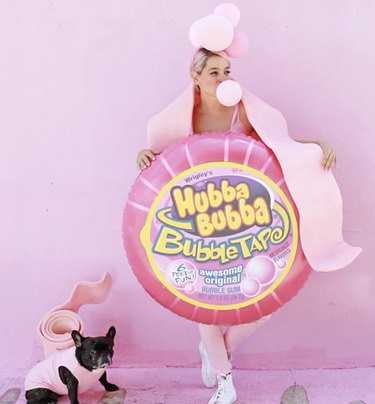 Halloween might be about passing out sweets to trick-or-treaters, but you can ‌be‌ the treat with a bubble tape costume like the one TikToker @hotpinkpineapples shows off! Her tutorial is easy to follow, calling for poster board, pink pool tubes, spray paint, wire, tape, foam board, foam, pink ribbon and a large logo (which can be printed off at an office supply store). For those who grew up chomping on Hubba Bubba, this perfectly pink costume will feel like a fun throwback!
Now that you've explored a few of our favorite not-so-scary Halloween costumes, we hope you're feeling inspired. Whether you choose something silly, pretty, punny, meme-related, pop culture–driven or downright weird, we hope your costume feels unapologetically ‌you‌!