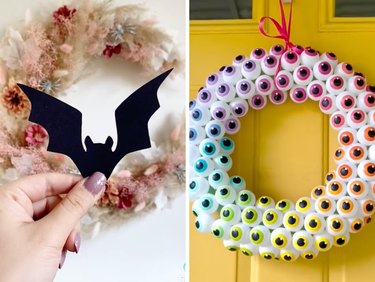 If you're like us, you've been waiting all year to decorate your front door for the fall season—and it's finally time! After all, your front door wreath welcomes trick-or-treaters, makes a first impression as guests arrive for Halloween parties and even delights neighbors who pass by in their cars or on foot. An awesome piece of seasonal door decor makes a big impact, and we're here to help you step up your wreath game, DIY style!
To get you started, we've rounded up five of the coolest, prettiest and scariest Halloween wreaths from crafty and creative TikTokers to serve as inspiration for your own front porch. Whether your decor leans more creepy or more ethereal, there's a homemade option to suit your style.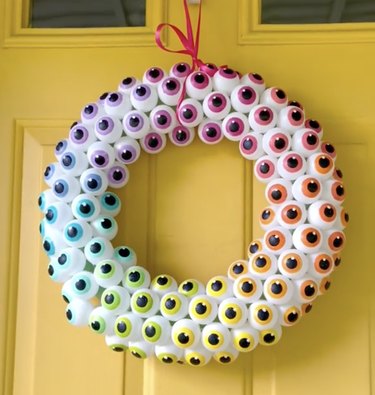 The ingenuity of this eyeball wreath created by @auburnartisan is eye-popping. Using ping pong balls, paint and permanent markers, this TikToker put together an adorable ‌and‌ creepy eyeball wreath. We love her technique, which uses round foam brushes to make turning ping pong balls into eyeballs look totally seamless. While the creator chose to use every shade of the rainbow, we think making a version using oranges, greens and purples would add a fun Halloween spin in a blink!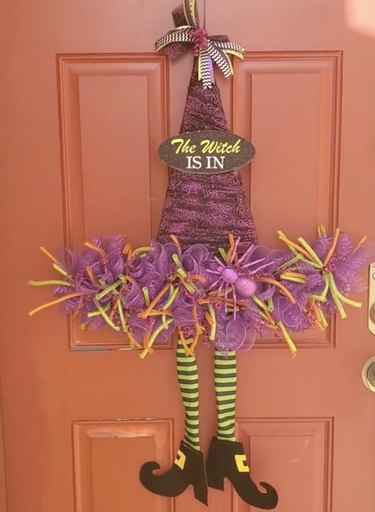 This witch hat wreath from @sapphire_serrano offers such a fun take on the traditional wreath form. While the witch hat base resembles a typical wreath, the legs and hat top make it truly unique. We also love that the creator was able to whip up this Halloween craft with affordable supplies from Dollar Tree. Enchanting!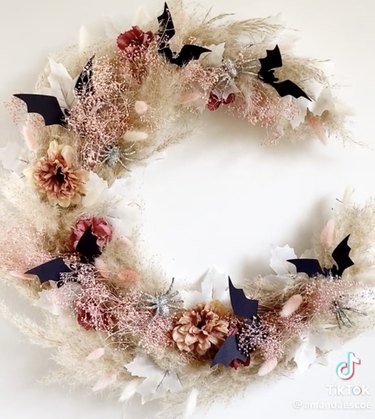 This wreath created by TikToker @amandaescoe is the perfect blend of autumnal delight and Halloween quirk. Using a moon-shaped bundle of hay as a base, the creator added dried grasses and flowers to create a boho-themed wreath. We love that she topped off this beautiful decoration with black bats and silver spiders, which really pop against the lighter colors of the wreath! The moon shape adds a perfectly bewitching touch.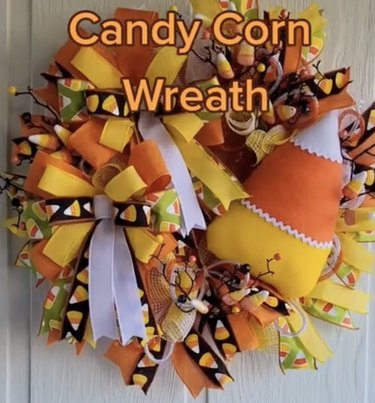 TikToker @wreathsbyge created the coolest candy corn wreath we've seen so far this season. Using multiple candy corn-printed ribbons, the creator layers bow after bow on the wreath form, resulting in a fluffy and delightful Halloween candy wreath perfect for trick-or-treaters to admire. We love that they also topped off the wreath with a big, fluffy candy corn. So festive!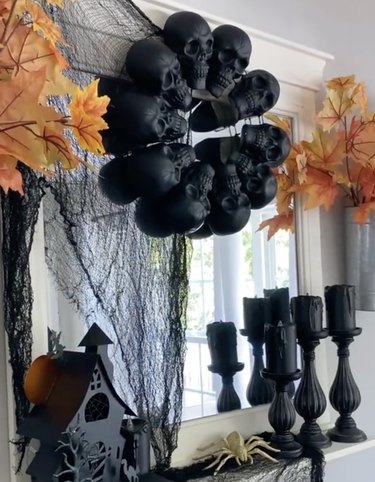 Finally, TikToker @kait.dow shows off a way to use plastic Halloween skulls in a totally unexpected way. By spray painting the skulls a matte black and securing them to a black wreath form, she makes a super-simple and perfectly creepy decoration that works on a mantel or a front door. If you love to lean into the more scary side of Halloween decor, this wreath is definitely for you. Just be sure to cut off the back of the skulls to get them to lay flat.
And with that, we're hopping on our broomsticks and flying off to go create our own moon-shaped wreath. Happy door decorating!