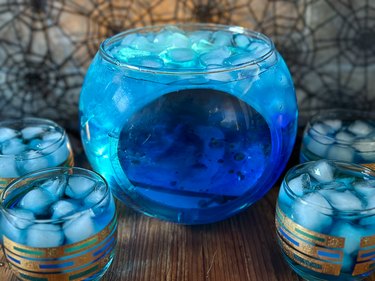 If you've ever dreamed of hosting a party that captures the allure of Disney's ‌Haunted Mansion‌, you're in for a treat! In this DIY guide, we'll unveil the secrets to crafting a Madame Leota "crystal ball" punch bowl that's sure to become the centerpiece of your chilling soirée.
With a few simple materials, you'll conjure up a bewitching atmosphere that rivals the ghostly halls of ‌Haunted Mansion‌ itself. So gather your potions (err, crafting supplies), summon a few ghouls and goblins and embark on a project that would make Madame Leota herself proud!
Video: A "Haunted Mansion" Punch Bowl to Serve Spellbinding Sips
Things You'll Need
Printed picture of Madame Leota

Clear contact paper

Sharp scissors

Hole punch

Suction cup with hook

Large punch bowl

Twinkle lights
1. Print, cut and laminate picture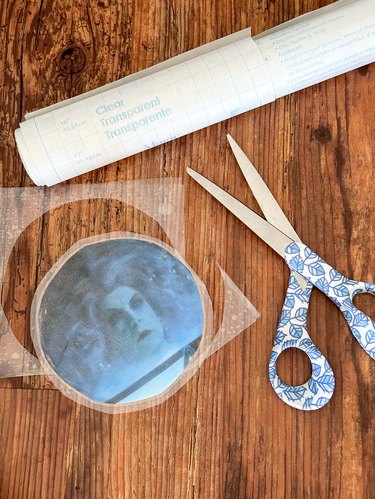 Print an image of Madame Leota to fit snugly inside punch bowl, creating the illusion of a mystical crystal ball. Carefully cut image into a circular shape. Next, encase image between two sheets of transparent contact paper and press out any trapped air bubbles. Finally, trim around picture, leaving about a 1/2-in. border of contact paper around edges.
2. Punch hole in bottom of picture
Use a small hole punch to punch a hole in bottom of picture.
3. Thread suction cup hook through hole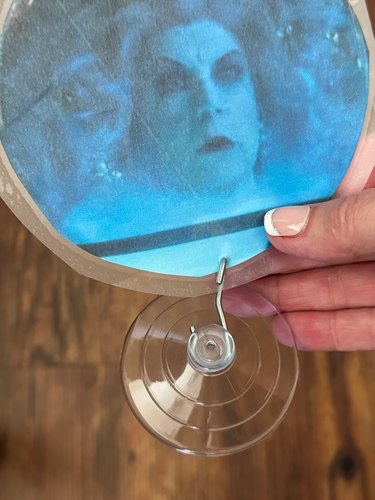 Rinse a suction cup with soap and water. Then thread the suction cup hook through hole.
4. Attach suction cup to bottom of bowl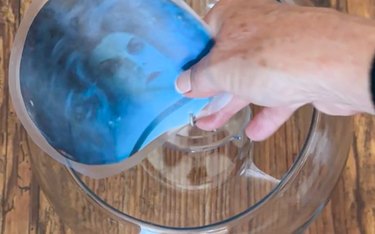 Press suction cup firmly to bottom of bowl.
5. Add Halloween punch and ice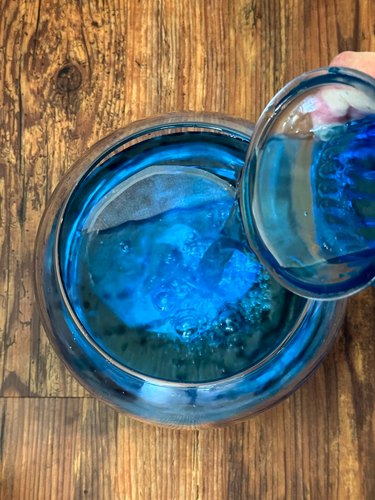 Gently pour your preferred witch's brew into bowl, allowing it to cascade like a mysterious elixir. To set the mood, we chose on a nonalcoholic Halloween punch recipe of our own—a bewitching blue drink made with blue Kool-Aid and lemon-lime soda.
Tip
Concoct your own Halloween party brew using bases such as cranberry juice, ginger ale, apple cider, blood-red pomegranate juice, zesty orange juice, tropical pineapple juice, rich cherry juice, grape juice or classic fruit punch. Add food coloring (and edible glitter) to dress it up, then serve with fun appetizers. For an extra creepy touch, ladle your Halloween drink into themed Halloween glasses, then scoop up eyeball ice cubes (we've got a tutorial for that!) and garnish with gummy worms, ice cream or sherbet.
6. Place lights behind punch bowl and serve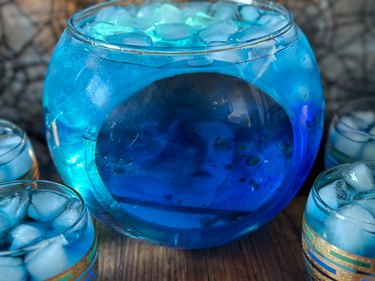 Position twinkle lights behind punch bowl to give your drink recipe an eerie glow.
Tip
Elevate the ambience around your Halloween punch bowl by strategically positioning containers of dry ice nearby. However, exercise caution and never place dry ice directly into the punch itself. Consuming dry ice can lead to severe injuries, so keep it at a safe distance while enjoying its chilling effect on your Halloween gathering.
Whether it's a Halloween party, a horror movie night with the whole family or a themed dinner, your ‌Haunted Mansion‌ punch bowl will surely cast a spell. Raise a glass to celebrate a happy haunting season—and may your DIY spirit continue to scare up good times!