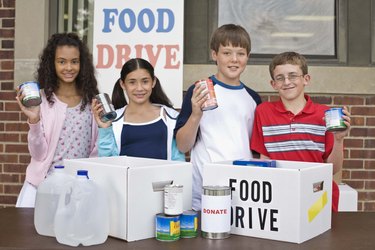 Many churches plan a hallelujah party for youngsters in the community as an alternative to Halloween-themed events. Instead of a night about scary monsters and goblins, the party can share a hopeful message in a safe environment without skipping out on the fun. These parties often feature games and activities with prizes so that children do not feel as though they're missing out by not partaking in Halloween-themed events in the community.
Creative Costumes
Ask guests to come dressed as their favorite people in the Bible or according to a theme such as fruits of the Spirit. Have judges or attendees vote for their favorites. Give winners journals, devotional study Bibles or gift certificates to a Christian bookstore. Divide the contest into age groups so that children of all ages have a chance to win.
Pumpkin Carving
Before the event, carve pumpkins into Christian themes such as the cross, a bountiful harvest or ichthus, the Christian fish symbol. Line your walkway with the carved pumpkins to guide guests into the party area. Have additional pumpkins on hand for carving in an area protected by tarpaulins to decrease the mess -- be prepared to supply multiple sets of carving tools. Apples may be carved in place of pumpkins for less of a mess; for young children, offer markers to decorate small pumpkins or gourds.
Give Back
Ask local organizations what they need, then ask for donations on your fliers or advertisements for the party. Specify that the hallelujah party is free, but donations are welcomed. This encourages people to come whether or not they have items to donate. Items may include canned and boxed goods for a local free-meal program, or warm clothing for residents of a shelter.
Message Time
Take time during the event to tell attendees why your church is hosting it. The message should be Christ-centered and brief. You can also have literature that includes messages about Jesus Christ for families to take home. The handouts can be coloring pages or bookmarks with Bible verses. Thank everyone for coming as well.
Treats From Trunks
Ask for volunteers to park their cars in the church parking lot, arranged so that all the car trunks face each other. Provide a bucket of candy for each car. Children from the church and neighborhood can trick-or-treat in the parking lot, collecting candy from every trunk. Attach a child-friendly tract or Bible verse to each piece of candy.