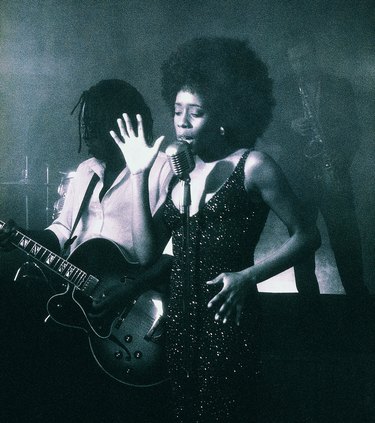 Hit all the right notes with the right costume at the next Motown-themed party you attend. Top African-American groups most often associated with this hit-producing soul/pop music era were: Diana Ross and the Supremes, Martha and the Vandellas, The Temptations, The Four Tops, Gladys Knight and the Pips, The Jackson 5, Stevie Wonder and Marvin Gaye. Motown's glory years spanned from 1960 to the early 1970s, and provide many different looks for anyone seeking a costume to wear to a Motown party.
Girl Groups: Diana Ross and the Supremes, Martha and the Vandellas
Motown in its heyday was known for its beautifully coiffed and sophisticated girl groups. Wear a long, sleek, slinky dress, either sequined or unadorned, with a high slit so as to be able to perform the groups' famous stage moves. Over-the-elbow gloves will complement the look. Smoothly blow out your hair and wear it either in an updo or a flip. Apply a full set of false eyelashes and a light-colored lipstick. Keep accessories to a minimum so the dress will remain the center of attention. You can also dress in early 1960s girl group style which is epitomized by simple A-line shifts and white go-go boots or low heels.
Guy Groups: Smokey Robinson and the Miracles, The Temptations, The Four Tops
A polished look matched the polished moves of Motown's quartets and quintets in the 1960s. Choose slim-fitting tuxedos and suits with either single- or double-breasted jackets. Wear a well-pressed collared shirt with a tie or bow tie. Tuck a pocket square into the jacket pocket. Leave any casual shoes or sneakers at home, and step into glossy black lace-ups or loafers. Short hair was de rigueur, so carefully coif your hair with pomade or gel to keep it out of your face. If you are African American, consider marcelling your hair for a style that was appropriate for the era.
Kid Groups: The Jackson 5
The Jackson 5, the phenomenally successful Motown group comprised entirely of children, spotlights many fashion and hair trends of the early 1970s. Wear tight button-front polyester tops or jackets with over-sized lapels in loud pattern and colors. Slip on a pair of bell-bottomed or flared jeans or pants. Flower power or corduroy vests can also be used to round out a costume. Buy an Afro-style wig at a costume or wig shop. Step into a pair of stack-heeled boots or shoes. Top off your look with a newsboy cap. If going as part of the entire group, have the other members in your party match or at least coordinate their outfits.
Soloists: Marvin Gaye, Stevie Wonder
The soulful solo acts of Motown had their own special looks that helped differentiate themselves stylistically. Stevie Wonder always wore a pair of dark glasses, due to his blindness, so that should be the cornerstone of your outfit. Wear a watchman's knit cap and grow a full beard to resemble Marvin Gaye.