For a simple, effective last-minute Halloween costume, put on a pair of dark sunglasses and carry a white cane modeled after those used by the blind. The canes were originally painted white to make them more visible to drivers and pedestrians, and this same feature makes them a safety asset on a dark Halloween night. The white paint glows under black lights, creating a spooky effect for a haunted house or a Halloween party.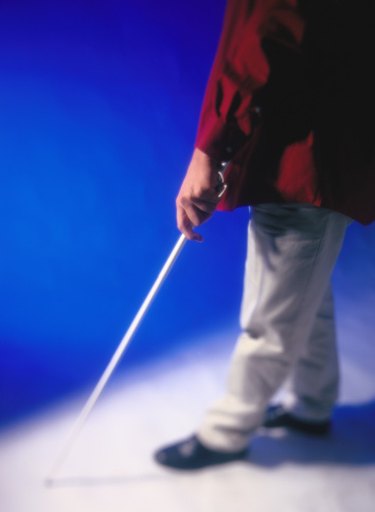 Things You'll Need
Polyurethane

Block Of Styrofoam

Red Acrylic Paint

Wooden Dowel, 1/2 To 1 Inch In Diameter

Painter'S Tape

Hand Saw

Foam Paintbrush

Craft Glue

Measuring Tape

Rubber Floor Protector

White Acrylic Paint
Step 1
Cut a wooden dowel, 1/2 inch to 1 inch in diameter, to a length 8 inches shorter than your height. Sink the end of the dowel into a block of Styrofoam to hold it upright. Paint the top half of the dowel with white acrylic craft paint, using a foam paintbrush. Allow the paint to dry completely.
Step 2
Remove the dowel from the Styrofoam and turn it over, pushing the painted end into the block. Paint the other half of the dowel and let it dry completely.
Step 3
Measure 12 inches from the end of the cane and wrap painter's tape around the dowel. Paint the end of the cane with red acrylic paint and let it dry. Remove the tape.
Step 4
Attach a rubber tip to the red end of the cane. A floor protector designed for chair legs is one option. Glue the tip onto the dowel if it's too loose to stay on by itself.
Tip
Coat the finished cane with polyurethane for a glossy, long-lasting finish.