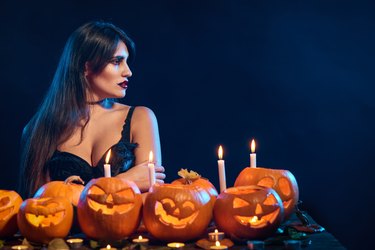 Everyone gets a big laugh when they see a fake boobs costume on Halloween, whether the wearer is showing off some generous Dolly Parton cleavage or it's part of a drag outfit. While anyone can make homemade boobs, it takes real finesse to actually pull it off. Some Halloween boobs are obviously fake, but sometimes, the costume is supposed to look more realistic. You can buy fake breast forms, but homemade ones can sometimes look even better. There are many ways to achieve the perfect silhouette.
To get started, you will need a measuring cup, a pair of sturdy tights that you can cut up, rice and a bra that is the size you want for your artificial chest. Be sure to buy a bra that is the right band size for your real body. However, the cups can be as big as you want. Cut off the legs of the tights, leaving about an inch of material up from the feet and save the rest in case you want to use it for additional padding.
Now, pour a cup of rice into one of the tights' cut-off feet. Tie it loosely and insert it into the cup of the bra. Try on the bra with the one cup filled and see if you like it. Feel free to add more rice, but both sides should contain the same amount. You can add the cut-up pieces of the tights for more volume if you'd like.
Additional Strategies for Homemade Boobs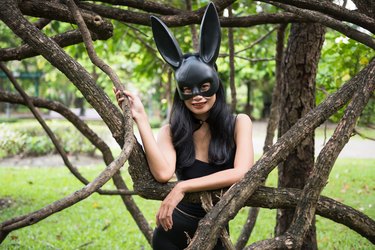 It is also possible to make homemade boobs from balloons, but these will probably start to deflate after a few hours if you fill them up with air. You can try doing it much the same way as you would with rice. Buy the bra and cut off the bottoms of a pair of stockings.
Put the deflated balloons inside first before inflating them. Then, blow up the balloons and stick them in the bra with the knotted ends against your skin. Keep in mind that you will run the risk of them being popped during your celebrations, so bring along a few extra ones with you.
Getting Expert Halloween Boobs
If you think that your homemade fake boobs don't look realistic enough for your costume, buying silicone forms that have nipples is a good option. You can place these onto the front of the rice bags. (Bird seed can be used instead of rice if desired.)
To try another method, you'll need to take apart one disposable diaper and get four water balloons and a syringe. Add 1 to 3 tablespoons of the powdered gel from the diaper into one balloon and place it inside a second one.
Then, carefully squirt in 200 to 400 milliliters of water (you can probably go a bit larger), tie off the balloons and shake vigorously. These Halloween boobs can look very authentic, but making them can be a little trickier. Buy extra supplies and allow yourself ample time and you will end up with a good-looking set of boobs for your costume.