Things You'll Need
Dress

Pantyhose

Suede moccasins

Black wig

Rubber band

Yarn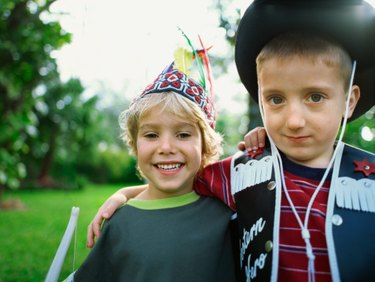 Although Sacagawea's name is associated with a grand adventure with Lewis and Clark, her clothing likely resembled that of other Shoshone women of the time. If you are looking for a Sacagawea costume for a party, Halloween or a school play, you could construct one entirely from scratch, but embellishing ready-made clothes is an easier option. Use images of Sacagawea as inspiration.
Step 1
Decorate a brown, calf-length dress to look like Sacagawea's dress. Choose a loose-fitting, straight dress. Look for a sweater dress or if possible a faux suede dress. Cut 1-inch-long fringe along the bottom edge. Cinch the dress with a plain brown leather belt.
Step 2
Wear a pair of flesh-tone pantyhose and suede moccasins. You can choose a pair of moccasins with any kind of decoration. As an alternative, wear knit, mid-calf slipper boots. Choose a brown or tan color to match the dress.
Step 3
Part a long, black wig down the center. Make two braids in the wig, from the nape of the neck to the ends of the hair, and place a rubber band around each end to hold the braids in place. Wrap lengths of reddish yarn around the bottom 3 inches of each braid. The thickness of the wig will determine how much yarn you need. If you prefer not to use the wig, dye your hair black and braid.
Step 4
Place a baby doll in a papoose or wrap it in a Native American-style blanket. Sacagawea carried her son with her on the trek with Lewis and Clark. Carry a long tree branch or wooden walking stick to represent the journey she took part in.
Tip
Decorate the costume with additional fringe or plastic colored beads. Tie feathers into the ends of the braids, if desired.