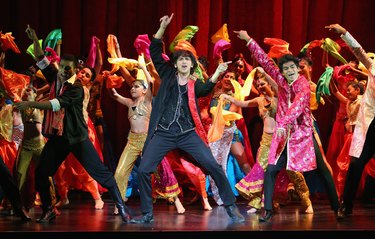 The term Bollywood refers to the thriving film industry in India and combines the city names of Hollywood and Bombay (now known as Mumbai). Bollywood films are typically musicals incorporating plenty of singing, dancing, drama and glamour. Bollywood dance movements are bold and breathtaking, and are usually performed by lavishly dressed actors whose outfits combine classic Indian clothing styles and a multicultural, edgy flair.
You can easily create Bollywood costumes from everyday items from closet or thrift store finds. For the highest level of impact, have a group of friends join in the fun and become a Bollywood dance troupe.
Plan Your Bollywood Costume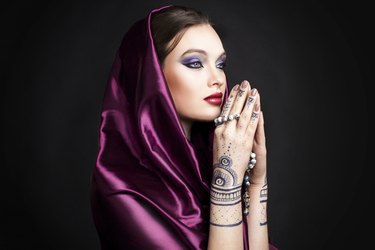 Observe what Bollywood stars wear and decide what type of outfit, jewelry, decorations and accessories you want to create. Bollywood stars are often dripping in adornment, jewels, and other traditional Indian flair. Decide on a color scheme, and what type of accessories you would like to wear based on the materials and resources you have available. You may choose to create a general Bollywood costume, or dress as a specific star or movie character.
Choose a Main Garment for Your Costume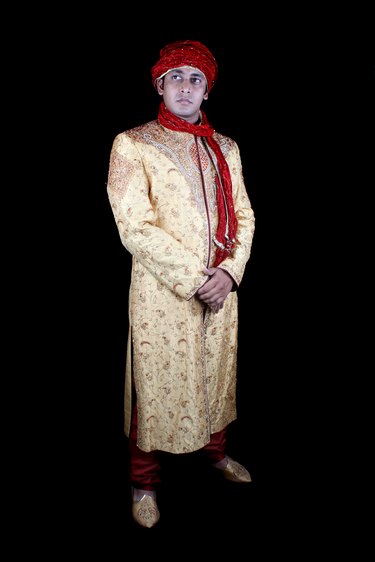 For women, a sari is the most versatile way to go. Purchase a textured, embellished cloth or a luxurious silk fabric in the length of 5 to 7 yards. Tuck one side of the fabric into your skirt, wrap it completely around your waist and then drape the other end over your shoulder. Gather what is left of the fabric in the middle, create several pleats, and tuck them again into your skirt.
For men, a sherwani jacket--a close-fitting, high-collared, knee-length formal jacket--with trousers is preferable. If you cannot find a sherwani, you can wear any sharp suit jacket and add some Bollywood flair.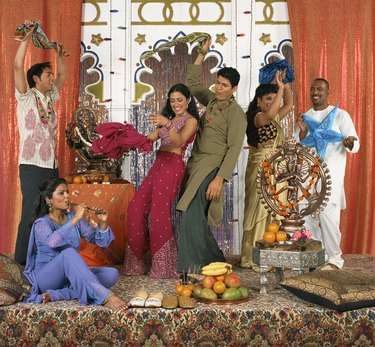 Selection of undergarments is important when wearing a sari. Wear a slim T-shirt, tank top, or bralette top under your sari and be sure to coordinate it with the accent colors of your fabric. Wear a petticoat or long skirt on the bottom and consider whether you would like it be visible outside of the sari. Choose one with a tight waist, as it will be the foundation for tucking the fabric of the sari.
For men wearing a regular sports coat, this is a perfect opportunity to add a brightly patterned shirt or use vibrant fabric to make a pocket square and headpiece for the outfit. You may want to coordinate these colors and patterns to those of your date.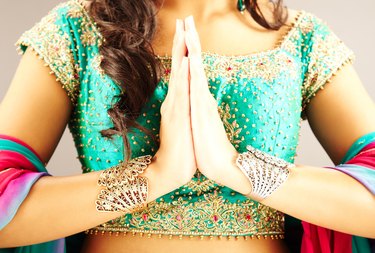 Go ahead and add lots of trims, sequins, beads, jewels, gems, and anything else you can find that will contribute glamour to your Bollywqood costume. Glue, grommet, or sew these pieces around the hemlines of your sari, the neckline of your top, or along any other area of your costume. Men can add trims and decorations around collars, cuffs, or buttonholes to create a Bollywood star appearance.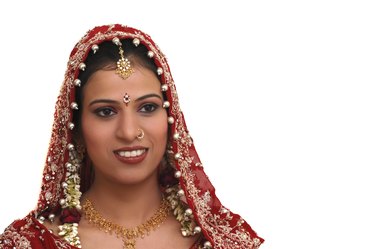 Gather all of your gold chains, rings, earrings and necklaces. The more you have to layer on and work with, the better. Attach a gold pendant or heavy earring to a headband to make your own headpiece. Hook a gold chain from a necklace to a ring to create a traditional Indian hand piece. Men can also wear various gold pieces on their heads or bodies to complete their unique look.
Make a Decorative Headpiece
Use luxurious sheer fabric to make a veil that will cover the back of your head and shoulders. Sew gold coin trim along the face-framing part of the veil, and affix your headband or decorative pins to to keep it in all in place. Men can use fabric and jewelry to make a decorative head wrap or turban.
Start by wearing a tight skull cap and tuck a long piece of fabric into the back of it. Continue to wrap the fabric in a crisscross pattern until the desired effect is achieved. Add a decorative gold pin in front to keep it secure to finish this DIY Bollywood costume.