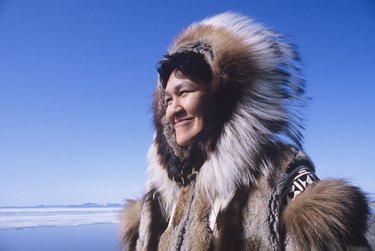 While dressing as members of various cultural groups has been considered appropriate for Halloween in the past, doing so today must be approached with caution. If you decide to create a homemade Eskimo Halloween costume, it's important to know that the term "Eskimo" is no longer considered respectful or appropriate, as it does not correctly identify members of this cultural group. If you'd like to dress in a wintry and cozy Halloween costume, however, you can make an outfit that resembles traditional Inuit, Aleutian Islander or other polar native attire.
Important Considerations for an Eskimo Costume
Give careful thought to this outfit before you venture out to a Halloween party, as it may be considered cultural appropriation unless you have this heritage yourself. If you do not, you could consider a slightly different take on the costume, like being an ice fisherperson or a ski instructor.
If you are unsure whether this sort of costume is appropriate for you, talk to friends or family and get their take. Being culturally sensitive is always important on Halloween.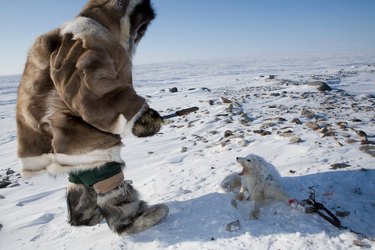 Polar natives live in the Arctic where the temperatures plunge below freezing for the better part of the year. Traditional clothing for those from these Arctic regions is made from animal skins and fur to provide the best insulation for being outdoors. These skins come from polar bears, caribou and birds.
Chances are that you might not choose to wear real animal skins for such an outfit, but you can create costumes that are authentic if you'd like to dress to honor your heritage. Wearing a good deal of fur or faux fur is a good start; you can use cold weather garments, like a parka. Most clothing that appears fuzzy or furry will complement a costume for a ski instructor or similar wintry individual. Consider boots with fur or even a pair of Uggs. Look for parkas that have fur-lined hoods and keep the hood up when wearing the parka.
Keep in mind that this could be a hot, heavy costume. Depending on your climate, this may or may not be safe or appropriate. Instead of wearing a heavy jacket, you can wear a turtleneck and leggings in the same color. Wear natural colors that resemble animal skin, like tan, brown and white. Then, you can add a fur vest and furry boots. This costume is perfect for an after-ski look, but it is not culturally sensitive if you are trying to be a polar native without that heritage.
Making a Snow Princess Costume
Some Eskimo costumes show a bit more skin, but this sort of thing is only appropriate for adult parties. To avoid any cultural missteps, it's best to create a different take on this wintry costume. A sultry ski instructor or a snow princess might be a bit better.
Choose a solid-color dress with long sleeves to get started, and if it has a hood, that is even better. Avoid buying thin materials, like cotton or polyester. Instead, look for wool, moleskin, nubuck or anything else that has a thick, warm look and feel. Then, go to your local fabric or craft store and buy some faux-fur material. You can cut it in strips and line the dress's hem, cuffs and collar. The faux fur can probably be attached using fabric glue, so you won't even have to sew anything.
Next Steps for a Snow Princess Costume
If you can sew well, look for matching material and add a hood with fur to the back of the dress. You can also hang a few pompoms from the neckline to make it even cuter. Some beads will make the dress look even prettier, and you may be able to find some that can be stuck onto the material so you won't have to sew it. You can also don a pair of large sunglasses and carry a stuffed Siberian Husky dog under your arm.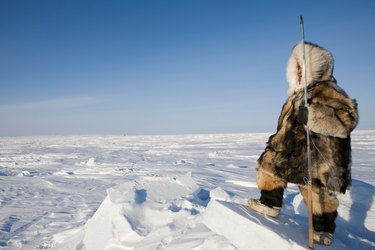 For a final touch, buy some fake, sparkling snow fluff and sprinkle it on your costume and in your hair. This will not work as well if your costume is mostly white or light in color, though. This fluff is usually sold in large bags, so you can use some for your winter costume and save the rest for holiday decorations.