Things You'll Need
Gray sweatsuit

Long white knee length socks

Black flip-flops

1 yard of red fabric

White T-shirt

Knitted black hat with pompom

Black plastic bag

Small strip of red fabric

Samurai sword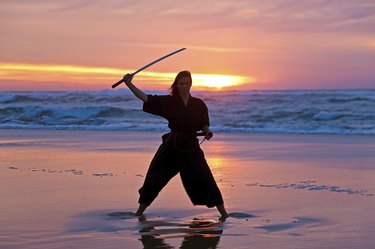 The history of samurai costumes is well documented. Colors and types of samurai clothing were related to regions, clans, rank and gender. Warrior armor was elaborate and heavy, and longer coats were generally worn for travel. Underneath all of the armor, samurai warriors wore very basic costumes. Using a few items from around the house, you can make a basic samurai costume in a pinch and have the compliments flowing.
Preparing the Costume
Step 1
Lay the sweatshirt and sweatpants out on a table in front of you. Cut the pants legs so that the ends fall halfway between the ankle and the knee. Substitute capri length yoga pants if you do not have sweatpants or prefer not to cut your pants.
Step 2
Cut the waist of the sweatshirt off near the bottom edge. Cut off the arm cuffs of the sweatshirt, staying as close to the ends as possible. Cut a straight line along the center of the sweatshirt from the very bottom all the way up to the chin. This will make a type of jacket.
Step 3
Roll the edges of the black hat up and inward, then place it on the head so that the pompom sits near the back of the head. Tie the black plastic bag over the pompom by securing it with a strip of fabric around the pompom's base. Cut away any remaining plastic edges from the bag that may be protruding out from below the strip of fabric.
Assembling the Costume
Step 1
Put on the knee socks, flip-flops, sweatpants, T-shirt and sweatshirt jacket. You will need to wedge the socks in between the toe loops to wear flip flops with them.
Step 2
Slick your hair back with water or gel. Place the hat on your head with the pompom near the back. Secure hat with hair pins if needed.
Step 3
Fold the red fabric lengthwise into a long rectangle. Place the middle of this fabric on your stomach and wrap around your waist. Arrange the sweatshirt jacket so that one end folds over the other and lays flat against your stomach. Tie the fabric in the back and tuck the ends of the fabric into the wrap on the sides. This will look like a large belt.
Step 4
Hook the sword through the red belt on one side.
Tip
Choose a sweatsuit that is one or two sizes too big. This will allow the ends of the sweatshirt to hang below the belt and look more authentic.
Stencil or draw a logo on the back of the sweatshirt to represent your own samurai clan.
Cut off the front of a baseball hat and attach a curved strip of poster board to the back to make a traditional samurai helmet.
Warning
Be careful about using a real sword as an accessory; their blades can be very sharp.