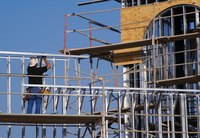 Calling builders, searching the Internet, driving by construction sites and talking to others enables one to obtain high-quality building materials at little to no cost. Identifying your material needs in advance enables you to minimize the cost and time required to find what you need. Researching local regulations and the waste collection system in your city enables the savvy person to not only obtain free building material, but also receive payment for hauling away the building material.
Drive in the alley behind grocery, big box, department and convenience stores and look in their dumpsters. Many will throw out large quantities of wooden pallets. These can be used for building the foundation of decks, porches and sheds. Dismantling the pallets can provide smaller pieces of wood that are useful for building shelves and cabinets.
Drive behind lumberyards, electric supply outlets, plumbing stores and door/window/glass shops. Look in their dumpsters for pallets, wire, tables, glass and other building supplies. Often they toss spools of wire, cord and wood when there is a small amount or small pieces left that are not worth selling. They also may throw out cosmetically damaged items that they do not have room for in their shop or are not valuable enough to sell.
Call a couple of local trash removal businesses and find out what they charge to remove 10 cubic feet of wood. This provides you with an estimate of how much you could charge for removing large items or large quantities of items.
Drive around construction sites and home renovation projects. Often they throw out large amounts because items such as shingles can not be purchased in small quantities, and once a package is opened it can't be returned. If you see large amounts of material, offer to haul away all material for a fee that is no more than half of what the local trash collector charges. This win-win situation provides you with money, valuable building material and the opportunity to develop a relationship with the builder or renovator so they may give you additional material.
Call local builders and demolition companies and offer to haul away their unused building materials for a small fee, no more than half the local trash collector's fee. This saves them the cost of disposal and provides you with money to purchase any building materials you can not scavenge. It also gives you access to large amounts of free discarded building materials.
Check out garage sales just before closing; many will give away leftover items.
Use an online search engine to find free building material, and check online bulletin boards, such as Craigslist, for free material.